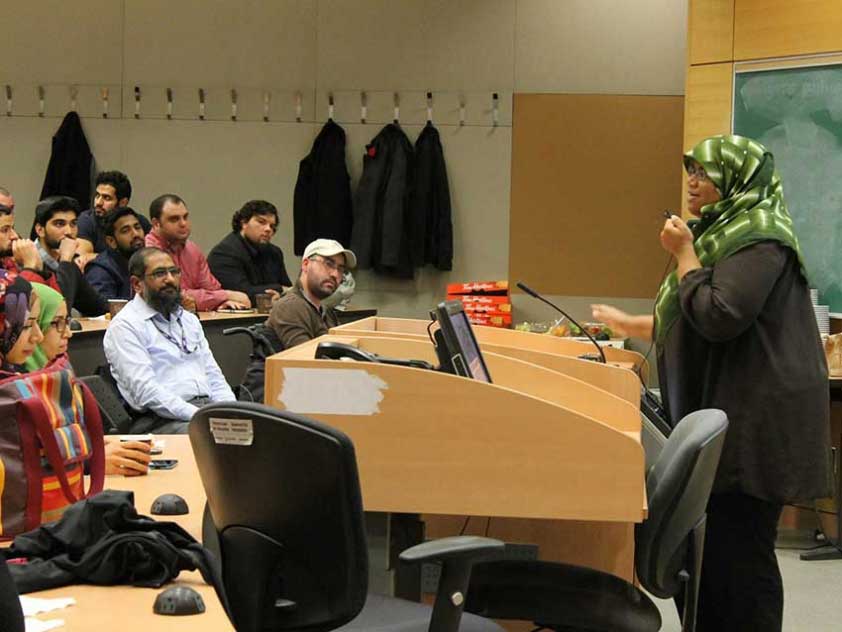 Chelby Marie Daigle speaking at UOMSA Cares' session on Islam & Mental Health
Courtesy of UOMSA
02
December


2014
Speaking at UOMSA's Islam and Mental Health Discussion
Written by Chelby Daigle
Organized by UOMSA Cares Program, the Islam & Mental Health discussion aimed to explore the role of Islam in maintaining mental health, tackling mental illness, and addressing the stigma in Muslim communities about mental illness. I was quite impressed by how well attended the session was by both young men and women.

The panel included Imam Samy Metwally of the Ottawa Muslim Association, Omar Mahfoudhi of the Islam Care Centre, and Dr. Khalid Bazaid, a child psychiatrist working with the University of Ottawa and the Children's Hospital of Eastern Ontario (CHEO).

My talk focused on my experience living with a serious mental illness. At the age of 15, I was diagnosed with dysthymia, a chronic form of depression. As a teen in the 90s, I had my first opportunity to become a public speaker trying to counter the stigma against those living with a mental illness. I worked with a group of about 10 teens at CHEO to produce a video aimed at helping mental health service providers better understand the experience of teens living with a mental illness and navigating the medical system. I showed the video to my classes at my high school. I thought it was important that my classmates understand my experience. I also felt that it was important for those amongst them who were also living with a mental illness, as many of them were, to realize that it was nothing to be ashamed of and they were not alone.

After I became Muslim in my early twenties, I continued to be outspoken about living with a mental illness which has had a detrimental effect on my life, particularly in my pursuit of post-secondary education. I discovered that many of my Muslim peers were also coping with mental illness but were doing so in silence as there is a serious stigma against Muslims living with mental illness in the Muslim community.

After the dramatic suicide of a young Muslim acquaintance of mine, I began co-organizing sessions for Muslim community members at the Royal Ottawa Hospital on the subject of mental illness. Since then, I have spoken publicly about being Muslim and living with a mental illness in both Ottawa and Montreal, to Sunni, Twelver Shia, and Ismaili Muslim communities.

At the UOMSA session, I shared how this experience has taught me of both the nature of the stigma faced by Muslims, particularly young Muslims coping with mental illness, as well as what aspects of Islam and Muslim community culture can actually help support Muslims living with mental health issues.

At the session, I talked about how it is easy for me to speak publicly about living with a mental illness because, as a convert, I don't have any family whose reputations I have to worry about. I am also not interested in marry into the community, so I don't have any prospective spouse or in-laws who might turn me down as marriage material because of my illness (this garnered laughter from the audience).

But reputation is one of the biggest barriers that stops people from being able to speak openly about living with a mental illness in Muslim communities. Despite what our faith says against gossiping and backbiting, we know that it is a widespread problem in our communities. So if it comes out that you are living with a mental illness, you and your whole family could become the subject of gossip. I emphasized how this is both unIslamic but also a terrible way to respond when a person and their family clearly need community support.

I also discussed the problem, particularly for young Muslims, about discussing feelings like sadness and hopeless, which could be signs of depression, with their parents. As many Muslim parents have come to Canada as immigrants and have had to struggle to rebuild their lives in this country after possibly fleeing war or persecution in their homelands, they often can't understand why their children, who they see as having relatively easy lives, would be feeling sad or hopeless about anything. Sometimes, their attitude could even be that life in Canada has made their children spoiled and soft. This point seemed to really resonate with students in the room. I emphasized how it is really important to explain to parents that mental illness is real, it even has a biochemical basis in the brain, and it has nothing to do with having a "weak" character.

I also discussed how, because mental illness is a physical illness, even if invisible, it has nothing to do with a person's degree of faith. Another of the serious problems for Muslims being open about having a mental illness in the Muslim community is the idea that experiencing feelings like hopeless or feeling suicidal means that you don't have faith.
I also explored how some of the positive ways in which Islam is to be expressed within a communal setting, like smiling, hugging and kissing relative strangers, and seeing each other as brothers and sisters, are very positive ways in which Muslim communities can reach out to support Muslims living with mental illness. In addition, these community traits can help to address issues like social isolation, which faces many new immigrants and international students, and can be a risk factor for mental illness.

Imam Samy Metwally discussed his experience as an imam who often has families coming to him looking for help with family members coping with mental illness. Dr. Khalid Bazaid discussed the science behind some mental illnesses, and research that has been done showing that faith can be a protective factor in helping to prevent or lessen the negative impact of some mental illnesses. Omar Mahfoudhi discussed the work of the Islam Care Centre which does charity work with people living with mental health issues and the Centre's future plans for working on public education on mental health in the near future.

The discussion session was quite eye-opening as students asked a diversity of fascinating questions about how to best support their fellow Muslims living with mental health issues.

In the discussion, we also explored the belief, prevalent among some Muslims, that some mental health issues are really caused by jinn possession. I was glad that this topic came up. I have to admit that when I first discovered this belief years ago, I was taken aback. But I soon realized that among many Christians, there is also a belief that some mental illnesses, like schizophrenia or the manic stages of bipolar disorder, are caused by demon possession.

The reality is that in Islam it is pretty easy to rule out jinn possession, so I think it is important to make sure that religious leaders, particularly imams, are educated in how to support families who come to them thinking that one of their family members is possessed by a jinn. Over the years, I have also realized that sometimes it is easier for families to cling to the belief that their child is possessed by a jinn, because this is something you can cure. Whereas having to admit that your child has a serious mental illness which can only be managed, but which they will have to live with for the rest of their lives, is incredibly hard for anyone to accept. As a community, we need to address supports for those living with mental illness as well as support for their families.

My final recommendation at the session was that it is important that any initiative to support Muslims living with mental illness has to actually have Muslims living with mental illness in either a leadership or at the very least, an advisory role. You can't make something for a community without getting the input of that particular community and expect it to be successful. Just because we are living with a mental illness doesn't mean we can't sit on a committee or contribute ideas about how to develop programing for people like ourselves. Again, unfortunately, I think the stigma against Muslims living with mental illness has led Muslims concerned about this issue to not even consider getting our input. This is unfortunate. As I said at this session, I was speaking on this panel despite being in the midst of a major depressive episode for which I was under hospital care.

At the time of this session, I was a patient with the Ottawa Hospital's Mobile Crisis Team's Community Crisis Bed Program which puts people experiencing serious mental illness in a space where they are still free to go to work or school, but meet daily with social workers and mental health nurses to resolve their current mental health crisis. It is a great program which I am very grateful for.

I think it is important to look to parts of our community, like the Somali community, who have taken initiatives in developing programming around mental health. One example is the Somali Centre for Family Services' youth mental health education sessions that allowed youth to take the lead as mental health public educators and incorporated the voices of Somali Muslims living with mental illness as speakers at their sessions. Another community to connect with would be the Ismaili Muslim community which actually developed a national community-wide strategy for primary, secondary, and tertiary prevention of mental health problems.

In some ways, one of the best things that could come out of our community's desire to address mental health could be breaking down the racial and sectarian barriers that tend to limit our ability to share much needed resources and best practices which could benefit us all.

I highly commend UOMSA for organizing this session and I really hope to see similar sessions organized by other Muslim community organizations in the city.

To learn more about UOMSA's Mental Health session contact This email address is being protected from spambots. You need JavaScript enabled to view it.

For more information on Mental Health Services in Canada visit:

Mental Health Helpline
Depression Hurts Website
Canadian Mental Health Association
Mood Disorders Association of Canada
Ottawa Distress Centre
Ontario Centre of Excellence for Child and Youth Mental Health
Children's Hospital of Eastern Ontario Youth Net
The Royal Mental Health Centre
Psychiatric Survivors of Ottawa
Further Reading:
Journal of Muslim Mental Health Website
Stripping Away Stigma: Mental Illness in Muslim Communities
This article was produced exclusively for Muslim Link and should not be copied without prior permission from the site. For permission, please write to info@muslimlink.ca.