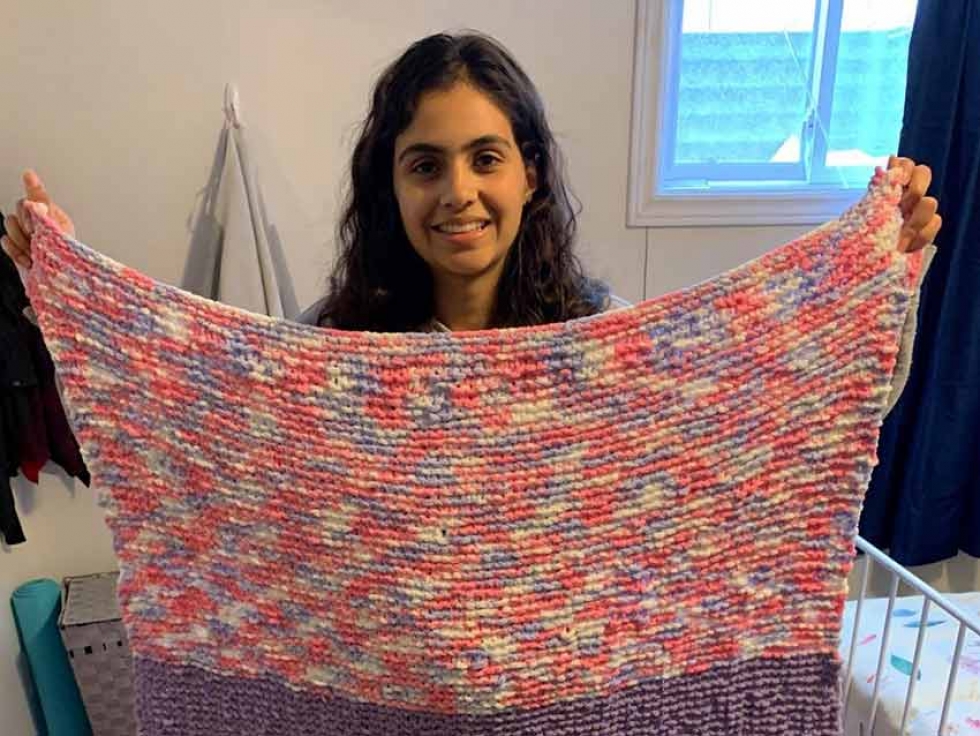 Members of the Ottawa Ismaili Muslim Community knit comfort blankets for patients at Bruyere Care Saint-Vincent Hospital.
Ismaili Civic Ottawa
18
May


2020
Ottawa Ismaili Muslims Put Their Ethics Into Action During Ramadan
Written by Ismaili CIVIC
For Muslims around the world, the month of Ramadan is a time of heightened commitment to spiritual fulfillment through special observances such as fasting, the performance of good deeds such as charitable giving and voluntary service, and through personal sacrifices of material comforts.
During the month of Ramadan, the Ismaili Muslim community will be supporting Canadians during the COVID-19 pandemic through a nationally-coordinated volunteer initiative called Ismaili CIVIC. The current global pandemic has resulted in a worldwide shortage of personal protective equipment (PPE) and left thousands of Canadian families more reliant on emergency food sources.
In response, the Ottawa Ismaili Muslim community is undertaking three initiatives:
1) Making cloth facemasks for local community organizations so that vital Personal Protective Equipment (PPE) supplies remain available for front line healthcare workers. Ismaili CIVIC aims to distribute 10,000 masks across Canada. To date, over 3,000 masks have already been delivered nationally. The facemasks made in Ottawa will be donated to long-term care facilities and charities such as Operation Ramzieh through Community Care Ottawa.
2) Knitting comfort blankets for patients at the Bruyere Care Saint-Vincent Hospital. These blankets are especially needed during this time to provide comfort to patients in palliative care who are unable to see their families or have visitors. For more information on this initiative, listen to this recent CBC Ottawa Morning interview. To learn more about how you can volunteer to make comfort blankets, click here. To specifically volunteer through Ismaili Civic Ottawa, click here 
3) Partnering with local grocers to donate non-perishable food to the Ottawa Food Bank. Food programs through schools and community centers have largely been suspended, creating greater demands on local food banks. In Ottawa, we have partnered with three Shoppers Drug Mart locations (1309 Carling Avenue, 174 Bank Street, and 702 Bank Street), which will collect donations of non-perishable food items.
"Voluntary service is a cornerstone of the Ismaili Muslim faith. We are incredibly proud of our volunteers for coming together to help their fellow Ottawans"
– Karim Gwaduri, President of the Ismaili Council for Ottawa
"We are honoured to be a beneficiary of this Ismaili CIVIC initiative during the month of Ramadan. The Muslim community in our city are incredible friends of the Ottawa Food Bank and we are grateful for this support. We're seeing thousands of people turning to food banks for the first time right now – so this support will help greatly with the increased demand for emergency food assistance."
– Michael Maidment, CEO of the Ottawa Food Bank.
Ismaili CIVIC is a nationally-coordinated initiative of the Canadian Ismaili Muslim community to demonstrate its long-standing commitment to improving the quality of life of all Canadians, strengthen its deep-rooted ethic of voluntary service, and exemplify Islam's values of peace,compassion, and care for the vulnerable. Previous Ismaili CIVIC initiatives have included tree-planting, donating blood, caring for seniors, tutoring students, collecting food hampers, and cleaning local parks. To learn more about Ismaili Civic: