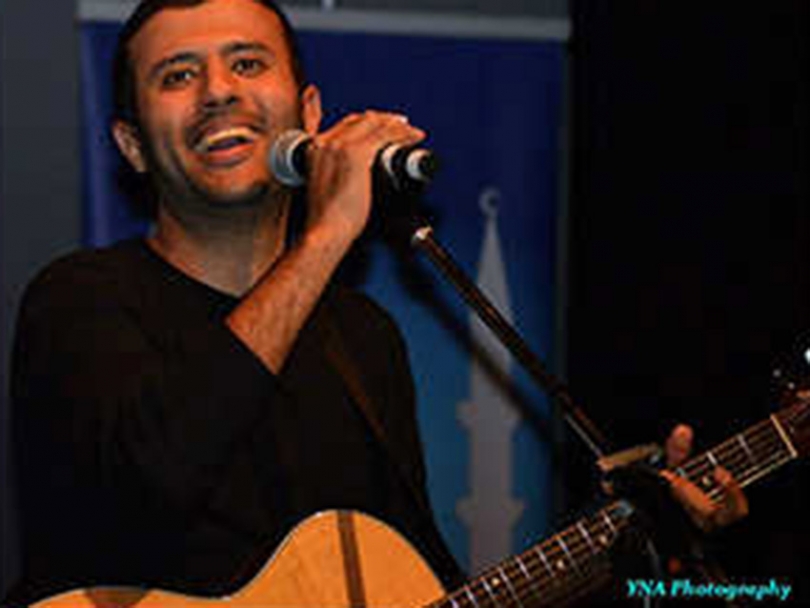 Hamza Namira performing in Ottawa.
07
Nov


2013
Namira raises hopes locally, raises funds globally
Written by Chelby Daigle
Egyptian singer Hamza Namira, who is considered to be the unofficial Artist of the Egyptian Revolution during which he was a fixture in Tahrir Square, performed in Ottawa on Sunday, October 27th to a packed audience. Namira was in Ottawa as part of his first-ever Canadian tour, which is a fundraiser for Islamic Relief Canada's projects in Egypt. PeaceMidan, a non-profit organization which aims to build on the momentum of the Arab Spring in order to foster civic engagement and social entrepreneurship in Arab countries, organized Namira's visit. "Hamza Namira is the voice of hope, not only in Egypt but in the Middle East region," explained Mohamed Abouelsaoud, co-founder and vice-president of PeaceMidan.
According to Mr. Abouelsaoud, many first and second generation Arab Canadians are affected by what they see going on in their homelands. "If you look at the news we are constantly bombarded with negativity about the Middle East which has led to depression even among those of us who live in Canada,"  Mr. Abouelsaoud explained. He was pleased to see how hopeful Namira's visit seemed to make those who attended his concerts. "Just by looking at the faces of the people in the concert, seeing how uplifted they felt and how positive they've become was really priceless," Mr. Abouelsaoud shared.
Ottawa's Egyptian community, both Muslim and Christian, came out in large numbers to the concert. Abdel Rahman El Beheri, the IT Administrator of Carleton University's Egyptian Students' Association (ESU), volunteered at the event. "Having Hamza Namira was a great way of bringing people with Egyptian backgrounds together, especially at this very sensitive time," he shared, "He inspires me because in most of his songs he encourages people to be the best they can be and love their country regardless. One great thing about him is he never took sides ever since the Egyptian Revolution except for the country's and the people's side."
Yasser Hesham, another Carleton University student, is also a fan of Namira. He agrees that Namira was the perfect artist for PeaceMidan to bring to Canada. "An organization like PeaceMidan tries to spread the message of peace, without involving any politics or taking sides. Hamza Namira's music is known to be very peaceful, tranquil, and simple. It is directed to everyone," he explained.
To learn more about Hamza Namira visit https://www.facebook.com/7amzanamira
Videos of Namira's songs with English translations of his lyrics can be found on Awakening Records' YouTube page http://www.youtube.com/user/awakeningrecords
To learn more about PeaceMidan visit http://peacemidan.com/
To learn more about Islamic Relief Canada visit http://islamicreliefcanada.org/  
This article was produced exclusively for Muslim Link and should not be copied without prior permission from the site. For permission, please write to info@muslimlink.ca.