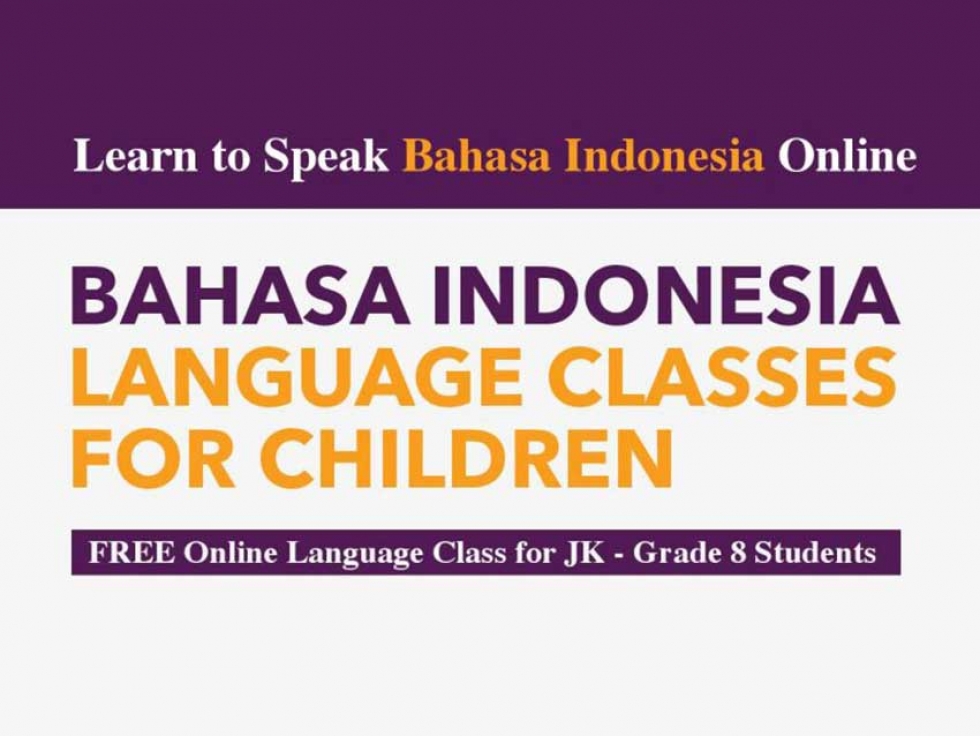 21
Oct


2020
Language is not a mere tool of communication, but also serves as a means to understand each other.
This is reaffirmed by the Ambassador of the Republic of Indonesia to Canada, H.E. Abdul Kadir Jailani, in the launching event of the online Indonesian language course for kindergarten up to middle school students in Ottawa, Canada, on October 17 2020. "The introduction of Bahasa Indonesia for Canadians will be a solid foundation in the future for both nations to understand and cooperate with each other" the Ambassador said. The partnership between countries will become ever more important in the future considering the rising global challenges, he added.
At the event, Ambassador Jailani also highlighted his appreciation for the initiative to organise this language class from IRSHAD Global Canada, an education organisation in Canada that was established by an Indonesian diaspora member, Ida Rafiqah. This initiative, in his opinion, is a fine example because the Indonesian cultural development cannot be done by the government without the support from the whole Indonesian public.
The appreciation for IRSHAD Global was also conveyed by Dr. Nectaria Karagiozis, the Program Officer of the Ottawa-Carleton District School Board (OCDSB). Dr. Karagiozis stated that the Bahasa Indonesia class has enriched the international language program that could also be opted as an extracurricular class for every kindergarten to middle school students. Currently, OCDSB has provided 38 international language classes excluding English and French which are official languages of Canada. This strong support from OCDSB has allowed the online Bahasa Indonesia class to be held for free.
This initiative has also received support from the Ottawa Muslim Association (OMA). This organisation, who supervises the management of the Main Mosque in Ottawa, has provided its resources and facilities for students who live outside Ottawa. This specific point was highlighted by Majed Jarrar, the OMA Director for Community Participation, enthusiastically. In particular, Director Jarrar pointed out the initiative on Bahasa Indonesia is inline with the mission of their association to bring benefit for the society.
In this official launching event, the organizer also screened a short animation video by Christopher Tandyo that conveys his feelings as an Indonesian kid living abroad in Canada who often misses Indonesia. This video is the winning video for the Instagram Content Contest (SERBA KONKRIT) was organized collaboratively by all Indonesian missions in Canada (Embassy in Ottawa, Consulates General in Toronto and Vancouver) to celebrate the 75th Indonesian Independence Day.
The launching of the Indonesian language class is also a part of the series of events commemorating the 68th anniversary of Indonesia and Canada bilateral relations. Both countries formally established relations on 9 October 1952 by the opening of their missions in their respective capitals. As a part of those series of events, in early October, the Embassy has partnered with Alliance Coin and Banknote to hold a numismatics exhibition (Nusantara Numismatik Limited Exhibition) in Almonte, Ontario.
Indonesian community in Canada is not big in numbers, with approximately 14,000 people. When compared to the total Canadian population of 37.6 million, then the community only makes up 0.04%. However, a number of Indonesian Canadian have gained recognition for their achievement and contribution towards Canadian society, including in sports and arts, business and private sector, or even as academicians and other walk of life.
As this people-to-people flourished, there is a need however, to further push such interaction to a higher plane. Thus, the Indonesian Embassy encourage a number of Indonesian programs and promotional activities, including the promotion of Indonesian language in Canada.
Online Indonesian classes run on Saturdays from 9:30 pm to 12:00 pm and are free for students in Ottawa, Ontario.
We encourage parents to register their children as soon as possible before the end of November 2020.
To register for Online Indonesian Language classes for students in Elementary School, click here
If you have any questions email This email address is being protected from spambots. You need JavaScript enabled to view it..