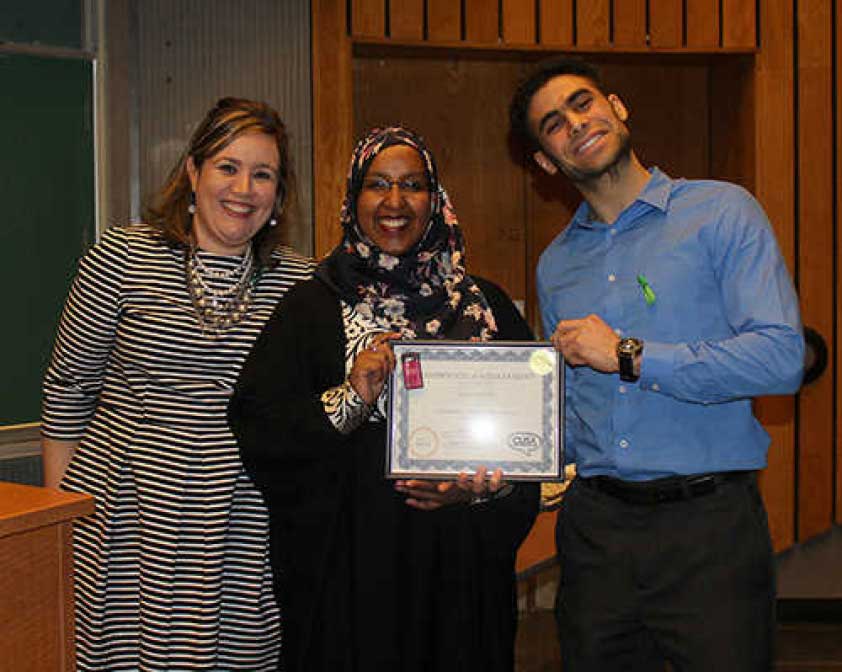 Transplant Stories Event Organizer Erica Bregman, Kidney transplant recipient Hiba Yusuf, and Carleton University Students Association Vice-President (Internal) Maher Jebara
Courtesy of Andrea Dark
10
Apr


2014
Would You Save A Life? Muslim Champions for Organ Donation
Written by Chelby Daigle
Transplant: Patient and Donors Stories took place on April 1st to mark the beginning of Ontario's Organ Donation Month. During this month, the Trillium Gift of Life Network, (a non-profit agency of the Government of Ontario) responsible for facilitating organ and tissue donation and transplantation across Ontario, tries to raise public awareness about the urgent need for people to register to be organ donors. The event was spearheaded by Erica Bregman, a volunteer with the Trillium Gift of Life Network and supported by the Carleton University Students' Association (CUSA), whose VP, Maher Jebara, hosted the event. Several religious leaders such as Reverend Anthony Bailey, Imam Mohamad Jebara, and Rabbi Reuben Bulka, as well as leaders within Ottawa's Sikh community, spoke out in order to dispel myths that might exist within their respective faith communities that organ donation is not religiously permitted. But those in attendance were most moved by the presentations of organ donors and transplant recipients like Somali-Canadian Hiba Yusuf.
Hiba Yusuf was diagnosed with chronic kidney disease in 2000. Due to her rare blood type, finding a donor kidney was difficult but eventually her younger brother gave her one of his kidneys. This is referred to as a living transplant as the donor is not deceased. "He's my first hero. But I have two heroes because I received two transplants," Hiba stated. Over the next eight years, Hiba was able to finish her Bachelor of Science Degree in Cellular and Molecular Medicine at the University of Ottawa. However, her new kidney failed to remain fully functional and she had to go on dialysis and wait for another donor. Because of her rare blood type, she was told the wait could be up to 7 years. Alhamduillah (Thanks to God), after only three years, she received a kidney from a deceased donor. Her personal struggle as a transplant recipient has led her to speak out publicly about the need for more organ donation, particularly from diverse communities who tend to have rarer blood types. In the lead up to the event, Hiba spoke to the Ottawa Citizen and appeared on CTV Ottawa in an attempt to raise awareness about organ donation.
Hiba feels that the low rates of organ donation in Canada are due to more than just religious or cultural barriers. "Religion and culture might be barriers but there is also the bystander effect, which means that everyone is standing around, something bad is happening but everyone else thinks that somebody else will do the job and fix things, which means that in the end nothing gets done," she explained. Hiba is a researcher with Ottawa's Kidney Research Centre. Based on her research, Hiba informed the audience that due to an aging population and the rise in diabetes and obesity there is an increasing number of Canadians going on dialysis and who require kidney transplants.
Pakistani-Canadian Fatima Baig, who lives in Mississauga, has also become a volunteer with the Trillium Gift of Life Network. Her reason for volunteering is simple-her life depends on it. Fatima, 20, has been waiting three years for a liver transplant. As she explained on her profile on Beadonor.ca "When I was 11, I received my first living donor liver transplant [her mother]. I was transplanted due to PSC (Primary Sclerosing Cholangitis). I was well for 8 years but then a post-transplant biopsy caused a fistula and in 2010 the fistula had gotten bigger and caused complications. In an effort to close the fistula my blood supply got blocked but eventually was compensated but, due to all the trauma, my bile ducts have been effected and I am waiting for my second liver transplant." Muslim Link interviewed Fatima while she was in hospital once again with an infection in her liver. Unable to finish high school due to her ill health, Fatima's life is on hold and in danger. According to Trillium Gift of Life Network, every three days, one person in Ontario dies while waiting for an organ transplant.
Fatima, like Hiba, has a rare blood type, B+, which is more commonly found among South Asian communities, who tend to not register to be organ donors. "I think South Asians don't donate because they believe in a lot of myths that it is not allowed in their religion," she explained, "But that is not true. All major religions encourage life-saving organ donation." She has also found that people sometimes believe that their body will not be treated respectfully if they donate their organs after death. "But that is not true. Organ retrieval is done in the hospital exactly like they would do a surgery," she said.
Fatima visits mosques and other Muslim forums, including MuslimFest, in order to encourage more members of her community to donate. "A lot of people from my community aren't really informed about organ donation so I wanted to get the word out as much as I could," she explained, "I feel good after I give a speech because even if I can't get people to become organ donors I can at least get them to start thinking about it." People usually respond to her very positively and she has found support from Imam Hamid Slimi, who is himself a registered organ donor.
Fatima faces her illness with a great deal of faith and patience (sabr) as she hopes and waits for a transplant. If, Inshallah, she receives one, Fatima hopes to finally graduate from high school and eventually go to college for nursing and "just do what people do."
Would you consider making Fatima's simple dream come true by giving the gift of life?
Click to view a CBC interview with Hiba Yusuf about the importance of organ donation here
To register as an organ donor visit www.beadonor.ca
To learn more about the Trillium Gift of Life Network visit www.giftoflife.on.ca
Click to view or download the Trillium Gift of Life Network's brochure on Islam and Organ Donation
To learn more about Fatima Baig follow her on Twitter or Facebook ■  (See Editor's Update Below)
The Permissibility of Organ Donation within Islam
Most Muslim scholars hold the opinion that organ donation is permissible given the following conditions*
The donor is not harmed by the donation.
The recipient requires the organ in order to live or in order to perform an essential function.
The donor's body, whether living or dead, is respected and treated with dignity.
The donor gives his or her organs freely.
The organs are not bought or sold.
*Based on the verdit of the International Islamic Fiqh Academy (Saudi Arabia, February 1988)
The following is a list of some of the local and international institutions which have issued legal opinions (fatwas) for the permissibility of organ donations in Islam.
The Canadian Council of Imams
The International Islamic Fiqh Academy of the Muslim World League
The Fiqh Academy of the Organization of the Islamic Conference
Al Azhar University, Egypt
Saudi Arabia's Council of Senior Ulema
Editor's Update: Alhamduillah (Thanks be to God) Fatima Baig was able to receive a liver transplant matching her rare blood type. Also, which seldom happens, she was able to connect with the family of her donor. Read about this moving story in The Toronto Star.
This article was produced exclusively for Muslim Link and should not be copied without prior permission from the site. For permission, please write to info@muslimlink.ca.