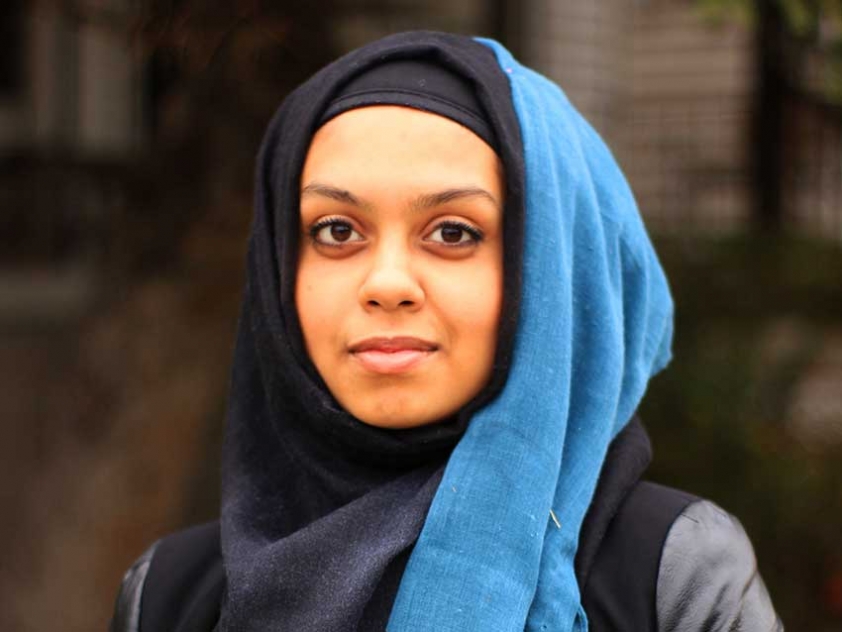 Nafee Rashid discusses her experience as a Fellow with LaunchGood, a crowdfunding platform for Muslims based in Detroit.
Courtesy of Nafee Rashid
29
Mar


2016
Working with LaunchGood: The Crowdfunding Platform for Muslims
Written by Muslim Link
Muslim Link spoke to Nafee about her experience with LaunchGood.
Tell us about yourself.
I was born in Dhaka, Bangladesh went to elementary school there, moved to Montreal, finished up elementary school, and then moved to Calgary, Alberta. I did the rest of my schooling in Calgary, went to University of Calgary's engineering program and graduated with a degree in Mechanical Engineering on June 2015.
I love volunteering and have been part of various local organizations and university clubs catering to issues such as poverty, refugee relief, homelessness, mentoring, and engineering. I am fluent in English and Bengali and have an intermediate proficiency in French, Hindi, and Urdu. I ran two half marathons in Calgary and want to run a full one someday.
How did you learn about LaunchGood and why did you apply to be a Fellow?
I learnt about LaunchGood from campaigns on social media and applied to the Fall Fellowship after a friend who worked at LaunchGood in the past posted a status that they are hiring fellows.
I applied to LaunchGood because it was something new; the fact that it was a startup from the Muslim community intrigued me. It being a small company, I knew, I would learn a lot of different skills and the job description seemed exciting as it entailed details about developing entrepreneurial, leadership, and community engagement skills. 
Also, as a long-time volunteer in the community, I know how important it is to get funding for programs and non-profit organizations, so I thought it would be a great experience to learn in depth about how funding and crowdfunding work.
Tell us about what you did as a 2015 Fellow with LaunchGood and what lessons from the experience you took back to Calgary.
As a fellow with LaunchGood, I learnt a lot about the Muslim community and the potential of good that we have as a community. LaunchGood really values the people involved. Every project creator, donor, and organization is treated as VIPs (very important persons) and it is ensured that everyone's needs are met in the best way possible.
I also developed planning, project management, and business development skills and learnt a lot about what it takes to be a social entrepreneur. LaunchGood has the very best team of people; they are the most dedicated, motivational, helpful, nice, and fun people to work with! I learnt a lot from every single one of them, from the founders to the rest of the team.
I got to meet some cool people (i.e. Linda Sarsour) and work with some great projects both innovative and aid related.
Finally, the Green Garage* and Detroit, in general, was wonderful! There were a lot of lessons to be learnt just by being there. It reinforced the importance of sustainability and helping people in your own backyard for me!
Do you feel that Crowdfunding is a way to follow the Islamic principles of giving in charity in a way that preserves the dignity of those receiving charity? Explain.
Definitely! From a donor's perspective it is a great tool to have, now you no longer have to wait to go to the mosque or a charity event to donate. You can go to LaunchGood.com, browse through the projects and give to any project you like. You can choose to impact great Muslim initiatives from around the world just by clicking the Support button!
From a project creator's perspective it is very dignifying as during LaunchGood's coaching process we tell project creators that they are allowing people to be a part of something great. The project creators allow donors to make a change in someone's life, be it finishing their education, funding their trip to Greece for refugee relief, creating a children's mobile app, or starting the latest clothing store for Muslim Women.
In a lot of ways these projects not only personally benefit the project creators, they benefit the whole community, encourage innovation, and build a sense of community. They also reinforce the hadith "The example of the believers in their affection, mercy, and compassion for each other is that of a body. When any limb aches, the whole body reacts with sleeplessness and fever." It allows everyone involved make a positive impact in society.
You crowdfunded to raise funds for computers for Syrian refugees in Calgary. Tell us about what lessons you learned from that project.
My project raising funds for Computers for Syrian Refugees in Calgary was a great learning experience! I got to use the tips that I've learnt from working with LaunchGood and the advice that I have been giving to project creators. I learnt first hand how crowdfunding works. I realized the importance of persistence and patience when it comes to crowdfunding a project. It is very important to remind people to support your cause as people often forget.
I was also very surprised and felt very blessed as I had a bunch of donors that I did not even know of; they all came from the LaunchGood network and a few were mutual friends. It totally reinforced my belief that LaunchGood allows Muslims from all over the world to come together to do great things and create a global community.
I ended up exceeding my $2,500 goal. A local company (Mobile Depot) and a personal connection combined gave me 25 computers for about $2,550!
What advice would you give to anyone interested in becoming a Summer Fellow with LaunchGood?
Seriously consider it. It's going to be very different from most places you've ever worked for, whether they were a large multinational company or a Muslim volunteering organization. The skills that you learn at LaunchGood are very transferrable and the people that you meet are game changers! It will change your outlook on life and give you a newfound motivation to work on your own endeavors.
LaunchGood definitely inspired me to possibly start something of my own and gave me tools on how to go about realizing it. It will for sure raise your inner entrepreneurial spirit, even if just a little!
What are you future plans?
My future plans entail gaining learning experiences from everyday work that I do, be it professional, volunteer, or personal. I am looking to get into the field of international development, engineering-related or humanitarian. And get started on my own startup ideas!
For more information about the LaunchGood Fellowship visit here.
*ML Note: The Green Garage is a building in downtown Detroit which is also a business enterprise and a community dedicated to Detroit's sustainable future.
This article was produced exclusively for Muslim Link and should not be copied without prior permission from the site. For permission, please write to info@muslimlink.ca.