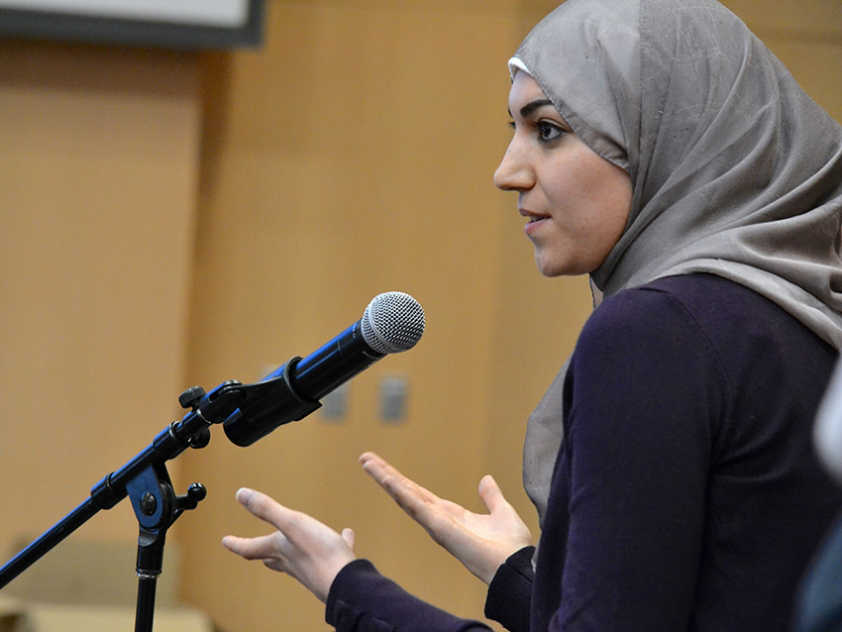 Hoda Mroue speaking at the May 10th Unmosqued Screening & Discussion
Faisa Omer
05
June


2014
Unmosqued Voices: Hoda Mroue
Written by Hoda Mroue
"UnMosqued" portrayed various scenarios that I have personally experienced as a young Muslim woman in Ottawa. The documentary made me realize that most of us didn't know that many others are bothered by the same issues in our mosques: the unequal prayer spaces between men and women and the separating wall, the less convenient backdoor entrance for women, the dominance of one ethnic group, male-dominated board members, the lack of and quality of English programs, the awkwardness of interacting with the opposite gender etc. For these reasons and others, I have personally felt disconnected to local mosques or "unmosqued".
For example, when I first started attending Islamic lectures at universities, mosques or other events, interacting with the opposite gender was always awkward and taboo. This was confusing to me because it seemed that everyone was there for spirituality and education, and everyone was dressed modestly. I thought that this was the ideal environment for Muslim women and men to interact, but it barely happened. In so many cases, if I wanted to ask questions after a lecture, I had to write it on a piece of paper because I was a woman (exactly like the experiences in the documentary) while men could ask openly. I decided that I didn't feel like I was in a learning or spiritual environment where I got to fully engage my thoughts and ideas and I stopped attending. I didn't sense that other women were bothered the way I was and I unfortunately didn't inquire when I should have.
However, the documentary exposed the reality that what I was feeling is widespread in North America. But most importantly the documentary asserted that the status quo must and can change. By showcasing local initiatives in the US that have truly engaged the Muslim community and made holy spaces more meaningful and interactive, we were shown what our possibilities as a Muslim community could look like. This really made me think that it is only when you know what your possibilities and rights are, that you can begin to fight for them. 
I thought Ta'leef Collective in California was one organization that the documentary could have referred to as a model and inspiration for Muslims communities to adopt across North America. This is because the organization tackles so many of the issues brought up in the documentary. To briefly describe the organization, Ta'leef states that it "serves seekers actively interested in Islam and converts to the faith, assisting them in realizing a sustainable conversion to and practice of Islam. Ta'leef Collective also strives to reengage the growing number of disenfranchised and often marginalized Muslim young adults."
When I learned about this organization through a close friend of mine who is participating in their courses, I immediately thought that this was the type of spiritual and educational environment that I would have never disconnected from.
Finally, I thought the discussion afterwards was fascinating because of the many different perspectives shared. There was one comment in particular that stood out to me from a male board member from a mosque in Ottawa. Not only did he acknowledge the reality of male-dominated board members in the mosques and the challenges of addressing women's issues, he encouraged women to feel comfortable approaching him about their rights and to continue fighting for larger prayer spaces. The ability to identify important actors in the Muslim community is the first step in mobilizing for change in our communities.
Unmosqued Voices is a series of reflections by Muslim women and men who attended the screening of the documentary Unmosqued organized by UmmahHub in partnership with Muslim Link and the Carleton University Centre for the Study of Islam.
This article was produced exclusively for Muslim Link and should not be copied without prior permission from the site. For permission, please write to info@muslimlink.ca.