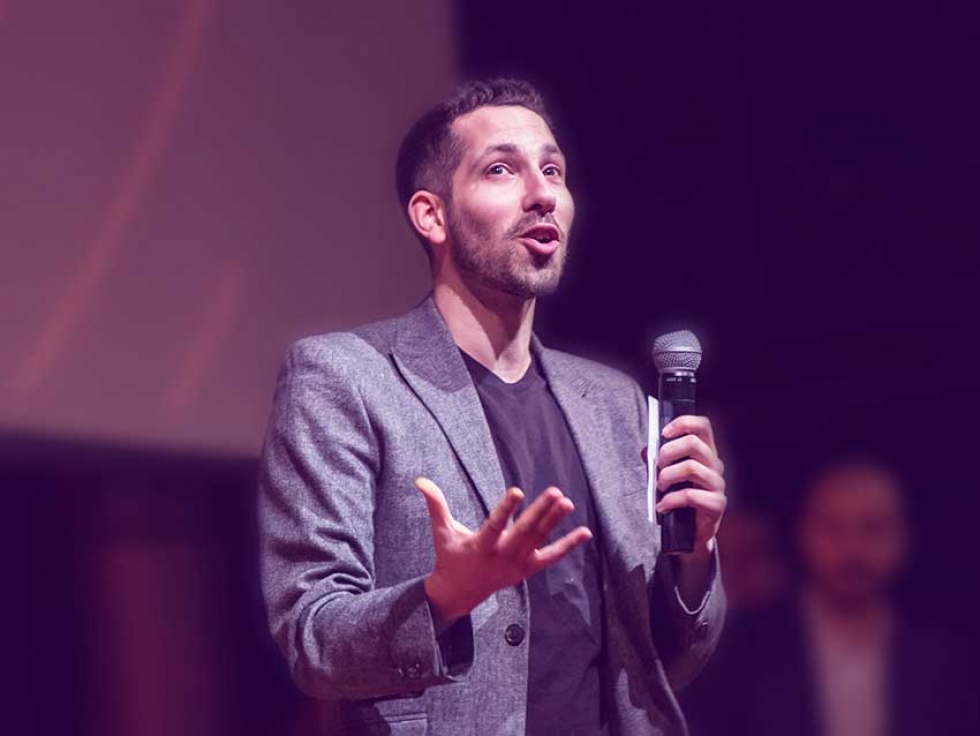 Ismaili Canadian Aquil Virani is a winner of the 2017 Combating Hate, Advancing Inclusion (CHAI) digital video arts competition.
18
Jan


2018
Postering Peace: An Interview with Visual Artist Aquil Virani
Written by Chelby Daigle
The Silk Road Institute's Combating Hate, Advancing Inclusion (CHAI) digital video arts competition was funded through the Michaëlle Jean Foundation, with financial support from the Vancouver Foundation, the Edmonton Foundation, the Winnipeg Foundation and the Oakville Community Foundation settlement fund.
Muslim Link interviewed CHAI 2017 winner Aquil Virani about his video, Postering Peace.
Tell us about yourself
I'm an Ismaili Muslim. A white-passing Indian, French and Canadian settler. A feminist. A bilingual anglophone. A boyfriend. A son. An artist. My hardworking father immigrated to Canada from Tanzania in the 1970's. My resilient mother came soon after from France. I grew up in Surrey, BC drawing pictures and playing street hockey, pretending to be various members of the Vancouver Canucks. I was the youngest of four boys, lucky enough to graduate from a private high school. I was admitted into my prized art school, Emily Carr, but chose to study at McGill University for two reasons – an academic degree seemed more credible and flexible, and McGill offered more scholarship money. I pursued art and design passions while finishing a BA in Philosophy and Marketing. I worked for several years full-time at L'Oréal Canada while moonlighting. In October 2014, I began working for myself.
How did you start making videos?
Back in high school, I was part of a filmmaking trip to the US-Mexico border where I witnessed and participated in the entire creation process of an award-winning documentary. My first projects in university used amateur footage from my laptop. The initial appeal of filmmaking was how I could use it to promote my art projects.
Why did you choose to tell this story through video?
The gripping mix of audio and visuals enables filmmakers to sustain the attention of viewers and guide their engagement through a narrative; it's a medium that people are excited to experience. While I value the creation of "art objects" like paintings, videos employ music and moving images to communicate rich emotions and ample subtext in a way that is accessible to almost everyone – no specific education required. The documentary style also allowed me to share my platform through direct participation from publicly submitted testimonials.
What challenges did you face telling this story?
The main challenge was operational; the exciting news that my proposal was accepted sparked one stressful question – with a prior project booked for the next two weeks and an earlier deadline to submit the finished film than anticipated, how was I going to solicit participation from Muslims across Quebec, create the actual artwork, post it around Montreal, shoot the film, edit it and subtitle it, all within a few weeks?
More conceptually, I had to figure out how to navigate the politics of representation. What kind of voices needed to be heard and amplified? How do I acknowledge and represent the diversity among Muslim communities with limited resources and a finite film length? With a rich story behind every single participant, how do I balance a fair input from everyone while going deeper with a select few? Most importantly, to what extent can I nuance the discussion? Does exploring the complex imperfections within certain Muslim communities have its place in this work? Or should I focus on casting a positive, humanizing light on Muslim youth in Quebec?
What has been Muslims' reaction to the video?
A primary goal of the documentary was to destabilize the myth of the monolith, to battle the idea that all Muslims are the same or that there is some singular "Muslim community" that mainstream media sometimes refers to. As you might imagine, the responses varied among Muslims. Many appreciated the humanizing angle and the ability to hear directly from young Muslims. Others noted that the artistic element provided an engaging aspect that might render the "anti-islamophobia" issue more palatable to broader society – because it "looked cool."
What has been non-Muslims' reaction to the video?
During the public postering aspect of the project, I had a few encounters of varying confrontation; an older white Québecois man questioned me why Muslim immigrants were having such a hard time "integrating" in the province when all the other groups supposedly had no issues. He presented a frankly naive narrative of wave-after-wave of happy newcomers as evidence, neglecting to mention the systemic racism experienced by virtually every other group that came to Quebec after the initial wave of French colonizers arrived on Indigenous land. Aside from these minimal episodes, the reception was largely warm and supportive. There was some well-intended questioning of whether these posters "would actually make a difference." I welcome this skepticism as long as it doesn't result in paralysis or inaction. For me, I'm trying to spark conversations and assert the ability of Muslims to represent themselves on their own terms – even that positive display of agency amounts to some kind of impact that's worth exploring.
Why was the "Combating Hate, Advancing Inclusion video project" important for you and do you feel more projects like this are needed?
The strength of the CHAI project stems from its concrete allocation of resources to filmmakers (via monetary award), its ability to convene members from diverse Muslim communities to hold empowering discussions in-person, and its political nudging of partnering institutions to signal the importance of Muslim realities in Quebec while acknowledging the growing prevalence of Islamophobia in our lives. Personally, the project externally validates an internal understanding that our stories as Muslims are important to tell. By making more space for us, we are further supported.
Is there anything else you would like to add?
I want to thank Chelby Daigle for her work with MuslimLink.ca. I want to voice my appreciation for Alice Mutezintare and Peter Flegel's work with the Michaelle Jean Foundation, Mohamed Shaheen with the Silk Road Institute, and the countless people behind the scenes whose work we don't see.
Email me any time at This email address is being protected from spambots. You need JavaScript enabled to view it.. You can check out more of my work at aquil.ca. Thanks for your time and energy.
This article was produced exclusively for Muslim Link and should not be copied without prior permission from the site. For permission, please write to info@muslimlink.ca.