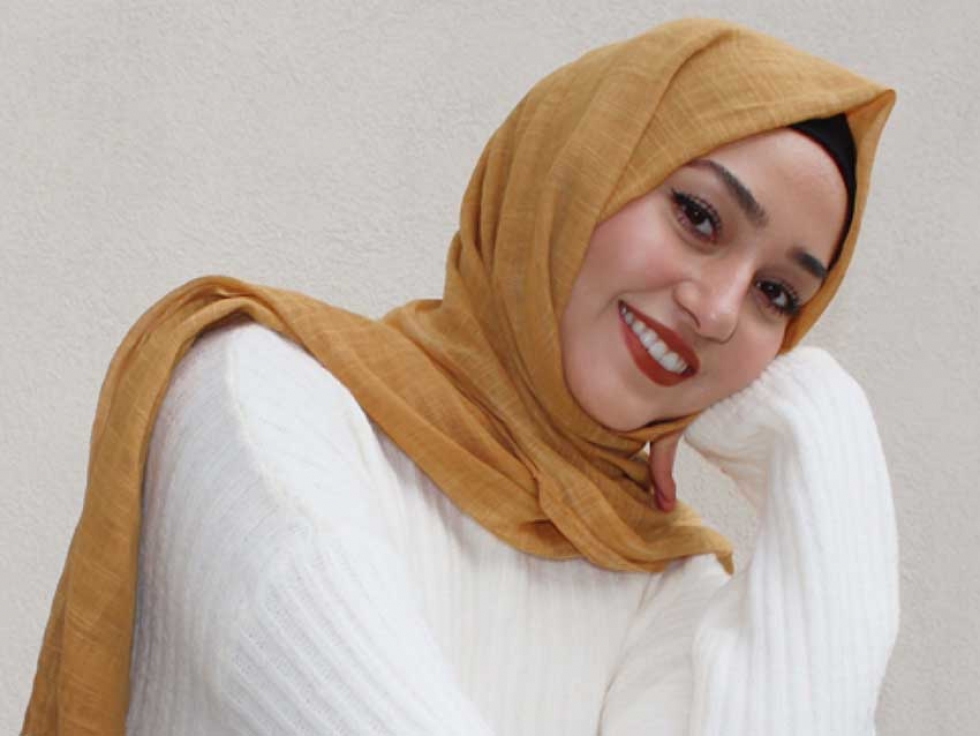 Muslim Link interviewed Vancouver based CHAI 2017 winner Sherry Rashidan about her video Iridescent.
28
February


2018
Iridescent: An Interview with Filmmaker Sherry Rashidan
Written by Chelby Daigle
The Silk Road Institute's Combating Hate, Advancing Inclusion (CHAI) digital video arts competition was funded through the Michaëlle Jean Foundation, with financial support from the Vancouver Foundation, the Edmonton Foundation, the Winnipeg Foundation and the Oakville Community Foundation settlement fund.
Muslim Link interviewed Vancouver based CHAI 2017 winner Sherry Rashidan about her video Iridescent.
Tell us about yourself
My name is Shaghayegh (Sherry) Rashidan. Shaghayegh means the red poppy flower in Persian/Farsi. For many non-Farsi speakers, it can be quite a mouthful to say, so I also go Sherry.
My roots proudly trace back to my motherland, Iran, where I was born. In Farsi, my family called me "the girl of the sea" because I spent my early childhood days playing by the sea in the South of Iran. When I was three-years old, my family and I hopped on a plane and found ourselves on the doorsteps of our new (rainy) home, Vancouver, Canada. Vancouver is where I've grown up and where I call home. I guess you can say, I never parted with the sea.
I graduated from the University of British Columbia with a degree in U.S. Studies and International Relations, wanting to pursue a career in academia. I'm also currently enrolled in a Film School in Vancouver pursuing filmmaking professionally. I've got a leg in two very different professions and career paths—life is fascinating and strange that way.
How did you start making videos?
From a young age, filmmaking has been an integral part of my life and self-expression. I continuously find myself observing mundane moments as scenes of a film not yet written, each moment as ephemeral yet surreal as the next. My insatiable passion for Film began in my early years of Elementary School. I produced small skits with my father's handheld camera, immersing myself in the imaginative worlds I'd create in my head and capturing them through a lens.
Carrying on into my senior year of high school, I participated in a Film Contest for Canadian high school students, where I produced a video depicting the dangers of impaired driving. My video placed first place nationwide, winning my school $4000.
It was then that I began considering pursuing Film professionally after graduation; however, I chose to study International Relations instead. Completing my degree at UBC in U.S. Studies and International Relations allowed me to gain a deeper understanding of the philosophical and political messages I want to convey in my films. Thus, everything came together in the end.
Why did you choose to tell the story of Iridescent through video?
The most powerful medium used to illuminate the world of storytelling that channels profound messages, which transcends all linguistic and cultural barriers, is undoubtedly Film. Filmmaking allows storytellers to inhabit worlds that would otherwise cease to exist; ones where reality is altered just enough to make us yearn to escape into it, but not enough to make us question its eccentricity.
I use film to confront issues of discrimination and representation. The framing of Muslims in the media is incessantly patronizing and polemical, often invoking and reaffirming orientalist perceptions of the Muslim population. These perceptions are further exacerbated by the scarcity of Muslim representation in the Film Industry.
Iridescent follows the story of a young Canadian-Muslim girl facing the internal struggle of self-identity in a time and age when the label "Muslim" is under microscopic attack from all angles. This isn't a struggle exclusive to Muslims living in the West, it's something many People of Colour struggle to come to terms with. The theme of self-identity in a systematically racist society is something many resonate with. Film, a medium that transcends linguistic and cultural barriers, was the most creatively efficient way to channel this message.
What challenges did you face telling this story?
During the storyboarding stage, the biggest challenge was coming up with a potential "solution" or positive ending to the video. I didn't want to end it in a negative way without viewers taking anything inspiring from it. However, it was challenging to decide on a solution because this is an ongoing conversation that doesn't have a concrete answer to it.
Thus, the paper crane throughout the video represented hope and change. It was passed on from one person to another throughout the video, demonstrating the importance of passing on strength, hope and support. When the protagonist, Shahrzad, finds the paper crane at her lowest point (literally lowest, as she was laying on the ground in a state of hopelessness), a spark is ignited in her that inspires her to take her identity back and reclaim it as her own. The paper crane is meant to open dialogue as to what it means to each person on a personal level.
Initially, we had several alternate endings filmed. However, none of them spoke to me personally, and that was very important for me. The passing of the paper crane to another young Muslim woman at the end meant this is an ongoing struggle, but it's important to stick together in solidarity and work towards a solution.
What has been Muslims' reaction to the video?
The response to the video from Muslims has been overwhelmingly supportive. Many Muslims approached me from various walks of life, and shared personal stories of their struggles with racism, Islamophobia, microaggressions and self-identity. If it's not external demons we're facing, it's internal ones. It's a shared struggle for many Muslims. I'm beyond overwhelmed by the love this video got, and it's inspired me to continue telling these stories through a lens.
What has been non-Muslims' reaction to the video?
My sister Rogin, who played Shahrzad, received a lot of feedback on the video as well. Someone expressed to her that he understands the struggles of being a minority, because he's also experienced many hardships as an international student in school. Thus, the video resonated with many People of Colour regardless of their ethno-cultural backgrounds. In addition, there were responses from people who expressed that they didn't realize the extent to which racial prejudice is an issue for young Muslims in Canada.
There was one particular response that stuck with me the most. I received a message from a Japanese high school student living in Yokohama. With the minimal English she knew, she expressed that she never thought much about cultural diversity and racial discrimination due to the homogeneity of Japan's society; however, she was touched by the video and it opened her eyes to the vilification of racial minorities. Despite the linguistic and cultural barriers between the young Japanese girl and me, the video transcended the borders that previously existed between us; it elicited a harmonious unity and understanding. Her message opened my eyes to the immutably didactic power of Film.
Why was the "Combating Hate, Advancing Inclusion Video Project" important to you and do you feel more projects like this are needed?
The "Combating Hate, Advancing Inclusion Video Project" provided young Muslim artists a chance to showcase their talent and vision. I extend my sincerest gratitude to all the organizers who made this happen. It was an enriching experience and I look forward to seeing more. These platforms are important and very necessary because it allows young artists to come together, learn from one another, and leave with newly acquired inspiration.

Anything else to add?
I'm a massive advocate for the Arts, and I believe it's important to encourage youth to be creative and expressive. There's an artist within all of us, and these projects and forums help us get in touch with that inner artist. I especially extend my full love and support to all Muslim artists. If we're not our own storytellers, others will try to tell our stories for us. Envision change and beauty, and use your art to channel it; your art is your power.
Follow Sherry Rashidan on Twitter here
Follow Sherry Rashidan on Instagram here
This article was produced exclusively for Muslim Link and should not be copied without prior permission from the site. For permission, please write to info@muslimlink.ca.