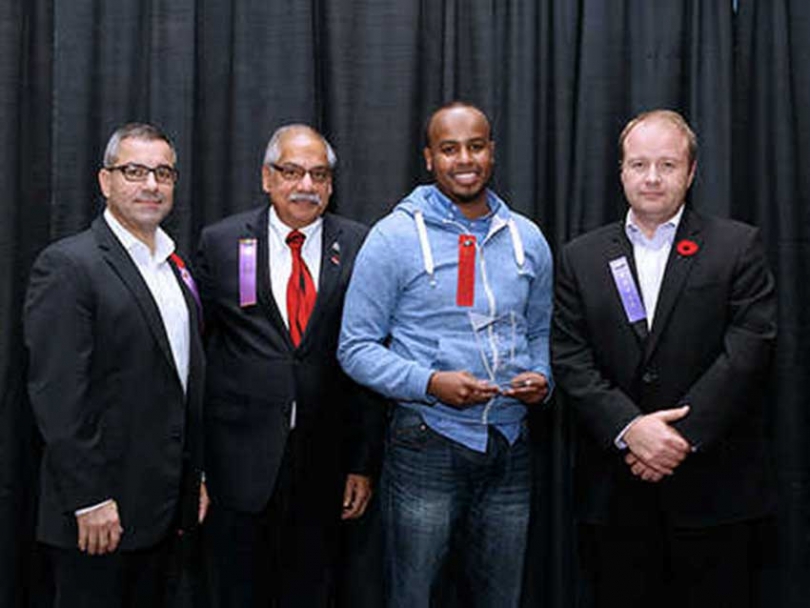 Deputy City Manager Steve Kanellakos, City Counsellor Shad Qadri, Mohamed Islam, and Crime Prevention Ottawa Board Member Jim Devoe at the Crime Prevention Ottawa Community Safety Awards
06
Dec


2013
Mohamed Islam wins Crime Prevention Ottawa's 2013 Youth Worker Award
Written by Chelby Daigle
On November 4th, Mohamed Islam, 31, was awarded with Crime Prevention Ottawa's 2013 Youth Worker Award in a ceremony at City Hall. Crime Prevention Ottawa (CPO) is an organization which aims to reduce crime and enhance community safety through collaborative evidence-based crime prevention strategies. Mohamed Islam is a Youth Worker with the Boys and Girls Club of Ottawa and is the coordinator of the Somali Youth Support Project, a program run out of the Pinecrest-Queensway Community Health Centre.
Mohamed works with youth who are often referred to as "at risk" because they are living in low-income communities. Mohamed has a problem with this image considering that he too would have fallen into the category of "at risk". Mohamed's family fled to Kenya during Somalia's civil war. In order to ensure that he would have a better life, Mohamed was sent alone to live with relatives in Ottawa when he was a child. He grew up in the Cedarview area and attended Ridgemont High School. It was through the school's co-op program that he got his first taste of youth work when he did his placement with Somali Centre for Family Services.
According to Mohamed, society needs to change its perception of "at risk" youth. "Often youth from marginalized communities are painted with the same brush and they are always looked at differently," Mohamed explained. "They are seen as always "˜at risk'. All youth are at risk regardless of which background they come from or their ethnicity or the environment they grow up in. Youth will always go and test the boundaries; they will always push the limits. Income has nothing to do with it. But what we have to look at is what opportunities are we providing our youth. Are we getting tomorrow's generation ready to lead the country? That is often what people forget. The youth that I work with are youth who want to better themselves but they just have fewer opportunities to be shown that path to success. But that's where we come in so we can provide more opportunities for them and work with them to get them on the right path."
It was touching for Mohamed to see some of the youth he works with attend the award ceremony. For many of them, it was their first time being at City Hall. Mohamed's family also came, including his 2 year old daughter.
Mohamed has a Social Service Worker Diploma from Algonquin College and is now studying for his Bachelors in Social Work part-time at Carleton University. He encourages other young Muslim men to get involved in youth work and consider studying Social Work. "Islam encourages us to extend a helping hand to others," Mohamed stated. "So there is no better way to fulfill your religion and benefit the greater society than to go out and work with people who could really benefit from your time and energy."
To view Mohamed Islam's interview for the CPO Awards visit
.
To learn more about Crime Prevention Ottawa visit http://www.crimepreventionottawa.ca/  
This article was produced exclusively for Muslim Link and should not be copied without prior permission from the site. For permission, please write to info@muslimlink.ca.