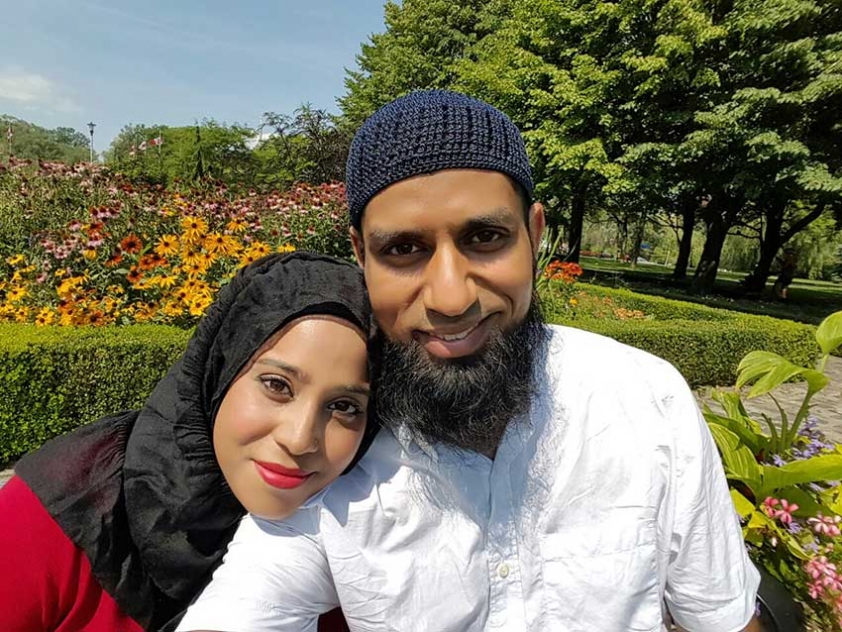 Nazima and Riyad Khan are the proud parents of three children they adopted through the Children's Aid Society of Toronto.
Courtesy of The Khans
19
Nov


2015
One Family's Journey: Infertility, Adoption, and Islam
Written by Chelby Daigle
Nazima Khan, 34, and Riyad Khan, 35, married young in the hopes of starting a family early. Born and raised in Toronto to South Asian parents, Nazima works as a registered nurse in a labour and delivery ward and Riyad works as a teacher. They are the proud parents of three young children. There is very little that distinguishes them from your average Muslim Canadian professional family. Except that they adopted their children from the Children's Aid Society (CAS).
The Khans recently shared their story at a seminar on Islam and Adoption organized by Amal Fertility, a support group for Muslims struggling with infertility based in Toronto, in the hopes of breaking the taboo around open discussion of infertility in the community and encouraging more Muslim families to consider adopting as there are many Muslim children currently looking for homes in Canada.
Why have you chosen to speak so openly about infertility and adoption in the Muslim community?
Nazima Khan: Our infertility was a real private part of our life. But we are trying to change that now because infertility affects many, many couples and it is not something to be ashamed about. A lot of people are going through it so let's reach out and let's support each other and discover all the resources and support networks out there. We got married young, at 21, and we both knew that we wanted kids at a young age. Unfortunately, things didn't work out that way. We struggled with infertility pretty much a year after our marriage. I have endometriosis. So we were made aware quite early that it would be very difficult for us to conceive naturally. We did try reproductive assistance but unfortunately those attempts failed.
Why did you consider adopting?
Riyad Khan: Personally, for me, adoption wasn't something I was aware of growing up. I didn't have any family members who were adopted. It took a while for me to come around to the idea of adoption because I was never exposed to it. Once we made the decision to explore adoption we were both fully on board and we started the process at that time.
Nazima Khan: We decided to adopt seven years into our marriage because we both wanted a family so we knew we would have to find a different method of achieving our dream. Because adoption was completely new to us we had to do a lot of research. We looked into international adoption, private adoption, and local adoption.
Did you struggle with the idea of adoption because of religious restrictions on adoption within Islam?
Riyad Khan: That was quite a significant part of our journey. We spoke to local scholars and imams. We even spoke to international speakers who would come to Toronto to get their perspective on it. A lot of times we were basically given the same type of advice. No one said you are not allowed to adopt. But everyone was so focused on preparing us for the challenges that they failed to discuss the positives of adoption in Islam. They would focus on restrictions related to inheritance and the naming of the child and these types of things. They were focusing on these Islamically legal restrictions. But we really liked the speaker at the Amal Fertility Seminar, Sheikh Faraz Rabbani, because he focused on the positives. He spoke about the merits of adoption within our religion. This really brought satisfaction to our minds and hearts that there are people who really do understand the bigger picture. He said that ultimately there are these children that need care and there are families that are willing to take care of them. This is something that we as a community need to step up and start doing more of.
When we adopted for the first time, we actually held a welcoming party for our family and friends. In the mosque we booked the cafeteria and invited the imam of the mosque to come in and speak and he spoke very positively as well. We definitely hope that Muslim community leaders could help to spread the word not just about adoption but also about fostering and the need for us as a community to care for these children.
Again, there are just so many children who need a home.
How did you end up choosing to adopt your children through the Children's Aid Society (CAS)?
Nazima Khan: Our story is interesting because initially we were convinced that we were going to go with international adoption. We were told by people we spoke to that local adoption takes a long time and it is really difficult to find a younger child. We were told that we would have to adopt a child with multiple health issues and disabilities if we adopted locally. We were still young so we didn't know if we could go down that path at the time. So international adoption seemed like the more realistic choice for us even though financially and time wise it is a lot more intense.
Riyad Khan: We took PRIDE Training to prepare. PRIDE Training is a must for any adoptive parents to go through whether they are adopting locally or internationally in order to be certified to be able to adopt. The training explores a variety of issues related to adoption. It is quite intense but it is more than worth it. We even think it would be good for even biological parents to take such a course because it provides so much information on the challenges of raising a child.
We intended to go through South Africa and our file was literally sitting on the desk of the case worker in South Africa and they were just waiting for a child to come along that would match our family. But because within our family and our circle of friends everyone knew we were intending to adopt, it just so happened that our story got to someone who was closely affiliated with the Children's Aid Society (CAS) here in Toronto. Someone mentioned to CAS that there was this Muslim family looking to adopt. It just so happened that CAS had a child that was up for adoption that they were looking for a Muslim family for. CAS then reached out to us asking us to send our file in to them because they were looking for a Muslim family. This completely took us by surprise. We thought there was no harm in sending them our file. So that is how we ended up adopting through the local CAS.
Tell us about the adoption process with CAS
Riyad Khan: If I had to give advice I would say be patient because the process can be a little bit up and down. Obviously there is a lot of logistics involved and bureaucracy. Don't go in expecting the perfect situation in adoption whether you go local or international. It is going to be a difficult process. You have to trust the system and trust the process. Eventually you will be matched with the child that is meant for you.
Nazima Khan: I agree that you have to be patient. I think a lot of people think, I go to CAS, I tell them I want to adopt and then I go on to a waiting list. This was a huge learning curve for us as we found out all of the steps. Like, you need to have a medical completed. A social worker comes to your house and conducts a home study. To be honest it's quite an intrusive process. They are looking at your financial statements, they are looking at how you were raised, they are looking at your ideologies, your beliefs, your goals. It was stressful because I was thinking that someone who doesn't even know me, who is sitting behind a desk, is going to determine if we are fit to be parents. During the home study they were asking us all of these questions and we felt really scrutinized and you wonder is it really necessary to have all of this information. But they are just trying to make sure that you provide everything possible for that child because in the end it is about that child, it is not about us.
Now, we tell everyone, be prepared for this because I don't think we were prepared. It is important to be aware and remind yourself of why you are doing this. Try to remember throughout the whole process what your end goal is.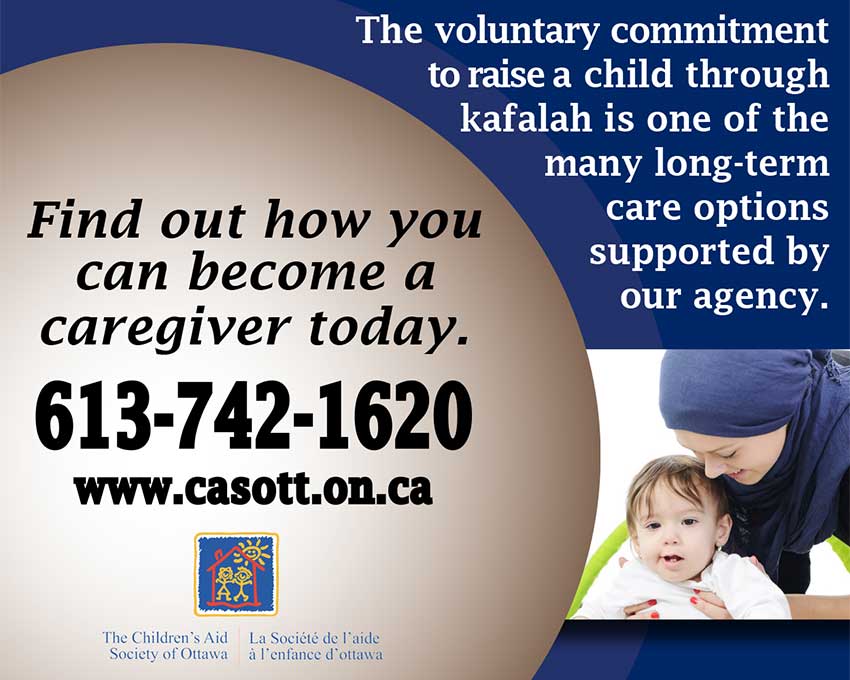 What was it like when you actually adopted your children?
Nazima Khan: People wonder "Am I going to love this child?" or "Every time I see this child, am I going to be sad because it just reminds me that I can't have my own child". All of these questions float around in your mind. I don't think you can make anyone understand unless they go through it themselves. Our first son we met for the first time when he was 11 months. Our second son we adopted when he was 14 months and our daughter was two and a half months when we brought her home.
When I met my first son, he was in a foster family and the foster mother came into the room and placed him on the ground and I took a look at time and it was love at first sight. You can love anybody, it really doesn't matter if they are blood to you. I remember someone saying to us that "Do you know love your spouse even though they are not blood to you?" The same thing can happen with an adoptive child. We don't think of them as adopted. They are ours. We tell people they are adopted to get the word out. Our children are young so they do not fully understand what adoption means but they know they are adopted. We celebrate an adoption date because we don't want this to be a taboo subject for them. We want them to be proud of the fact and celebrate the fact that they have two families. One maybe could not take care of them at this moment but they are loved by two families. They know they were in a foster home. They know we adopted them. We use these terms so that they are familiar with them so that they can be comfortable with them. This is not a secret to be ashamed of.
CAS provides a variety of options for helping children maintain their identity. How do you plan to discuss their adoption and their identity with your children as they get older?
Riyad Khan: It is difficult as we were not given much information about their biological mother. In Ontario, we have something called an open adoption and that allows the biological parents to be involved if they want to be. They can meet with the children or exchange letters. But for us we don't have that option and the history on file for their birth mother is very limited.
Luckily in our religion, there are so many stories about adoption such as Musa (pbuh) that we can tell them to help them to understand their own story.
Nazima Khan: We are going to take our queues from the children. We have been educating ourselves about the experiences of adoptive children and every child feels something different. Some really want to learn more about their birth families and some don't. We can see that our children have different personalities even though they are young so we are going to wait to see what they want to know and we will be by their side on that journey.
You adopted babies who were also siblings. But more often children in CAS are older children, sibling groups, or children and youth with special needs. Were you surprised to learn that some of these children are Muslim?
Riyad Khan: I wasn't surprised. I'm a teacher so I've seen many cases of families dealing with CAS and we were aware of Muslim children being placed in foster homes or up for adoption. But what we didn't know was how many children were in the system. Forget about Muslim or not. There are so many children in the system.
Nazima Khan: When people hear about our story, other people are more shocked that CAS was interested in Muslim families and that there were Muslim children in the system. CAS did tell us that there were not enough Muslim families or even families of colour looking to foster or adopt and their hope was that more Muslim families were aware that there are Muslim children in need of homes.
What advice would you give to Muslims who experience infertility and wish to adopt, given that this whole process must be such a strain on any marriage?
Riyad Khan: I think the difficulty comes when there is blame. The husband blames the wife; the wife blames the husband. The families blame the couple. And you cannot have that. No one should make someone feel like this is their fault. It is a journey that you go through together and whatever happens it is happening to both of you.
Nazima Khan: What a lot of people don't realize is that marriage is tested by different things for different couples. Our test was definitely our fertility issue. We were lucky we had the support of our family. My family and my in-laws all were completely on board and very supportive. I think that made a huge difference in our adoption journey, even with our infertility. We had them by our side all of the time. However, I think because we were young there was a lot of learning happening and we got to learn together because we are the same age. For us marriage is sacred so there wasn't an option of giving up on our marriage because we can't have kids. That's a secondary part to our marriage that we wanted a family, our first part was our commitment to each other. But of course there are ups and downs. I remember that there were times when I was down and my husband had to be the one who was strong and sometimes he wasn't as strong as I was and I had to help him through those times.
Actually, I think our professions kept us strong as we were busy helping members of our community. I think it gave us that purpose in life. We try to emphasize that our story is not a fairy-tale story. It was hard. There were definitely days that were really really hard. I think our religion really did help us also to remind ourselves that sometimes the things we think we have control over we really don't. I always wanted to be a mother and have a family. We tried fertility treatments and it didn't work. But now, in hindsight, we know that everything was happening for a reason because these children were meant to be ours. Allah had a plan for us and we just had to go along for the ride and believe that we were in the best hands possible.
The Khans are willing to offer advice to other Muslim families considering adoption. They can be contacted by email at This email address is being protected from spambots. You need JavaScript enabled to view it.
You may also watch a video of Nazima and Riyad during a seminar they did with SeekersHub Toronto
For more information visit:
Children's Aid Society of Ottawa
Children's Aid Society of Toronto
This article was produced exclusively for Muslim Link and should not be copied without prior permission from the site. For permission, please write to info@muslimlink.ca.