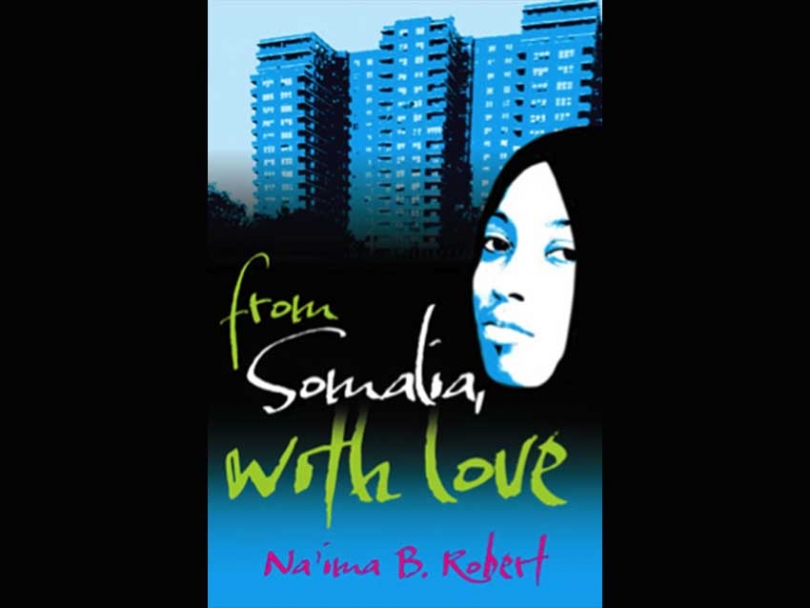 From Somalia, With Love. Author: Na'ima B. Robert. Publisher: Frances Lincoln Children's Books, pp: 160.
23
September


2011
From Somalia, With Love by Na'ima B. Robert
Written by Yasmeen Amer
Na'ima B. Robert is an extraordinary writer, masha Allah (praise be to Allah). She is good at making her stories interesting, like I-can't-stop-reading-now sort of interesting.  One of the books she has written is called, From Somalia, With Love. I enjoyed that book very much.
The book is based on a girl named Safia, whose father comes back from Somalia. She calls him Abo. It is the Somali way of saying "father". If you never knew your father because he was in another country, you would be happy he came home, right? I would. But in Safia's point of view, when her father came home, it ruined everything.
Something happened to Ahmed, her brother, and Safia began spending more time out of the house. What's more, she began hanging out with bad company. Abo only knew her when she was a baby so Safia thought he was not interested in her and did not care about her.
Abo was not used to America. He still had his cultural practices. As for the rest of the family, even if they were Somali they were used to being American. Sometimes the boys would help out in the kitchen but when Abo came in the room, they would stop because in Somali culture, it is considered eeb which means shameful. When Abo came to America, the family changed their way of doing things so they would fit Abo's practices. Everything changed and Safia did not like it.
My favourite part in the book is when it shows how much fathers love their children. Safia somehow ends up in a car with a guy she hardly knows -- I am not going to tell you how because it would ruin the story for you ""- and just as the boy is about to do something bad to her, Abo appears and deals with the boy quite nicely. What makes this my favourite part is that although Abo does not tell Safia that he cares about her, he really does and he shows it by saving her.
I think that this book is mainly for youth around twelve and up. I would suggest that it is more for girls but boys could read it too, if they are interested. This book also shows us the goodness of our deen (religion) and how simple it is. It also teaches us to have good faith in the rules of Islam that were put out for us and to follow them.
I highly recommend this book as I certainly enjoyed it. I did not want to put it down. When it was time for me to go to bed, I did not want to. I read it whenever I could. But of course, that is just my opinion. You might have a different one. I hope that you will be interested in reading it and enjoy it as much as I have.
Yasmeen Amer is a grade seven student at Abraar School.  
Would you like to contribute to the Muslim Link Youth Corner? Write about anything, anywhere, anytime and send it to us at This email address is being protected from spambots. You need JavaScript enabled to view it.. Be sure to include your full name and age! Articles may be edited for length and style.
This article was produced exclusively for Muslim Link and should not be copied without prior permission from the site. For permission, please write to info@muslimlink.ca.