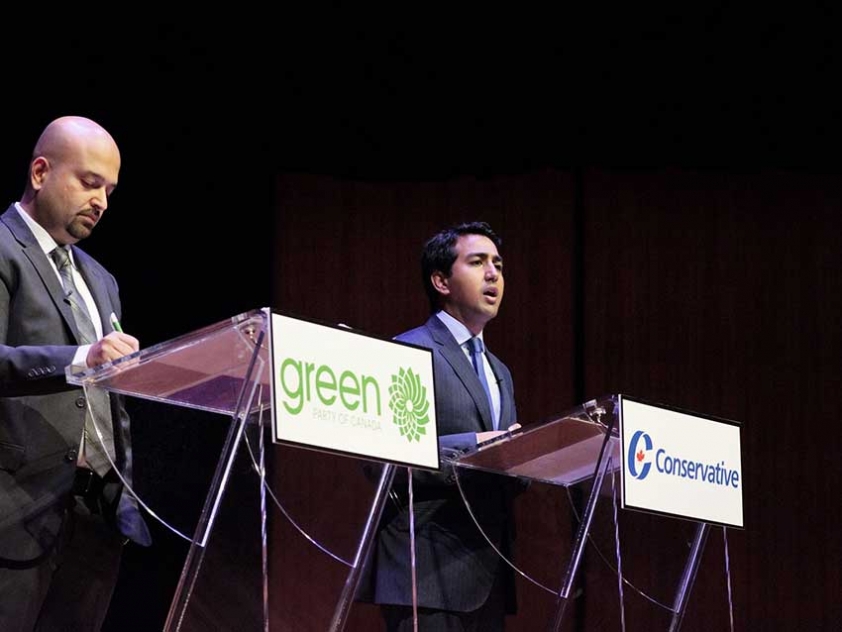 Muslims running in the Federal Election: Adnan Shahbaz for the Green Party and Karim Jivraj for the Conservative Party, speak at the "Young, Canadian and Muslim - Making Our Ballots Count!" Federal Election Debate.
Courtesy of "Young, Canadian and Muslim - Making Our Ballots Count!"
28
Sep


2015
Lessons from Selma: Engaging Muslim Voters
Written by Hoda Mroue
Hoda Mroue reflects on the "Young, Canadian and Muslim - Making Our Ballots Count!" Federal Election Debate organized by Canadian Muslim youth and available to view online here.
President Lyndon Johnson: Ending segregation—proudest moment of my life, I tell ya. I want to help. Tell me how.
Dr. Martin Luther King Jr.:  Well, Mr. President, I'm here to talk about … the right to vote.
President Lyndon Johnson: Most of the South is still not desegregating. Let's not start another battle before we've won that one…. The next fight I want to focus on is the war on poverty and I want your help. I know you agree…the right to vote will have to wait.
On July 24 I pulled out a lawn chair and sat with a 100 plus Canadians to watch the free outdoor screening of the award-winning film Selma at a park in downtown Ottawa. The quotes in this article are passages taken from the film. Selma is the story of Martin Luther King's historic movement in 1965 to secure equal voting rights for all people in the United States. Although the Civil Rights Act of 1964 outlawed discrimination, required equal access to public places and employment, and enforced desegregation of schools and the right to vote, discrimination was still rampant in certain areas such as Selma, Alabama, making it very difficult for blacks to register to vote. At that time, only 2% of Selma's eligible black voters, 300 out of 15,000, were able to register in Dallas County.
Despite violent opposition from previous non-violent marches, Dr. Martin Luther King Jr. and 2,000 of his supporters pressed forward on an epic march from Selma to Montgomery (the state capital of Alabama) where they were met with 50,000 supporters in the fight for voting rights. These efforts led to President Lyndon Johnson signing the Voting Rights Act of 1965, prohibiting racial discrimination in voting. This landmark victory increased the participation of black voters and black elected leaders.
This screening was organized by the Public Services Alliance of Canada and Centretown Movies in the effort to inspire Canadians to exercise their right to vote and to speak up on the issues that mattered to them. Did you know that only 53.8% of Canadians voted in the 2011 federal election—the second-lowest turnout in Canadian history? This was only slightly higher than the 53.6% who voted in 2008. Youth participation also remains at low levels where only 38.8% of the population aged 18 to 24 voted. In 2011, Canada also ranked 14 out of 17 other developed countries on voter turnout.
To break this ongoing trend, there have been various efforts and initiatives aimed at increasing civic engagement and encouraging citizens to exercise their right to vote.  One recent initiative was a federal debate organized by Canadian Muslim youth.
Dr. Martin Luther King, Jr.: Our lives begin to end the day we become silent about things that matter.
In the effort to encourage Canadian Muslim youth to not only vote, but make an informed decision on October 19, a federal debate on multiculturalism, immigration, and the Muslim community titled "Young, Canadian and Muslim - Making Our Ballots Count!" was held on September 18th at the Aga Khan Museum in Toronto and was livestreamed across the country. The event was organized by DawaNet's Civic Engagement Project in partnership with the National Council of Canadian Muslims and the Canadian Muslim Vote. If you haven't seen it, I highly recommend you watch the recording here.
The four debaters were a combination of Muslim and non-Muslim candidates: Karim Jivraj, Conservative Candidate for University-Rosedale, Adnan Shahbaz, Green Party candidate for Oakville North-Burlington, Andrew Cash, NDP candidate for Davenport, and John McCallum, Liberal candidate for Markham-Thornhill.
It was hands down the best debate I've watched so far! Why? Because the debate posed questions that were based on consultations between Canadian Muslim youth and the event organizers. The substance of the debate mattered to the viewers and the politicians were expected to speak out on their party's platform/position on these issues, of course in the hope of gaining votes from the Muslim community. 
Dr. Martin Luther King Jr.: We need your involvement here, Mr. President. We deserve your help as citizens of this country.
President Lyndon  Johnson: Now, you listen to me. You listen to me. You're an activist. I'm a politician. You got one big issue. I got a hundred and one.
So what were the key issues addressed? Job opportunities for young people; Canada's growing income inequality; restrictions on Canadian civil liberties; the recent changes to Immigration and Citizenship legislation; and the intensification of Islamophobia in Canadian federal politics and political culture. The hottest topics debated were the two-tier citizenship law (Bill C-24), the anti-terrorism law (Bill C-51), the Syrian refugee crisis, and the intensification of Islamophobia.
Conservative candidate Jivraj (Conservative), one of the most articulate amongst the candidates, was naturally attacked from all parties on these issues and it was interesting to see how he staunchly defended the current government's stance. One comment from Jivraj that stood out to me was when he stated that the Muslim community is not homogenous and that no political party has a monopoly on how we think and vote.
While that may be true, the audience's reaction to each party's arguments as well as comments from the Twitter feeds, certainly suggested that the Muslim youth resonate with the NDP, Liberals, and Green Party more than the Conservatives. I think all along this debate was really a choice between these three parties. I include the Green Party based on the reaction of the viewers and how Shahbaz (Green) was able to successfully relay that the Green Party was not a one party issue.
FBI Director: King is a political and moral degenerate.
President Lyndon Johnson: Well, he's a non-violent degenerate.
One of the final questions asked by the community was on the Boycott Divestment Sanctions (BDS) movement taking place on many Canadian university campuses to protest Israel's illegal settlements.
The panelists were asked, "Why should this (BDS movement) be considered an illegitimate alternative... to advocate for Palestinians in a non-violent way?"
With a Prime Minister that has unequivocally supported the state of Israel for the past decade and barely acknowledged the Palestinians, it is unsurprising that this question was raised by Muslim youth.
While Cash (NDP) and McCallum (Liberal) were able to explain their neutral position by either indicating that BDS was a viable and peaceful form of protest (NDP) or that their party supported a two-state solution (Liberals), it was Shahbaz from the Green Party that gained the loudest applause from the audience by stating that opposing Israeli government actions "does not make you an anti-Semite" because "Israel is not a religion". This may have been good news for those who exclusively base their vote on the Party that best supports their views on the Palestinian-Israeli conflict.
However, for those who simply want to defeat the Harper government, voting will have to be more strategic than basing your vote on one issue. With conflicting numbers generated from various polls, voting for the alternative party that will defeat the Conservatives will not be a straightforward choice. For example, a current survey by Mainstreet Research finds that the Conservatives are running first with the support of 38% of voters who have made up their mind or are leaning toward one party. The Liberals follow second at 34% and the NDP third at 22%.
Another study conducted by Abacus Data shows the NDP leading with 35% followed by the Conservatives at 29% and the Liberals at 26%. Nonetheless, Abacus Data states, "The results suggest a population that is only lightly engaged to this point and holding only mild preferences in terms of outcomes or voting inclinations… We believe any of the three major parties can win this election, and any of them could finish third, based on the extraordinarily loose attachments to parties these days and the very early stage we are at in the voters' decision making process." In other words, the more politically engaged we are the better we are able to make a decision on who to vote for, and the better polls can predict the outcome because there will be less undecided voters generated from the samples.
Dr. Martin Luther King Jr.: Thousands have gathered here to demonstrate their dignity.
Not only do I hope that this year's voter turnout will be at a historic high, but I hope that when the statistics on the election come out, the Muslim community can proudly say that we contributed to the outcome of the election; that thousands of us voted to demonstrate our civic engagement, to take part in the future of Canada, to stand for something, and to exercise our right to vote. For we very well know that people around the world have died and continue to die while fighting for that very right.
This article was produced exclusively for Muslim Link and should not be copied without prior permission from the site. For permission, please write to info@muslimlink.ca.