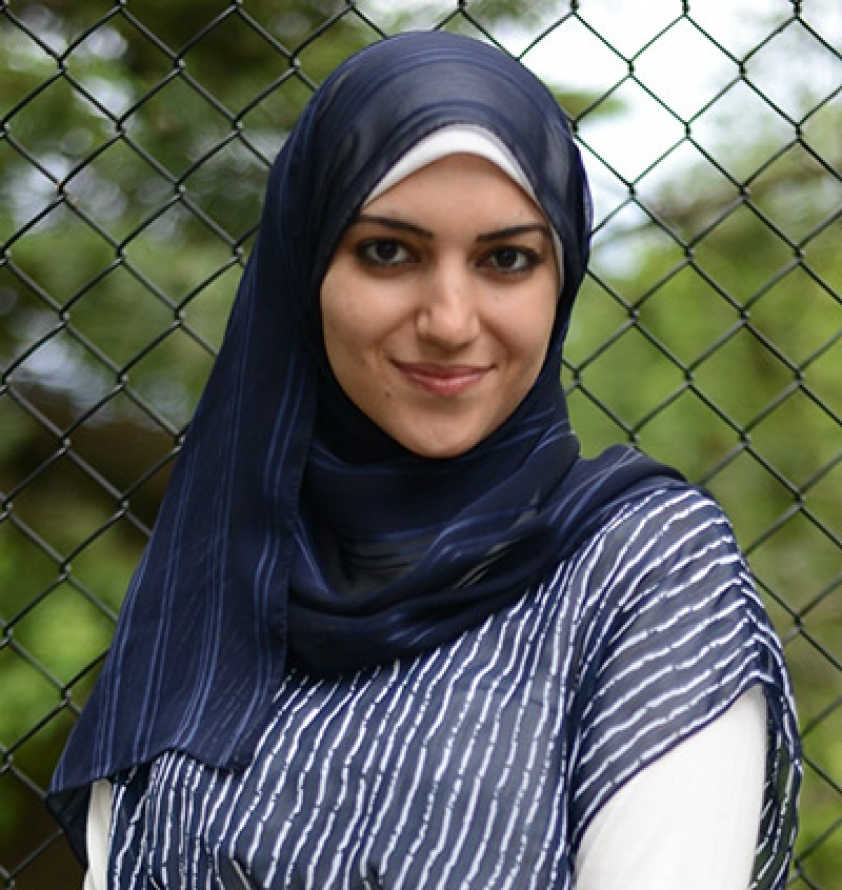 Hoda Mroue is the Operations Manager of the National Council on Canada-Arab Relations
09
April


2014
Embracing Identities: Working with the National Council on Canada-Arab Relations
Written by Hoda Mroue
Flashback 15 years earlier, I'd be in my karate outfit, talking to my family in English and broken Lebanese Arabic, and designing all of my school projects into acting scenes to prepare myself for my future acting career. I grew up with friends from all over the world, and we called ourselves "the real United Nations". I didn't know much about my culture or about my religion, but never missed an opportunity to brag about how Lebanese food was the best!
15 years later, I have grown to love my religion and Lebanese background. At the same time, and more than ever, I am so proud to be Canadian. Discovering my roots influenced my interests and career choices.
I pursued a degree in Political Science and International Relations at Carleton University. All of my essays focused on the Middle East and everything I learned fascinated me. But the educational component wasn't enough. I wanted to engage with people who had similar interests. That's where the National Council on Canada Arab Relations (NCCAR) entered the picture.
A friend of mine told me about the organization and I started volunteering on a weekly basis. NCCAR quickly became a comfortable space for me to learn, develop my skills, and communicate my ideas. I actually became a better Canadian citizen as I was educated about Canada's parliamentary system.
My experience at NCCAR also opened my eyes to the very diverse Arab community in Ottawa. At various educational and cultural events, I was engaging with Arabs of different religious backgrounds and political views, which was rather new to me because the Arabs I knew growing up were Muslim. Although I considered myself to be a very opinionated person, I found myself biting my tongue at the different perspectives that challenged my assumptions. At the end of the day, Arabs and non-Arabs were all there for the same cause, promoting the same common values.
This positive learning environment kept me involved and one opportunity led to another. I eventually pursued a Masters in International Development at the University of Guelph (again all my papers focused on the Middle East). In the last year of the program, there was an opportunity to join the NCCAR team again, and I pursued it. 
Working as the Operations Manager at NCCAR for the past year and a half has been an extraordinary experience which echoes many of the same experiences of my previous involvement, but perhaps at a deeper level now that I am equipped with more knowledge of the region. But first, why do I think NCCAR's work is important?
The organization aims to build ties and develop stronger relations between Canadians and the people of the Arab world while promoting common values such as human rights, democracy, freedom, and equality. There isn't any other organization working towards this cause in a country with such a large Arab population. Events in the Arab world have attracted a lot of attention worldwide and Canadians are becoming increasingly interested in understanding the causes and forecasts of these events, as well as Canada's role in the region.
What exactly does NCCAR do? NCCAR achieves its goals through different programs and there are many ways to get involved.
We organize public lectures and roundtable discussions where we host local and international speakers to present interesting and thought-provoking perspectives on popular topics. For example some of our past discussions concerned the crisis in Syria, emerging forces in Egypt, and various issues relating to the Israel/Palestine conflict.
We are quite active in the media. Board Members often write opinion pieces and participate in media interviews. We have a dedicated media team that monitors and shares articles on the latest news, views, and perspectives on the Middle East and Canada's foreign policy to our community. If you are a news junkie and would like to learn more about this program, visit: http://www.nccar.ca/programs/media-team/nccar-is-proud-to-present-our-media-team-you-can-join-too/
We also organize many cultural events such as film outings and musical dinner events.  Overall, NCCAR engages with people of different backgrounds, age groups, and sectors of society. 
However, I'd like to highlight NCCAR's Summer Parliamentary Internship Program which is one of our oldest programs to date. It provides young students with the opportunity to gain hands-on experience in the political arena by working in the office of an MP for a period of 6-8 weeks.
We just released the call for applications, which are due Wednesday, April 23rd. Information on how to apply for this great opportunity is available at this link:
http://www.nccar.ca/blog/wp-content/uploads/2014/04/NCCAR%202014%20Parliamentary%20Internship.pdf
Hoda Mroue is the Operations Manager of the National Council on Canada-Arab Relations.

This article was produced exclusively for Muslim Link and should not be copied without prior permission from the site. For permission, please write to info@muslimlink.ca.