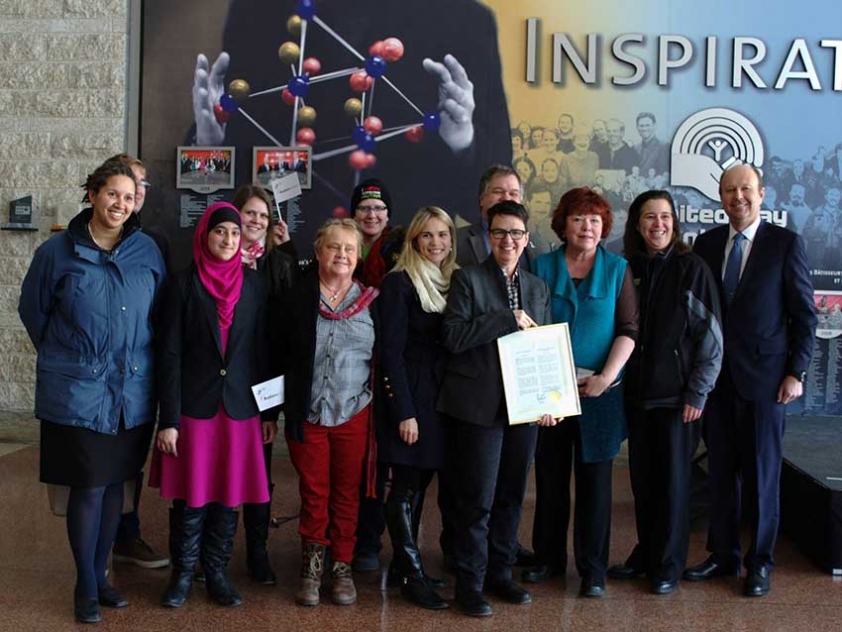 Sara Siddiqi at City Hall for World Autism Awareness Day
Courtesy of Sara Siddiqi
14
Apr


2016
On Being the Sibling of Someone with Autism
Written by Sara Siddiqi
On April 4th, a flag raising ceremony to celebrate World Autism Awareness Day was held at Ottawa City Hall. Sara Siddiqi, a grade twelve student at Sir Wilfred Laurier Secondary School, delivered a speech at the event. Sarah's brother, Nasir, was diagnosed with autism when he was three and a half years old and Sarah was seven. It was then that her journey to raise awareness about autism began.
Muslim Link is sharing an excerpt of the speech she delivered:
Let me tell you a little about my brother, Nasir. He is twelve years old. He loves animals; he knows the names of them all. He learned the alphabet by associating animals with letters. "A is alligator, B is for bear," His favorite is: "E is for Elephant." He loves to be on the computer and make PowerPoints with animals and characters from his favorite TV shows. He likes to add effects to slideshows, he says, "Add the effect." I tuck him in at night and we act out his favourite scenes from shows like Timothy Goes to School and Max and Ruby. He really likes doing this and I have practically memorized all the lines with him. He is so sweet. My brother has taught me so much. When I meet other people with autism I know how to better interact with them and make them feel welcome. I have firsthand experienced the struggles and this allows me to understand them better. Thus, I can empathize with others and want to raise awareness for autism.
I am the middle child in my family; I have an older sister and two younger brothers. When Nasir was first diagnosed with autism, I remember my parents would attend workshops and networking sessions. That left my sister, other brother, and I at home. After all my brother's appointments were done at the end of the year and my brother was going to go to a new school my mom thanked me. I still remember going to [the] Superstore and her saying, "You can pick any toy you want. You have supported us this whole year." As a seven year old I picked a doll house. The point was not that I got a doll house, it was that even staying at home and being there for my brother was supporting my parents and my brother. At that point I decided that being there for someone was important but I knew I could do so much more.
I remember the year Nasir was diagnosed with autism; he would always be going to appointments and therapists would be coming to our house. I also recall sitting with the therapist and learning how to "work" with Nasir, to understand all the behaviours and work around them. I learned the rewarding system and about attention-seeking behaviour. This helped me interact with not only Nasir but also [with] others.
Every year on my street there is a garage sale in spring. When I was in grade eight my family decided that we should hold a bake sale for autism instead of a garage sale. That day we raised about $80 for charities including Autism Ontario. The next year in grade nine, my sister and I started something at our school. We set up a booth and gave out promotional items courtesy of Autism Ontario as well as fact sheets about autism, and answered questions from our peers. This was the start of an annual World Autism Awareness Day Celebration at my high school. City councillor Tim Tierney came and supported our event and we were featured in the EMC newspaper. For me that event was like coming out of my shell. I was someone who always stuck to routine, but World Autism Awareness Day changed me and the next year when I was at a new high school (my present high school - Sir Wilfred Laurier) – I held the event again with my friend. In grade eleven, I decided to step it up, so I changed the location of my event to the cafeteria to make it visible to more people. I made my own posters and invited the Ward Councillor, who at the time was our Deputy Mayor, Bob Monette to come and support the event. My friend and I were featured in the Orleans Star. This year, I will be holding this event again at my school.
In August 2015, my sister and I spent a week planning and organizing a bake sale for autism. At the bake sale, not only did we raise hundred of dollars which were donated to charities including Autism Ontario, but most importantly, we raised awareness in our community. It was a chance to meet people in my neighborhood and talk about autism. We gave out fact sheets courtesy of Autism Ontario and connected with our neighbors. It was a learning experience for everyone and an atmosphere that I fell in love with. It felt great to be a part of something small that was creating change.
The bake sale was something that my whole family got involved in, my parents both made their special traditional dishes; my sister and I baked various cakes. Even my brothers came outside to enjoy the day.
My hope is that by raising awareness I can see acceptance, respect, and compassion for people with autism. I want to see a world where a sibling like me won't be made to feel uncomfortable by the stigma, a world where someone with autism doesn't have to overcome hurdles to be understood by others around them.
Next year I will be attending university to study science and afterwards I hope to be a part of research related to autism where I can continue in my career to raise awareness and make a difference. My journey raising awareness for autism has taught me so much and I hope to continue what I have started at my school, even in university next year. All the small milestones along the way have brought me here today.
Learn more about autism at Autism Ontario and Quick Start Autism

This article was produced exclusively for Muslim Link and should not be copied without prior permission from the site. For permission, please write to info@muslimlink.ca.