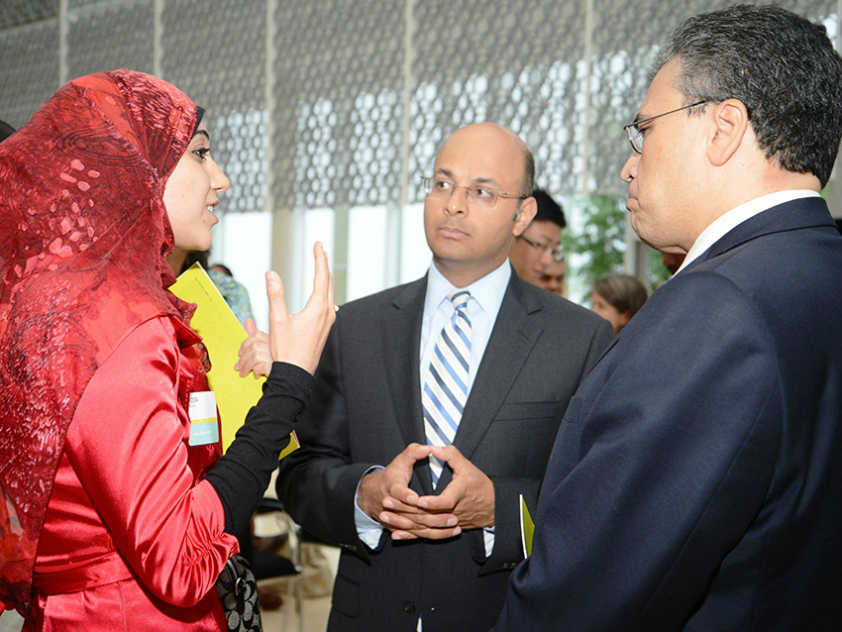 Hoda Mroue with Mr. Khalil Z. Shariff, Chief Executive Officer at AKFC (center) and Mr. Mohamed Fakhry Minister Plenipotentiary & Deputy Head of Mission for Egypt (right) at the Aga Khan Foundation Canada's 25th Anniversary Celebration of the International Youth Fellowship Program.
Courtesy of Hoda Mroue
25
July


2014
Aga Khan International Fellowship Seminar Opens Hearts and Minds
Written by Hoda Mroue
A few weeks ago, I completed a month-long international development seminar with the Aga Khan International Fellowship Program. Each year the program sends young Canadians to spend 8 months in either Africa or Asia to work with agencies and partners of the Aga Khan Development Network. I will be spending eight months in Cairo, Egypt working with the Aga Khan Foundation on various projects.
We had several facilitators with exceptional backgrounds prepare us for our overseas placement. Some of the most memorable sessions were on intercultural effectiveness, results-based management, incorporating gender, rural development, micro enterprise and personal well-being and resilience. The sessions were also very practical, involving lots of real-world activities and collaborative group work.
Some of the stories I heard from the facilitators moved me so deeply; stories of courageous women who extended forgiveness to brutal perpetrators that drugged, raped, and mutilated them and their families. These women whose arms were amputated handled their pain and grievance by helping others in their communities. I was drowned in tears and forced to reassess how I might respond to injustice. I was inspired.
During that month, I lived in residence at Carleton University with 22 admirable fellows from across Canada. Everyone brought unique experiences and perspectives to our discussions. We participated in a very open-minded space, and as a Muslim woman this empowered me to contribute my perspective on subjects such as female genital mutilation, child marriage, and other issues often associated with Islamic culture that I stand firmly against.
As the only hijab-wearing Muslim woman in the room, I also attracted all sorts of curious questions from a group of 19 women and three men:
How many hijabs do you have? Can you show me your hair? Do your hijabs need to match your outfit?
I often love these questions, because as simple as they may be, they often lead to deeper discussions. I ended up having some of the most enlightening conversations that I mentally hashtagged #onlyincanada.
An insightful memory was a dinner conversation with two inspiring women from the Ismaili community. It was a rainy night as we sat in a beautiful small restaurant in Little Italy. They too asked me questions about my decision to wear the hijab and my definition of modesty.
But most importantly, they shared with me stories of exclusion within the broader Muslim community. They explained that due to some of their different beliefs and traditions, they didn't feel welcome when attempting to participate in the activities of the broader Muslim community (i.e. congressional prayer). I shared some of my experiences of exclusion to assure them that these feelings were not exclusive to a particular sect of Islam. Rather this was a major issue within and between sects of Islam.
The conversation made me realize that there is a greater need for inter-Islamic dialogue within our communities: a space where our differences are understood and where our similarities are leveraged to create a greater connection between Muslims and their holy spaces.
Last but not least, I'd like to thank the Aga Khan Foundation Canada for the incredible experience so far. Come August, I hope to expand my horizons in Egypt! ■
To learn more about the Aga Khan Foundation International Fellowship Program check here.
This article was produced exclusively for Muslim Link and should not be copied without prior permission from the site. For permission, please write to info@muslimlink.ca.