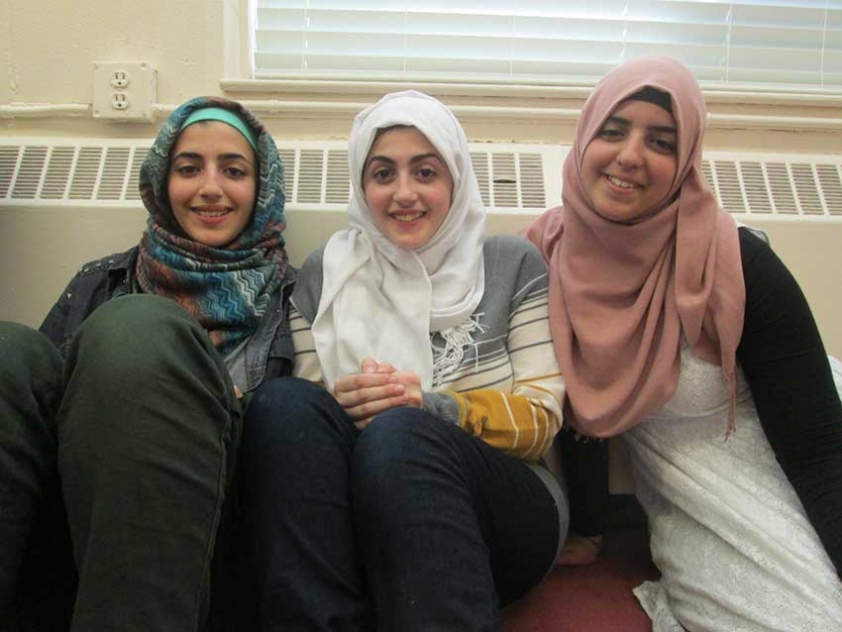 Ishraq, Afnan, and Amira Abusheikha at MAC Canadian Family Day in February.
Chelby Daigle
27
February


2015
Muslim Link attended MAC's Canadian Family Day event on February 16 and asked people: What Does Family Mean To You? Here are the responses of Ishraq, Afnan and Amira Abusheikha.
Amira: Family is the basis for everything. They teach you everything. Without them, how could you get through life?
Afnan: We have these traditions in our family. We wake up at Fajr and each one of us does an individual dua (prayer) for our family. And in times of difficulty we would always come together. We won't just go off and be alone to be sad. We all support each other. We support our mom and our dad.
Amira: It's a challenge for our parents because we all have different personalities. So my mom can please three of us this way, but then she can't please the other people.
Ishraq: Sometimes even if we have the same personality it doesn't go right because then we fight over the same things.
Afnan: Our mom lets us know that we are all special in our own way.
Ishraq: If you say something negative about yourself everyone will be like "NO!!!".  They support you and bring you up when you are down.
Afnan: Your siblings do get in your way because there is a lot of people in the house and they bully you, especially if you are roommates. But they also give you strength. Fighting with them makes you stronger. But if someone messes with you, you know your siblings will have your back.
Ishraq: Yes. I'm the only one that is allowed to mess with my siblings. Other people are not allowed. Once I was fighting with Afnan and someone was bullying me and Afnan just came and defended me. No matter how much you might think your sibling hates you, they will always have your back.
This article was produced exclusively for Muslim Link and should not be copied without prior permission from the site. For permission, please write to info@muslimlink.ca.