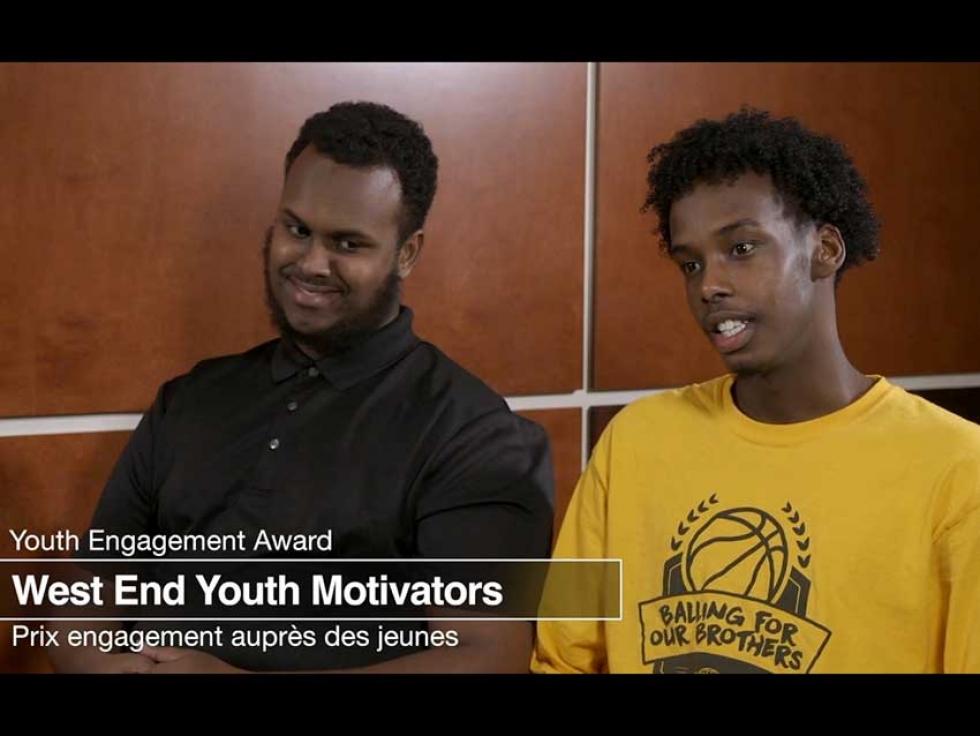 West End Youth Motivators youth mentors Abdullah Omer and Simeh Bour are interviewed by Crime Prevention Ottawa
Crime Prevention Ottawa
22
Nov


2019
West End Youth Motivators Honoured with Crime Prevention Ottawa's 2019 Youth Engagement Award
Written by Making Headlines
Crime Prevention Ottawa held its annual Community Safety Award ceremony on November 4th, where it honours Ottawa-based crime prevention initiatives.
This year, West End Youth Motivators was honoured with the Youth Engagement Award.
West End Youth Motivators is based in the city's west end, in Bay Ward, and meet regularly at Michele Heights Community Centre. The program is run through the Youth Services Bureau.
According to Crime Prevention Ottawa, "West End Youth Motivators committee connects with local youth by engaging them in activities and programs—and talking about issues that matter. Youth develop friendships, gain life skills and build resilience. Last year, their annual basketball tournament, 'Balling for Our Brothers,' attracted 250 people and raised more than $3,500. Committee members have developed strong relationships, and they model positive behaviours and choices for the youth they connect with, proving that the future is bright and the possibilities are endless. Watch our video and hear from the mentors themselves."
Watch an interview with youth mentors Abdullahi Omer and Simeh Bour about their youth engagement work. (It may take a few moments for the video to load from YouTube)
To Listen to an interview on CBC All in a Day with West End Youth Motivators, click here.
Read profiles of West End Youth Motivators by the Ottawa Citizen, from 2016, and from 2019
This article was produced exclusively for Muslim Link and should not be copied without prior permission from the site. For permission, please write to info@muslimlink.ca.