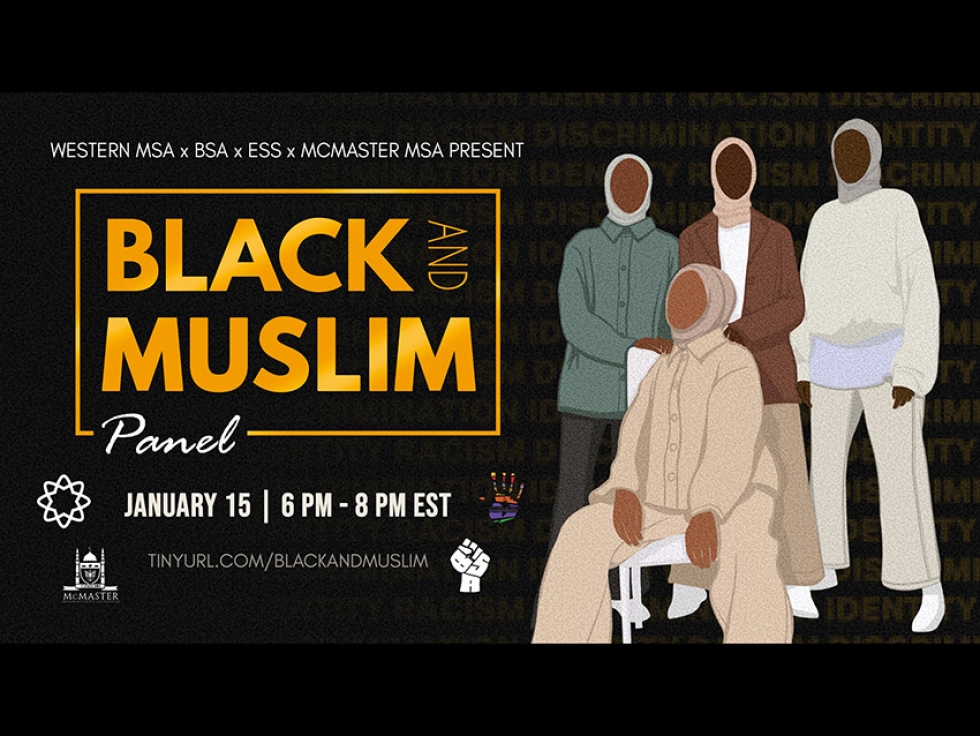 10
Jan


2021
Watch the Black and Muslim Panel presented by Students from the University of Western Ontario and McMaster University on January 15
Written by Chelby Daigle
With an international line up of speakers, including basketball player Bilqis Abdul-Qaadir, spoken word artist and film producer Boonaa Mohammed, Instagram influencer and comedian Nadirah Pierre, mental health advocate Chelby Daigle, and author Na'ima B Robert. this event hopes to continue the on-going discussion around how to address anti-Black racism in Muslim communities, in particular on campuses.
Muslim Link interviewed the organizers about how this event came together and what participants can expect from the panel discussion.
1. Tell us about the Muslim Students Association of the University of Western Ontario.
The University of Western Ontario's Muslim Students' Association (Western MSA) is the largest faith association on campus. Representing the Muslim student body on campus by providing necessary services through the university as well as providing the general student body with a medium by which to encounter and understand Islam as well as Muslims. We also aim to provide our members with opportunities for Islamic educational and spiritual growth.
2. How did the collaboration with the Black Students Association (BSA), Ethno-Support Services (ESS), and McMaster MSA come about? How have they been involved?
Ethno-Support Services (ESS) address issues related to the Black, Indigenous, People of Colour (BIPOC) community at Western. One of our executive members in the MSA has a position on ESS as well, so we reached out to her to do a collaboration with them. It worked out perfectly in the end because ESS was also interested in doing an event similar to the Black Muslim Panel, so this was a perfect opportunity for them to do so.
We wanted to collaborate with the Black Students Association (BSA) to strengthen the solidarity we showed for Black Muslims and we knew there were some Black Muslims in BSA that were not in MSA as well.
McMaster MSA has an anti-black racism team that work to combat racism against Black Muslims in the McMaster and greater community. We collaborated with them to get their insight on how they approached discrimination against the Black community and we even have a student speaker who is the director for the anti-black racism team, so we are blessed to have her included in the panel.
In terms of involvement, our main form of collaboration between all four groups was sitting down to brainstorm and discuss how the event was going to go. We discussed different ways we could approach asking questions and each representative from each group gave really good insight based on their own experiences with panels.
Western MSA is extremely blessed to hold close ties with each group involved in the collaboration and we are ever so thankful for the time and effort they dedicated into making sure this event was planned and executed smoothly.
3. Why has Western MSA chosen to do an event looking at the experiences of Black Muslims?
Western MSA has always had a problem with diversity in the Muslim student community. Many think that the MSA is a cultural club as the demographic is mostly attributed to students of Arab and South Asian descent. Black Muslims have always been in the shadows, which isn't a fault of their own, but rather the situations and experiences that have contributed to them being in their own space. They face racism from not only the predominantly white community but unfortunately from the Muslim community as well. Additionally, they face Islamophobia and often, women experience sexism from their male counterparts.
As Western MSA, we took it upon ourselves to stand in solidarity with Black Muslims and give them a chance to hone in on their experiences. Thus, non-Black people, Muslim or not, can learn from those experiences, examine their biases and recognize their privilege. By hosting this event, we want the audience on campus, the larger Muslim, and the larger Canadian communities to truly reflect on the Black Muslim identity and understand that being Muslim is more than being from Asia, but rather an extensive range of intersecting identities that include Black Muslims.
4. Who are the speakers for this event, and how/why were they chosen?
Western MSA is very blessed to have the following speakers in the panel: Bilqis Abdul-Qaadir, Boonaa Mohammed, Nadirah Pierre, Chelby Daigle, and Na'ima B Robert. Each of these speakers was chosen purposefully to represent the extensive professions that Black Muslims occupy. Sr. Bilqis is a basketball player, so she has experience playing professionally as both a Black woman and a Muslim. Sr. Nadirah and Br. Boonaa both work extensively in the media, with Nadirah being an Instagram sensation as a comedienne and Boonaa being a spoken-word artist and film producer. Sr. Chelby has a passion for mental health and gender equality and can contribute to the discussion in that aspect. Na'ima has spent most of her professional career writing children's books with Islamic themes. Hence, we knew she would have a lot of expertise in educating younger children about diversity in Islam.
5. What topics will you be exploring?
We will be exploring a range of topics such as racism within the Muslim community, intersectionality, the mental health stigma in the Black Muslim community, participating in sports and athletics as a Muslim woman, and Black Muslims in literature and media.
6. Who should attend this event and why?
Everyone should attend this event. Whether Muslim or not, Black or not, this is an event for everyone to learn about Black Muslim experiences and learn how to be an ally to the cause and Black Muslims in the community. This is a chance for people to re-examine their biases and educate themselves about anti-racism. Conversations surrounding this topic are crucial in order to teach ourselves and future generations about the importance of intersecting identities and respecting every one of those identities.
7. What does Western MSA hope to be the outcomes of this event?
Western MSA hopes to have the audience walk out of the panel with a better understanding of the Black Muslim identity and address racism and discrimination in the communities we belong to. 
We also want to let the Black Muslims on Western's campus know that we acknowledge and recognize their struggles, as well as understand the situations that many of their Muslim and non-Muslim peers may have put them through. Admittedly, Western MSA needs to do better in recognizing the Black Muslims on our campus, listen to them, and look forward to a future where Black Muslims are apart of the Western's vast Muslim community, rather than a mere extension of it.
This article was produced exclusively for Muslim Link and should not be copied without prior permission from the site. For permission, please write to info@muslimlink.ca.