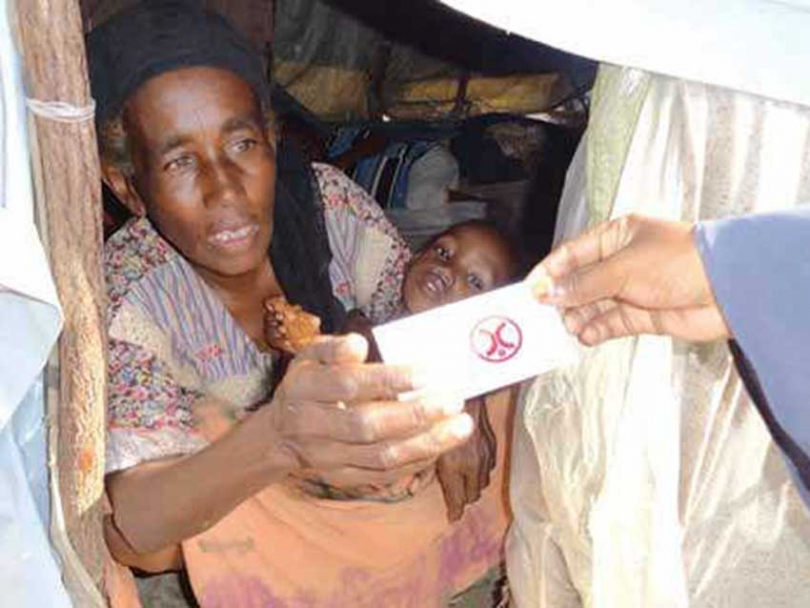 An internally displaced Somali woman and her children receive a ration card from Human Concern International for food aid.
Photo Credit: Human Concern International
13
Jan


2012
Volunteers return from Somalia with harrowing eye-witness accounts
Written by HCI Writer
Blessings are often taken for granted until they are taken away from us. ILT For those of us blessed to live in Canada, the thought of deprivation hardly ever crosses our minds. We do not have to think about lack of water, lack of food, leaving our home and belongings behind to live in an open-air camp, seeing people around us dying every day from hunger and treatable illnesses like malaria, diarrhea and cholera. These thoughts rarely, if ever, come into our minds. Yet they are the living reality for thousands of people affected by drought in Somalia.
In the summer and fall of 2011, in the spirit of unity, Ottawa Muslims readily embraced the plight of the suffering Somali people. The entire community came together, and in partnership with Human Concern International, organized a series of functions, dinners, exhibitions and other events to raise much-needed funds to bring relief to the drought victims.
Human Concern International is an Ottawa-based registered charity that supports the less fortunate in 41 countries. Since 1980 HCI has contributed over 90 million dollars for immediate relief assistance and long term development projects across the world.
Last October, a group of eight members from Ottawa, Montreal and Toronto made up of HCI staff, volunteers and local community members went on a mission to Somalia with medical kits provided by Health Partners International Canada worth around $40,000. 27 more medical kits worth $135,000 were sent to Somalia. These kits assisted 21,000 people. In November, a massive medical aid package worth close a million dollar in wholesale was also shipped.  It contained life saving, high quality medicines and will treat thousands.

Aside from medical treatments, the HCI mission also delivered food, water, and other basic needs to those most severely affected by the drought.  The team visited refugee camps in Waperi, Badbado, Afgoye, Dr. Hawa Abdi, Kheer Qabe and Silig. They also toured HCI-sponsored hospitals, orphanages, elementary schools and universities in Mogadishu, Galmudug State, Afgoye and Shabeelle, Galkayo and Bandiiradlay. areas.Since the start of the current drought emergency, HCI has provided about 1.75 million dollars to support IDP camps, hospitals, ambulances, orphanages, schools, universities, scholarship programs, food kitchens, well construction and the purchase of water tankers and water filtration systems.
When one speaks to the participants in the Somalia mission about their experiences, they will tell you that their view of life has changed. Their appreciation and drive to do more for humanitarian causes has increased.

One of the participants, Fatema Hassan, a Carleton University student describes what she witnessed firsthand while in Somalia: "Driving by IDP camps as we entered Somalia was hard enough but going into one is a whole different story. I couldn't believe it. First let's point out that no person should be subjected to living in camps. And people"should not be refugees within their own country. Beyond that issue, (life in) these camps (is one of) dirt and squalor.

"(The camps) are comprised of mostly women and children. While looking around you could see that many of these women were pregnant or had newborns and they were without any food or drink for days.  While we were at the camps we had the opportunity to speak with many people, among them was a young mother named Malaike Kalar Hussein.  These were some of the things she told us: "˜it is hard to cook, since I do not have the necessary equipment to do so, I sleep on a narrow bed with my two children and husband. We have no water. I walked 200 kilometers outside of the capital to come here. I lost three of my children along the way.  As you could see there are piles of garbage everywhere which is very unhealthy for my children.'  When asked when she last received any food rations, she said "˜more than a month ago'. When we asked about her husband, she mentioned that "˜he was out begging for money'."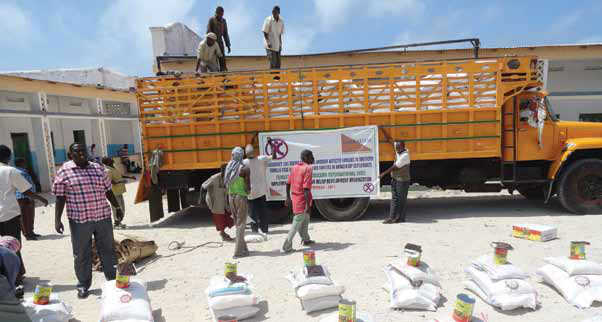 Upon returning from Somalia with these experiences, Fatema and the rest of the team swung immediately into action. Without stopping to rest after their long journey, the team was back at work the very next day to spread awareness and continued the effort to help the Somali famine victims out of their suffering.
In the weeks since the return of the mission from Somalia, HCI has continued to respond to the crisis while striving to address the long-term needs of the drought victims. HCI takes pride in its mission to help the communities it works with to become more self-sufficient and less reliant on relief aid. HCI's goal is to see these communities take control of their development, become self-sufficient and provide a brighter, healthier future for their children.
HCI has numerous long-term development projects under implementation with local partners in Somalia. These include schemes to help the families return back to their homes from the refugee camps, cultivate land, dig wells and initiate small businesses. HCI encourages you to continue to support those still in desperate need in Somalia.  For more information about HCI's projects in Somalia, visit www.humanconcern.org, or call 1-800-5876 HCI. 
This article was produced exclusively for Muslim Link and should not be copied without prior permission from the site. For permission, please write to info@muslimlink.ca.