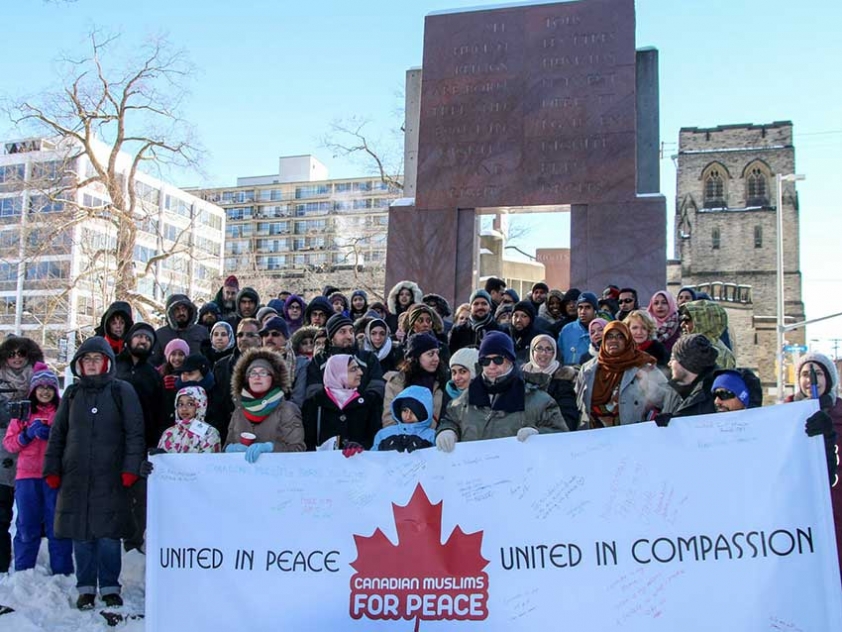 Canadian Muslims gather at the Human Rights Monument in Ottawa to stand for peace and against violent extremism.
Omar Mahfoudhi
01
Feb


2015
Canadian Muslims for Peace Gather In Ottawa
Written by Chelby Daigle
Canadian Muslims for Peace organized gatherings in four cities across Ontario on January 31st to demonstrate a committment to peace, community, and civic engagement and to stand firmly against radicalization and violent extremism.
In Ottawa, community members gathered at the Canadian Tribute to Human Rights, popularly known as the Human Rights Monument. The Monument has become a rallying point for various groups in Ottawa when they wish to raise awareness about human rights issues in Canada and abroad.
According to the Monument's website: "The Canadian Tribute to Human Rights is dedicated to promoting awareness of fundamental human rights without espousing any particular political position. In Canada, it provides the first symbolic focus on human rights and calls for respect of both individuals and minority groups." The Monument was built by donations from individuals, churches, unions, businesses and governments.
In opening her opening speech, Dr. Aisha Sherazi, recognized that those gathered were standing on unceded Algonquin Territory. On the Monument's website, this is also acknowledged with a statement by the Algonquin people: "The land on which this structure stands is part of the traditional territories of the Algonquin Anishnabe people. We have occupied these lands since time immemorial. It is fitting that this symbol should stand here as a reminder of the suffering of oppressed people everywhere and of our faith in the wisdom of the Great Spirit and the promise of Life, Dignity, Freedom, and Equality for all living beings. We welcome all who come here to share in our hope."
Dr. Aisha Sherazi emphasized the importance of Muslims continuing to condemn acts committed in the name of Islam. She acknowledged that this is sometimes frustrating as it feels that Muslims are being asked to apologize for acts of people who they have no real connection to and are certainly not responsible for, but she explained the need to speak out in defense of the religion's true values and in defense of those who have fallen victim to these acts of violence because Muslims are religiously required to stand up against injustice. Given the recent shooting on October 22 2014 in Ottawa, when Cpl. Nathan Cirillo was murdered by a mentally man who had expressed sympathies with ISIS, and the Human Rights Monument's proximity to the Canadian War Memorial where this tragedy took place, the gathering took on a solemn air.
Imam Sikander Hashmi and Imam Ahmad Limame read from English and French versions of the same speech which focused on what Islam has to say about being a good neighbour. They emphasized how there is no distinction given between a Muslim's obligation to their Muslim neighbour or non-Muslim neighbour. They explained that this should mean Canadian Muslims should be engaged in helping their fellow Canadians, particulalry those who are marginalized and/or experiencing poverty. During the event food and donations were collected for the Odawa Native Friendship Centre,which serves Ottawa's Aboriginal communities, as a gesture of good neighbourliness.
Social Work student Ithar Abusheikha spoke about the importance of civic engagement and volunteering in the local community. Ithar Abusheikha has been involved with the Alzheimer Society of Ottawa and her studies as a social work student have allowed her to work with the Children's Aid Society of Ottawa (CAS) and the Ottawa Rape Crisis Centre (ORCC).
Amira Elghawaby, who works with the National Council of Canadian Muslims (NCCM), was one of the key organizers of the event and she and a team of volunteers came early to set up and shovel the Human Rights Monument. The temperature was around -18 Celsius, but despite this, around 70 people gathered for over an one to listen to the speeches and sign the Canadian Muslims for Peace banner with their messages of peace. Omar Mahfoudhi, the Executive Director of the Islam Care Centre, brought Tim Hortons' coffee. He had already been out for hours in the cold distributing meals to the homeless but he stayed for the gathering and took photos.
Hamid Mousa who heads up the Community Development Section of the Ottawa Police Service attended the event with his son, Mohammad, a student in Conflict Studies at the University of Ottawa. Staff Sergeant David Zackarias of the Ottawa Police Service's Diveristy and Race Relations Section was also in attendance. Mohamed Islam, who works with Staff Sergeant Zackarias and Dr. Aisha Sherazi on the Community Police Action Committee (COMPAC), and is a youth worker with the Boys and Girls Club came to show his support as well. Students, like Mahamoud Abdelaal, from the Kanata Muslim Association's Al Hikmah School bused all the way downtown to participate in the gathering.
To learn more about Canadian Muslims for Peace read Muslim Link's interview with Saleha Khan.
This article was produced exclusively for Muslim Link and should not be copied without prior permission from the site. For permission, please write to info@muslimlink.ca.