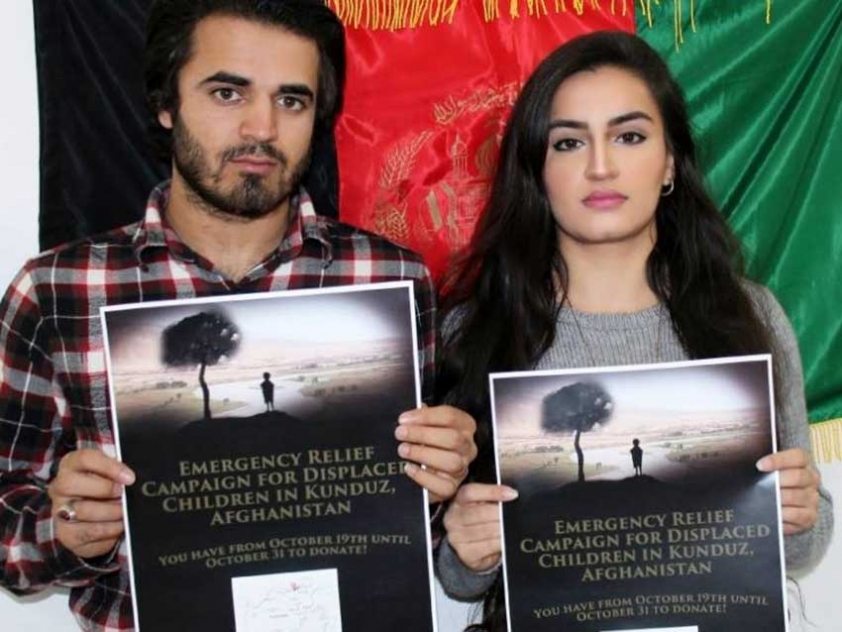 Ajmal Sarfraz and Sawila Bayat of the Afghan Students Association are fundraising for emergency relief in Kunduz.
Courtesy of the Afghan Students Association
27
Oct


2015
Despite Personal Tragedy, Student Fundraises for Kunduz
Written by Chelby Daigle
On September 28th, the Taliban invaded the city of Kunduz. University of Ottawa International Development student Ajmal Sarfraz was talking to his family on Skype when the fighting came to their home. "All of a sudden everyone started screaming. My mother was killed," Ajmal explained, "My mother was on the roof looking to see what was happening. She was shot in the head."
The Taliban controlled the city for two weeks before government forces were able to push them out. Now the city, located seven hours from Kabul, is left to rebuild with little aid from local government.
Ajmal has taken the semester off to go back to Kunduz to mourn with his family. But despite his personal tragedy, he is looking to help other residents of Kunduz by fundraising to buy winter clothing and other essentials. He is working with the Afghan Students Association (ASA) at the University of Ottawa to raise up to $3,000 for this effort.
Sawila Bayat, the Co-President of the ASA, was eager to help when Ajmal reached out to her. The ASA regularly does fundraising for projects in Afghanistan. "Last year, we bought sewing machines for women in Kabul who wanted to start their own business but couldn't afford the machines," she explained. "We had originally planned to do a clothing drive in Canada for Kunduz but now that the Canadian Army has pulled out of Afghanistan, there would have been no one to take the clothes and sending them ourselves would have been too expensive," she explained.
With the funds raised, Ajmal plans to buy winter essentials in Kabul where they are less expensive than in Kunduz and then bring them home with him. He plans to take video footage of the distribution of goods in order to be accountable to donors.
The ASA started an online crowdfunding campaign and Sawila and Ajmal began visiting local Afghan businesses to promote the fundraiser and ask for donations. "We have been getting so much support from the local Afghan community," Sawila explained, "We have received cash donations from many of the local restaurants which really helps."
But Sawila and Ajmal wish more non-Afghans knew about the situation in Kunduz. "There has been a lot of media coverage about the Doctors without Borders hospital bombed by the US military, but less about the plight of the people of Kunduz who have lost their lives or been displaced by the attacks," Sawila stated.
The attack by the Taliban came as a great shock to members of the ASA. "We have been asking ourselves why is this happening and why don't more people know about it, why isn't anyone doing anything to help?" Sawila explained, "The Taliban were making a statement, not just to Afghanistan but to the whole world. They chose the day before the president was going to celebrate the one year mark of his election. It was the first time in so many years that they were able to do something so drastic."
"The Taliban were showing that they are still powerful," Ajmal added, "Kunduz used to be their stronghold when they ran the country."
While the Taliban were in power in Kunduz recently, a lot of the property of locals was confiscated. "The Taliban pulled a gun on my dad and said if he didn't give them our family cars they would shoot him," Ajmal shared. Many houses in the city were damaged by the bombings. "A lot of people are living in homes that no longer have windows so it is really cold," Ajmal explained, "My neighbours and my cousin have no windows. A lot of people can't afford to fix all of the damage from the bombings."
Buying these people more winter clothing is one way Ajmal felt he could help. "It's the only option that we saw," Sawila explained, "We don't have the funds to do more. We are only going to scratch the surface. They need a lot more help."
Ajmal left Kunduz in 2009 on scholarship to study at a high school in Vermont. While there, he organized a shoe donation drive. "I went to 17 different schools and left boxes for people to donate their shoes," he explained, "Within 3 weeks, I was able to get over 300 pairs of shoes. I was also invited to do a presentation about Afghanistan for the US Army in Burlington, Vermont and they agreed to deliver the shoes to Afghanistan. From the feedback I got from friends and family, the shoes were a big help to those in need in Kunduz."
He came to Ottawa to study International Development in the hopes that he could use his education to help his homeland and other countries rebuilding after war. Coping with the loss of his mother has been difficult but focusing on the fundraiser has helped. "I'm just trying to keep myself busy so I don't have to think about things too much," he explained. He plans to return to the University of Ottawa to finish his fourth year of studies after visiting his family.
To donate to Emergency Relief for Kunduz click here
This article was produced exclusively for Muslim Link and should not be copied without prior permission from the site. For permission, please write to info@muslimlink.ca.