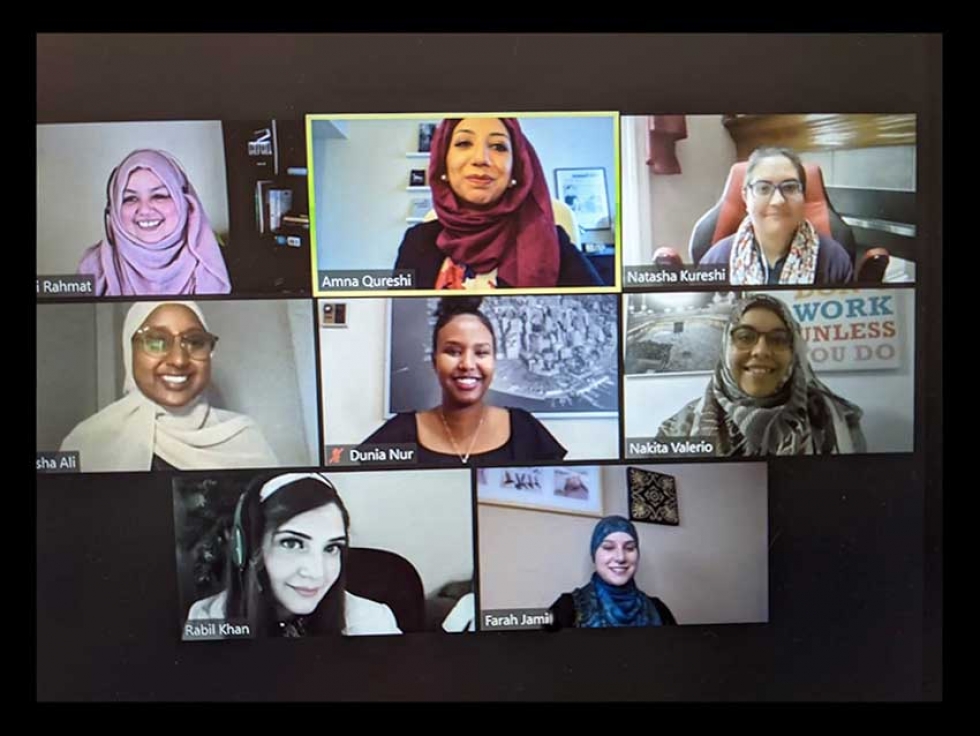 Some of the attendees at Sisters' Dialogue's first online panel discussion
Sisters Dialogue
14
Sep


2021
Sisters' Dialogue: Supporting the Community and Mental Health Needs of Muslim Women Impacted by Islamophobia in Edmonton
Written by Chelby Daigle
Since December 2020, there has been assaults and attacks on Black and racialized Muslim women in Edmonton, Alberta, most of which go unreported.
The 7 that were reported in the media so far were very troubling and violent - a woman was viciously thrown to the ground and knocked unconscious while walking on her own, and two sisters were attacked at knife-point in a park. Muslim women in Edmonton are scared, anxious and fearful. Many women suffer from vicarious trauma and are afraid to go out alone or take public transit.
This is why some Muslim women in Edmonton have come together to create Sisters' Dialogue in order to advocate for better security at transit centers, tougher legislation against hate crimes, an anti-Islamophobia awareness campaign in Edmonton, and programming to support Muslim women through a framework that centers community care and mental health.
Sisters' Dialogue is made up of a group of diverse Muslim women from various backgrounds coming together to provide culturally safe spaces and supports for Black and racialized Muslim women and girls, and to advocate for the Muslim community on systemic and emerging issues.
Sisters' Dialogue is currently fundraising on LaunchGood.com to continue offering ongoing supports.
Muslim Link interviewed Sisters' Dialogue about their work and why they are fundraising.
1. Please introduce yourselves
Wati: My name is Wati Rahmat and I am the Founder/Director of Sisters' Dialogue. I was born in Malaysia but grew up in Singapore. I am a Malay with Indian ancestry. I came to Turtle Island (Canada) in 2005 and lived in Montreal for 9 years before moving to Treaty 6 Territory (Edmonton, Alberta) where I am based now. I work full-time in policy and programming, but my passion has always been community organizing, with over 25 years of experience in Singapore, Montreal, and Edmonton. I am active in mobilizing and advocating in the areas of social justice, anti-racism, anti-Islamophobia, and community bridge-building. I am also a writer and a busy mother to 3 boys.
Fathiya: My name is Fathiya Abdillahi and I go by Tia, I was asked to join as a member of the Board of Directors of Sisters Dialogue by Wati, and I am honored to be in this role. I grew up in Djibouti, however, I am Oromo, who are Indigenous to Ethiopia. I came to Canada in 1999 and settled here in Treaty 6 Territory (Edmonton, Alberta). I am a registered Social Worker and work full-time in healthcare. I believe everything starts at the grassroots, in the heart of the community. I became a social worker because I wanted to pay it forward and carry the legacy of the many people who had supported my family to come to Canada. While I grew up in Djibouti, I was a refugee and my family fled the tribal war in Ethiopia. My passion has always been to give back to the community, and over a decade I volunteered my time and expertise just doing that while raising my young family. Sisters' Dialogue has been a place for us to come together and support one another, a safe haven for Racialized Muslim Women.
2. How did the idea for Sisters' Dialogue begin?
Wati: Sisters' Dialogue was started in February 2021 amidst the hateful Islamophobic attacks against our Black and racialized Muslim sisters. We saw
that not much was being done to address our needs such as mental health and support for victims. We realized there was a need for a victim/community-centered approach led by Muslim women. We started the conversation among Muslim women by having an online panel discussion, organized by a diverse group of Muslim women and featuring Muslim women subject matter experts in the areas of law, mental health, academia, and community supports. We had over 300 people register for the first event, and this encouraged us to continue our work.
Fathiya: I came across Sisters Dialogue by fluke amidst the hateful Islamophobic attacks, I wanted to be in support, but wasn't sure where to turn to. Then I came across Wati online where she was upset about the attacks and I reached out to her via Instagram. Wati invited me to the group and I am still in awe that I came across Sisters' Dialogue. It's an unprecedented type of support, sisterhood, friendship, a safe space where we can come together, express our frustration, rage, anger, and reach out to other sisters.
3. What activities and supports have you organized so far?
Wati: Through an intersectional, collaborative and women-centered framework, Sisters' Dialogue aims to provide culturally safe spaces and supports for Black and racialized Muslim women and girls. We also foster bridge-building with Indigenous and other racialized communities, guided by principles embodied as Treaty people and we advocate on systemic and emerging issues affecting Muslims and marginalized communities.
Since our inception, we have been active in advocating with all levels of government for more community supports for Muslim women. We have organized a healing circle for sisters, and more sessions are being planned, including an art therapy component. We have provided direct supports to Muslim women affected by Islamophobia and have sent out victim care packages. We recently completed a By-Stander Awareness publicity leaflet, with a scenario featuring a Black Muslim sister, and this will be launched in November 2021. We are working with various partners on a safe walk initiative and an awareness campaign. We have been promised funding from the provincial government, and we hope to provide subsidized referrals for culturally appropriate mental health supports for sisters directly and vicariously affected by these ongoing hate incidents. We are also working with other women-led initiatives in a supportive and collaborative way, as there is a need to build capacity for Muslim women-led organizations.
Fathiya: While Sisters' Dialogue was created to provide a safe space for Muslim Women, building relationships and allyship with other racialized groups are equally important. Sisters' Dialogue hosted our first Indigenous and Muslim Community Relationship Building Pipe Ceremony recently, together with other Muslim women groups.
4. What do you feel is fueling the particular targeting of Muslim women, particularly Black Muslim women in Edmonton?
Fathiya: People fear what they don't understand, historically attacks on Racialized Muslims have never been front page and never considered to be an issue until recently especially in Alberta. I lived here for over 22 years and I have never seen this many hate attacks against Black Muslim Women. The Covid-19 pandemic is a factor that is fueling this hate with folks losing their jobs and blaming racialized groups for their frustration.
Wati: Muslim women and especially Black Muslim women have always been targeted with Islamophobic taunts, threats, and harassment in public areas and on transit. Ask any hijabi sister, you will hear their experience with racism and Islamophobia. This happens everywhere in Canada, and I myself experienced harassment both in Montreal and Edmonton. The majority of these incidents are not reported, and I think what makes the recent cases in Edmonton stand out is that physical assault was involved. It is perplexing and worrying, and there is no particular event that can definitively be a cause for the rise in these hateful incidents. What I do know is that when leaders and society at large do not show enough outrage and make it known that these acts are not acceptable, hateful people are emboldened to continue doing these attacks.
5. Public transit is known to be a place where a number of attacks on Muslim and other racialized women have happened in Canada. The reality is that often women are more dependent on public transit for a variety of reasons, including socio-economic reasons. Do you feel there is a gap in recognizing the intersection of socio-economic disadvantages and Islamophobia by both mainstream Muslim and anti-hate organizations? If so, how is Sisters' Dialogue trying to do things differently?
Wati: Sisters' Dialogue consciously ensures that our supports and programming are barrier-free and address the intersectionality of socio-economic disadvantages. For now, our programming is based online but once we are able to have in-person activities, we have provisions for transportation and child-care needs.
We have also been actively calling for more to be done to keep Muslim women safe on public transit and at public transit centers. The awareness campaign that we are planning will be centered around transit as we recognize that Muslim women, and especially Black Muslim sisters, are fearful for their safety on transit.
We do recognize that there is a gap in advocacy and programming in terms of addressing barriers and accessibility issues and we are committed to looking at different ways to keep all our sisters safe, and especially those who are most vulnerable. The safe walk initiative will be piloted in an area with more prevalence of attacks, and we will work with the communities most affected to ensure that we are meeting their needs.
Fathiya: As Wati beautifully elaborated, I would like to add that we need to create an awareness campaign and display them in public transit spaces. Without understanding the ramifications of these attacks, people will not take them seriously. Not many are aware of Islamophobic attacks but creating an awareness campaign will amplify our voices and bring awareness about Islamophobia.
6. What gaps in current organizing for Muslim women experiencing Islamophobia do you feel Sisters' Dialogue is addressing and how?
Fathiya: The gap that I see is accessibility to relevant programs, they do exist however accessing them isn't always possible. As Wati stated many of these programs are run by men who really cannot speak for the sisters who are getting attacked no matter their well-intended purpose. Muslim women don't need to be empowered or spoken for, what we need is the space to lead our own advocacy and empowerment and bring on the changes.
Wati: The jarring gap is that men in Muslim communities are still, for the most part, being consulted on, and taking the lead on making recommendations on how to keep Muslim women safe. While they do have a role to play, I think it's about time that they step back and let Muslim women take the lead as we know best our needs.
7. What has been some of the positive aspects of partnering/getting support from more established Muslim organizations?
Wati: Though not intentionally, we have naturally moved away from partnering with established Muslim organizations. We are looking at new ways of organizing and community engagement, and we find it easier to partner with new groups due to our shared interests and vision.
Fathiya: The established Muslim organizations are fantastic, however they are accountable to their funders and our goals don't always align especially when Sisters' Dialogue is rooted in healing and sisterhood.
8. What have been some of the difficulties of partnering/getting support from more established Muslim organizations?
Wati: Some Muslim organizations and community leaders have been great at fighting for the dignity and upliftment of Muslims in Edmonton and in Canada. We recognize all the good work that has been done and appreciate the sincerity of our brothers in faith. However, to be honest, systemic patriarchy, misogyny, and racism are still prevalent in some of these spaces and women do not necessarily feel safe to work with some established Muslim organizations. We need to take a step back and reflect on how many women and Black Muslims have been harmed by institutions that are meant to protect all Muslims.
Fathiya: Our focus and loyalty will always be uplifting Muslim Women whether or not they are attacked. Beyond the attacks, Sisters' Dialogue is about the community of Muslim Women who came together because a program like this didn't exist. When one of our sisters is mourning, we rally around her to make sure she receives the support that is tailored to her, just to give an example. We remind each other that we are truly in this together and some of the other Muslim organizations are designed differently than ours and one major shift is that Sisters' Dialogue is for the sisters by the sisters.
9. How have you engaged with more traditional funders in order to support this project?
Wati: We have been fortunate to have engaged with various levels of government and have been promised municipal and provincial funding for our programs.
Fathiya: Because of the hard work and advocacy of the many women involved with Sisters' Dialogue various levels of governments have recognized the need and the gap that exists and have extended their support to Sisters' Dialogue. In the future, we hope to have fundraising events to support our project further.
10. What programming do you hope to cover with your current fundraiser on LaunchGood.com?
Wati: While we have been promised funding, these funds cannot be used towards programming that has commenced. We have used our own funds to support programs like a healing circle, panel discussions, and bystander intervention. The fundraiser will be used towards covering costs for these programs and for administrative costs.
Fathiya: We provide a safe haven for Muslim Women and one program that I am very proud of is our care packages for our Muslim Sisters that are facing challenges. It can be daunting and scary when these attacks happen but knowing Sisters' Dialogue have your back, is a great relief.
11. Is there anything else you would like to add?
Fathiya: As Muslim Women, we have many roles, and we are often left out of the important conversations because places of worship and "established" Muslim organizations are funded and run by men. Muslim Women belong at every table that is discussing their needs without minimizing their voice. We cannot afford our rights to be taken away because our men decide what that looks like or traditionally men are the leaders and protectors.
Wati: The Muslim community needs to do more to support women in leadership and to ensure that there is intentional gender, racial/cultural, and socio-economic diversity represented on boards, committees, and programming. While professionals bring a wealth of skills to the table, they often miss the mark in their advocacy due to a lack of lived experience and a poor understanding of intersectional issues.
Internal inequities create distrust and strife between Muslims and we cannot afford to have this when we are fighting a bigger menace like Islamophobia. Groups like Sisters' Dialogue  were created out of the inequity gap and we need more supports from the community.
You can also email This email address is being protected from spambots. You need JavaScript enabled to view it. to e-transfer your donation too.
Follow Sisters Dialogue on Instagram
This article was produced exclusively for Muslim Link and should not be copied without prior permission from the site. For permission, please write to info@muslimlink.ca.