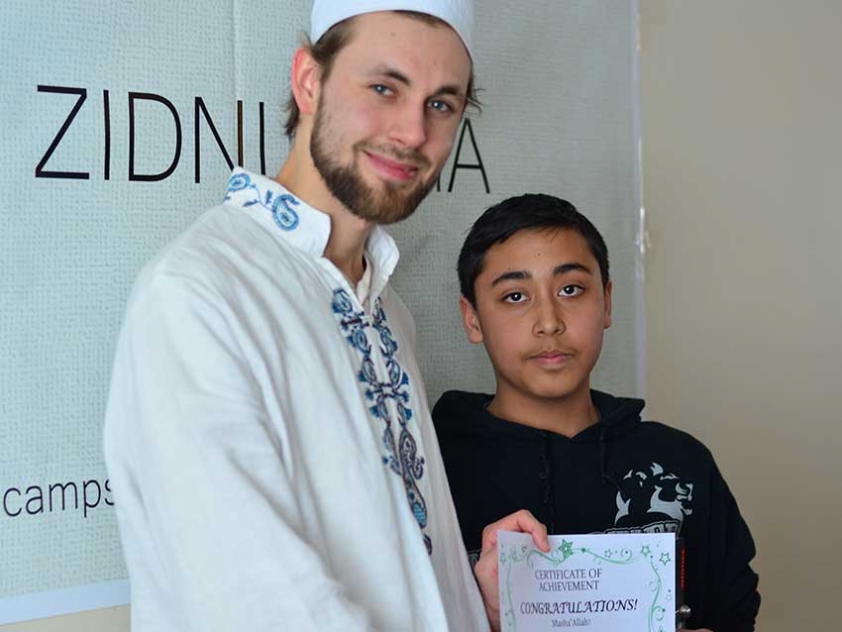 Mentor Henrik Vierula with 1st Prize Winner Irbaz Rehman
Ahmad Luqman
27
February


2015
Connecting Meaningfully to the Prophet Mohammad (pbuh): Letter Writing Competition run by the Sanad Collective
Written by Chelby Daigle
Ottawa's Sanad Collective recently ran a letter writing competition which challenged children and adults to write a personal letter to Prophet Mohammad (Peace Be Upon Him).
Muslim Link interviewed one of Sanad Collective's members, Assma Basalamah, who worked closely with students in Sanad Collective's Zidni School of Character and Taribyah Learning to support their exploration of their personal relationship with the Prophet (pbuh) through letter writing workshops.
How did the idea come about to do a Letters to the Prophet Competition?
The Letters to the Prophet(pbuh) Competition was inspired by the realization that although half of our testimony of faith is 'Muhammad is His Apostle/Messenger', we do not often engage in a personal exploration of our relationship with him.  
This Competition sought to give participants an opportunity to have a heart to heart with the Prophet through a letter. So that once that link established, the act of sending of peace and blessings upon the Prophet becomes that much more meaningful and perhaps the beginning of a new letter.  
What was unique about doing this competition with children?
It was truly inspiring to see the numbers of children's letters that flooded in - carrying fearless expressions of love and curiosity about the Prophet. We received letters from our local community as well as from England, the US, and even Colombia [in South America].
How did you work with children to get them comfortable expressing their love for the Prophet in writing?
Storytelling was an integral part of initiating discussions about the Prophet: talking about the Prophet's care for the children around him, and his gentleness with the smallest of creatures, allowed for them to imagine themselves be loved and cared for by him.
Why do you think it important to work with Muslims at a young age to foster love for the Prophet (pbuh)?
Because human beings tend to experience the world through interactions with other human beings, establishing a strong relationship of love and trust with the Best of Mankind is key, and this is why Allah gave us a Messenger from amongst ourselves, to connect to the Divine light through him. When there is trust in the one who is the perfect embodiment of Islam, trust in the faith that he broughtnaturally ensues.  To have a strong relationship with the Prophet also inevitably leads to the Knowledge of God through him.
How do you see the exercise of letter-writing and expressing one's love for the Prophet (pbuh) in the context of the Charlie Hebdo attacks, and other incidents where Muslims have reacted violently when people have portrayed the Prophet (pbuh) in a disrespectful manner?
As Shaykh Hamdi ben Aissa -one of the initiators of this competition- said, we must first recognize why God allows for such caricatures to happen. The reality is that those cartoonists are not drawing the Beloved (pbuh), they are drawing us.
We claim to be the followers and representatives of the Prophet peace be upon him, but look at our behavior all over the world. Our distance from his example of spiritual maturity, love towards all creatures, concern for all beings whether Muslim or not...We have strayed far from his teachings, and what we are being shown is our own image in those caricatures.
We, in fact, are the worst caricatures of the Prophet, may the peace and blessings of God be upon him, because we have distorted what he asked us to be.
We are very quick to react and protest these so-called portrayals - we immediately seek to defend the Prophet peace be upon him. But we have to ask: in other times, where is our own interest in him (pbuh)? Do we even think of him, if it weren't for these cartoons?
And what is our own image of him in our hearts?
God is sending us a message that we must return to the way of those pious men and women who realized that their salvation lies in their connection to him (pbuh), and didn't shy away from expressing their neediness and love to him (pbuh).
The exercise of letter-writing and expressing one's love for the Prophet, may the peace and blessings of God be upon him, is a way to build a true relationship with our Prophet peace be upon him. And it is necessary for our faith.
Bukhari and Muslim narrate that the Prophet, may the peace and blessings of God be upon him, said: "None of you believes until he loves me more than he loves his children, his parents, and all people." In another hadith in Bukhari he (pbuh) said: "None of you believes until he loves me more than he loves himself." If we are to follow this injunction, we must try to nurture this love. Expressing our feelings on paper allows us the chance to see how much love we have so far, and to make increasing that love a priority. Only when loving him (pbuh) becomes a focus in our lives can we truly know how to follow his Way.
This article was produced exclusively for Muslim Link and should not be copied without prior permission from the site. For permission, please write to info@muslimlink.ca.