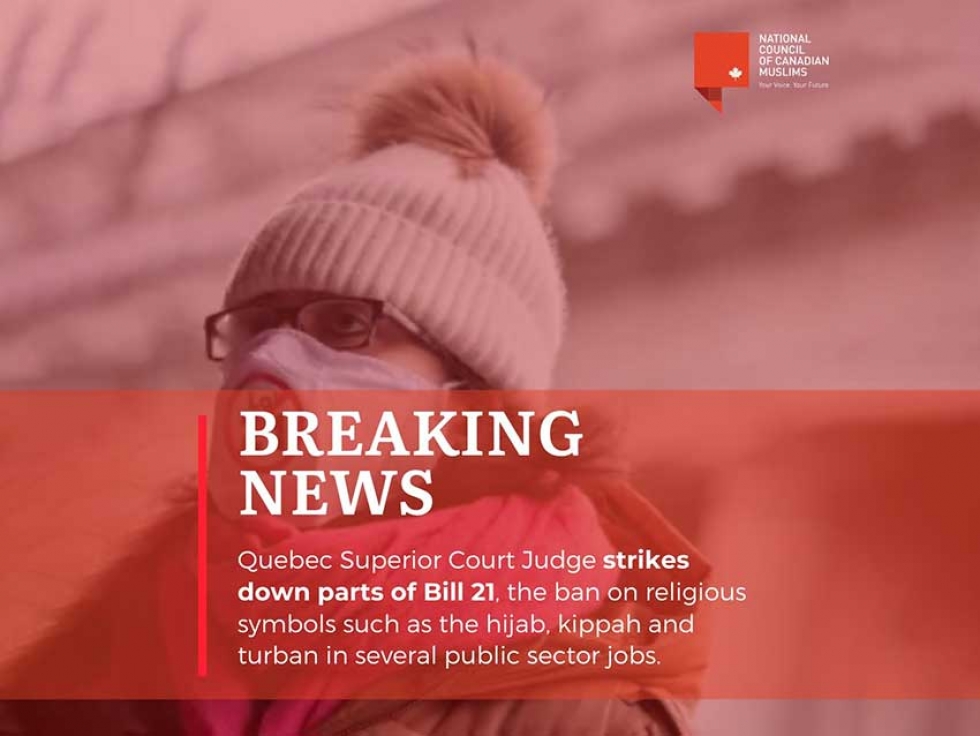 21
Apr


2021
This law made it illegal for Muslims wearing hijab to become elected representatives, or teachers, or prosecutors, or police officers. Since then, we have said we would never stop fighting for your freedoms as Canadians and Quebecers.
Today is an important day. Today a Quebec judge held that our challenge was partly successful.
Today's decision made it clear that certain sections in Bill 21 relating to teachers in English-language school boards and elected representatives in the National Assembly are unconstitutional.
This is an important step. It's an important step that was accomplished because we stood together, by the grace of the Merciful, as religious communities and civil society organizations.
But today is not the last day we will be talking about Bill 21 and the Laicity Act.
Up until today, it had been 674 days of second-class citizenship for Quebecers who wear religious symbols such as the hijab, kippah, or turban.
Today's Quebec Superior Court decision ends that for some Quebecers – but not all.
And unsurprisingly, the Quebec government has already announced that they plan on appealing.
We're going to need your help. We would not have made it this far without your support, and we need to keep going.
Help us make sure that quasi-emergency powers, like the notwithstanding clause, can't be used against Canadian Muslims.
The best way you can support our work in Quebec is by donating - we are a non-profit standing up with our allies against a government.
That's not an easy battle.
This Ramadan, donate to make sure that we end second-class citizenship in Canada.