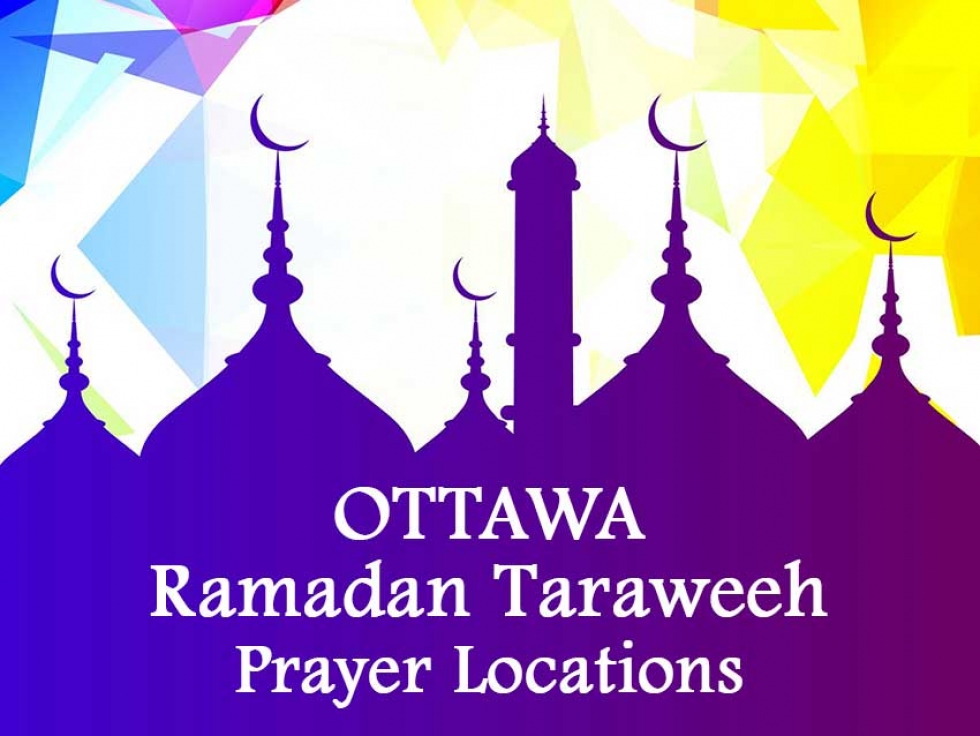 Ottawa Ramadan Taraweeh Prayer Locations
14
May


2018
Ottawa Ramadan Taraweeh Prayer Locations 2018
Written by Chelby Daigle
Muslim Link wishes you all Ramadan Mubarak. The following are confirmed Ottawa-Gatineau Ramadan Taraweeh prayer locations.
The Council of Imams of Ottawa-Gatineau has determined that the first day of Ramadan is Thursday, May 17. This means that:
- 1st Tarawīh is on Wednesday 16th May, 2018
- 1st day of Fasting (1st Ramadan) is on Thursday 17th May, 2018
This is not a complete list. If you would like to inform us of an Taraweeh prayer location or you would like to correct or add to the information below email This email address is being protected from spambots. You need JavaScript enabled to view it.
If you are looking for Ramadan events, Iftars, or Eid Bazaars, visit Muslim Link's Ottawa Events Listing.
KANATA
Kanata Muslim Association
Location: Richcraft Recreation Complex
Address: 4101 Innovation Drive, K2K 0J3
Start Date: Wednesday, May 16 at 10:10
OTTAWA-WEST
Jami Omar
Location: Masjid Jami Omar
Address: 3990 Old Richmond Road
Taraweeh: After Isha Prayer
The Muslim Association of Canada (MAC)
Location: MAC Youth Centre
Address: 1085 Grenon Avenue
Taraweeh: After Isha Prayer
Ottawa Muslim Association
Location: Ottawa Main Mosque
Address: 251 Northwestern Avenue
Taraweeh: After Isha Prayer
DOWNTOWN
University of Ottawa Muslim Students Association (UOMSA)
Location: Jock Turcot University Centre (UCU107)
Address: 85 University Private
Taraweeh: After Isha Prayer, 8 rakats end by 12 am, 20 rakats option end by 1pm; sisters welcome
Start Date: Wednesday, May 16
OTTAWA-SOUTH
Assunnah Muslim Association
Location: Masjid Ar-Rahmah (AMA)
Address: 1216 Hunt Club Road
Taraweeh: After Isha Prayer
BARRHAVEN
South Nepean Muslim Community (SNMC)
Location: SNMC Masjid
Address: 3020 Woodroffe Avenue
Taraweeh: After Isha Prayer, 8 Rakkah and 20 Rakkah
Please note: Bring a reuseable water bottle
OTTAWA-EAST
Sanad Collective/Masjid Rhoda
Address: 1724 Montreal Road
ORLEANS
Islamic Society of Cumberland
Location: Masjid Bilal
Address: 4509 Innes Road
Taraweeh: From May 16 to June 1 Isha 10:15, Taraweeh 10:30
From June 2 to June 15, Isha 10:30, Taraweeh 10:45
Masjid Bilal Ramadan Prayer Timetable
GATINEAU
Centre Islamique de l'Outaouais
Address: 4 rue Lois, Gatineau, Québec J8Y 3R1
Taraweeh: 10 minutes after Isha prayer
Parking: During Isha/Taraweeh prayer, people are encouraged to use the parking lot of the Fonderie. This parking lot is accessible from Montcalm Street.
This article was produced exclusively for Muslim Link and should not be copied without prior permission from the site. For permission, please write to info@muslimlink.ca.