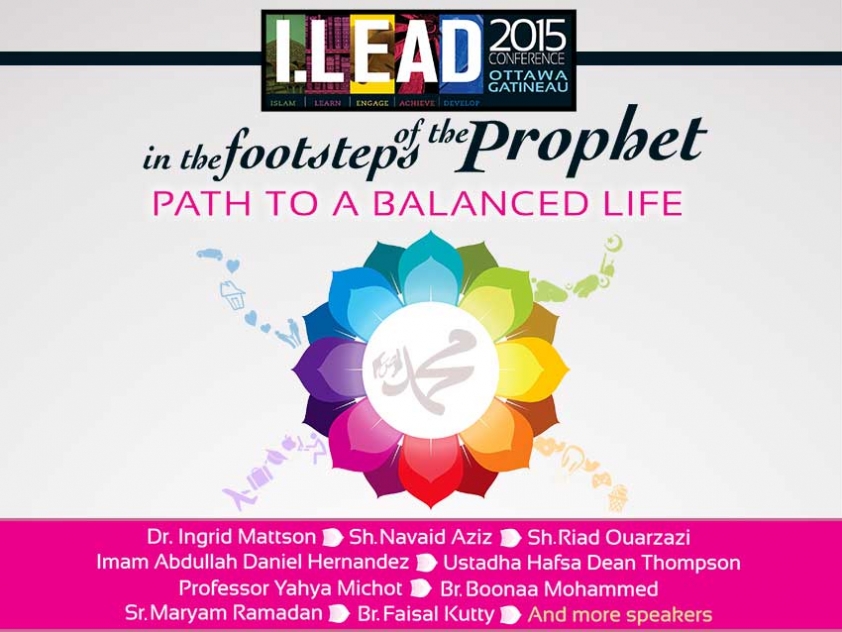 12
February


2015
Muslim Link Is a Proud Sponsor of This Year's I.LEAD Conference
Written by Chelby Daigle
Based on feedback from organizers and participants of past I.LEAD Conferences, this year's selection of speakers promises to offer a diverse range of perspectives on the conference's theme: In the Footsteps of the Prophet (pbuh)-Path To A Balanced Life. Conference Speakers will address balancing our lives at all levels including personal, spiritual, family, community and in Canadian society.
One of this year's youngest speakers will be Maryam Tariq Ramadan, the daughter of scholar Tariq Ramadan.  The full program is now available online. There is also a French Program once again which readers can learn more about by visiting I.LEAD's French Language site here.
Selected Speakers' Biographies Taken From the I.LEAD Conference Website:
Maryam Tariq Ramadan is a graduate of the School of Oriental and African Studies from University of London where she received her Masters in Gender Studies. Her research has been focused on West African women and the intersection of their socio-political activism, their culture and Islam. While in the United Kingdom, she organized many events including a tribute to Malcolm X, which also took place at the Malcolm X Center in New York City. She has travelled extensively and visited various Muslim communities around the world. During her travels she met many leading women activists which have driven her to advocate for women's rights. She is currently the project executor for a study on the relationship between domestic workers in Qatar and their employers.
Ustadha Hafsa Dean Thomspon, who reverted to Islam at the age of 17, has obtained her Bachelor in Arts with Honours in Shariah becoming one of the leading knowledgeable female speakers in North America. She is also a Certified Counselor, working with Mercy Mission's 315-Nisaa Helpline for Muslim Women. She is a life coach and women's empowerment instructor as well as a self-development educator. She currently gives weekly lectures of Aqeedah, Fiqh and Tazkiyah while running the Enlightenment program at the Islamic Academy of Canada as well as the Female Inmate Program in BC. Sr. Hafsa is currently undertaking her Masters in Shariah. Website / Facebook Page / Twitter Page
Dr. Ingrid Mattson has been the Chair of Islamic Studies in the London and Windsor community at Huron University College at the University of Western Ontario in Canada since 2012. Prior to that, from 1998-2012 she taught at the Hartford Seminary in Connecticut where she established and directed the first accredited graduate program for Muslim Chaplains in North America. Originally from Canada, she studied Philosophy and Fine Arts and received her B.A. from Waterloo in 1987. She then moved to the United States for graduate studies at the University of Chicago and received her PhD in 1999. She is the author of the academic best-seller, "The Story of the Qur'an" as well as numerous articles in Qur'anic studies and Islamic ethics. From 2001-2010 Dr. Mattson served as vice-president and then as president of the Islamic Society of North America (ISNA). Website / Facebook Page / Twitter Page
Boonaa Mohammed is a critically acclaimed award winning writer and performer with accolades including a playwright residency at Theatre Passe Muraille, a short story published in a Penguin Canada anthology called "Piece by Piece" and various slam poetry titles credits including winner of the 2007 CBC Poetry Face-Off "Best New Artist" award. His popular Youtube videos have received Millions of views to date and as an Artist he has toured and traveled across the world; speaking alongside some of the most influential scholars and entertainers of our time. He frequently conducts writing workshops and seminars, sharing his experience and expertise in Spoken Word story-telling with mainly youth from all walks of life. Website / Facebook Page / Twitter Page
Faisal Kutty teaches at Valparaiso University Law School and Osgoode Hall Law School of York University. He previously taught at the Law Society of Upper Canada, the governing body for Ontario lawyers. He is a co-founder and serves as counsel to the Toronto-based boutique firm KSM Law firm. He has represented numerous individuals and institutions caught up in national security investigations. He has served as legal counsel to the Canadian Muslim Civil Liberties Association and vice-chair and legal counsel to the Canadian Council on American-Islamic Relations (CAIR-CAN), now renamed the National Council of Canadian Muslims (NCCM). He holds a J.D. from the University of Ottawa, an LL.M. from Osgoode Hall Law School and worked on his Ph.D. in national security at Osgoode. He has written and spoken extensively on National Security, Islamic law, Law and Religion, and Muslims. His articles have appeared in various journals as well as the Toronto Star, National Post, Globe and Mail, Ottawa Citizen, Aljazeera, Arab News, AlAhram, etc. For the past five years, he has been included in The Muslim 500, an annual compilation of the 500 Most Influential Muslims in the World published jointly by the Royal Islamic Strategic Studies Center (Jordan) and the Prince Al-Waleed Bin Talal Center for Muslim-Christian Understanding at Georgetown University. Twitter Page
Sheikh Navaid Aziz, originally from Montreal, completed his studies in social sciences before heading to the illustrious Islamic University of Madinah. He went on to complete an associate's degree in Arabic and Bachelors in Shari'ah. Upon returning from Madinah Sh. Navaid joined AlMaghrib Institute as an instructor and went on to become the Director of Student Affairs and Public Outreach. Sh. Navaid currently resides in Calgary where he serves the community as a family counselor and religious educator at the Islamic Information Society of Calgary. He enjoys traveling the world and inspiring people to be the best version of themselves. Facebook Page / Twitter Page
Sheikh Riad Ouarzazi, based in Toronto, is an established, respected and revered teacher to students from across the globe. His teaching style is unique, appealing and most importantly accessible to all students. From new Muslims and people considering Islam as a way of life, to established Muslims, his knowledge is beneficial to all. He holds an Islamic degree from M. Abdullah University in Casablanca, Morocco. Since 1991, he has been teaching with many organizations including Al Maghrib Institute, Human Appeal and Muslim Aid, to name a few. Furthermore, Sheikh Riad directs his own organization called ROC Training which delivers seminars, Umrah packages, Islamic Retreats and a range of other services across the globe. Some of his areas of expertise include marriage, time management, personal development and anger and stress management. Website / Facebook Page / Twitter Page
Do you want to get involved with the I.LEAD Conference? Here are some ways you can make a difference:
Food Vendors: I.LEAD Conference is looking for food vendors this year! So, we will have a wide variety of ethnic food to choose from this time. What kind of food vendors do you want to see? If your business is interested in becoming a food vendor, please contact us at This email address is being protected from spambots. You need JavaScript enabled to view it.
Leaders: Join the I.LEAD Conference Organizing Committee. If you are committed, eager to step into a dynamic leadership position, and passionate about helping the community, we encourage you to apply. Please email us at This email address is being protected from spambots. You need JavaScript enabled to view it.
Volunteers: If you would like to volunteer for ILEAD on the day of the conference then please register your name on the ILEAD volunteers page or send an email to This email address is being protected from spambots. You need JavaScript enabled to view it.
Booth Vendors: I.LEAD Booths are booking up fast. If you want a booth at I.LEAD Conference this year, don't delay! Contact the sales team at This email address is being protected from spambots. You need JavaScript enabled to view it.
Contest Sponsors: Each year, I.LEAD runs contests through its social media. If your business would like to sponsor a prize, contact This email address is being protected from spambots. You need JavaScript enabled to view it.
To learn more about the I.LEAD Conference, visit their website.
This article was produced exclusively for Muslim Link and should not be copied without prior permission from the site. For permission, please write to info@muslimlink.ca.