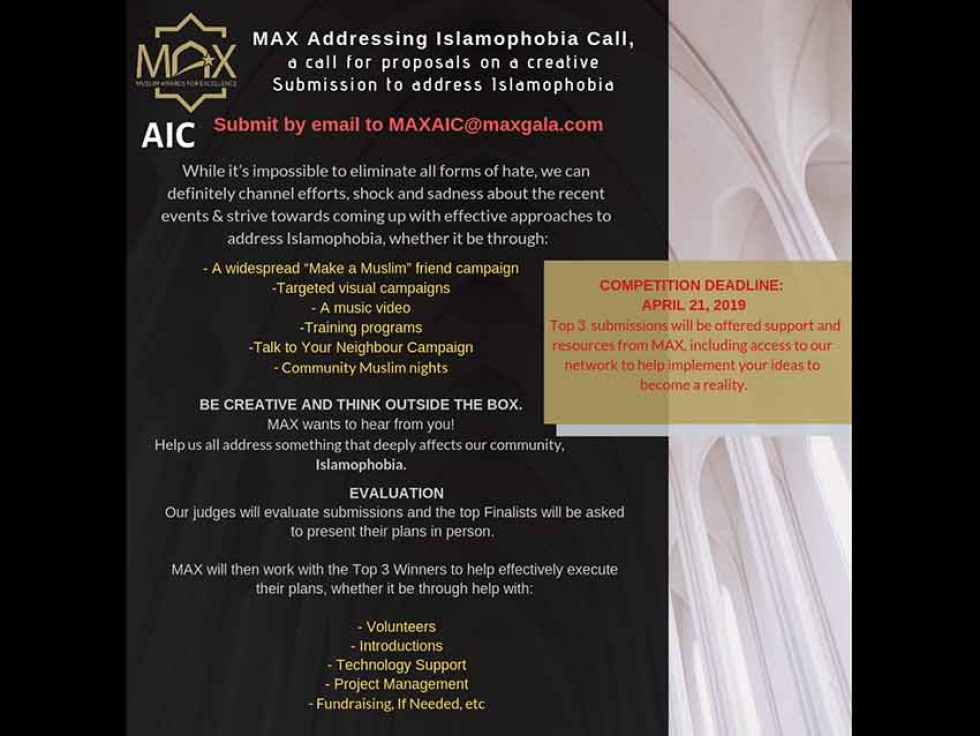 04
April


2019
Muslim Awards of Excellence is Calling for Proposals for Creative Ways to Address Islamophobia
Written by MAX Gala
Words cannot do justice to the deeply saddening terrorist attack in Christchurch during Friday prayers. We offer our deepest condolences to the families and victims, and stand in solidarity with them.
The problem of Islamophobia can no longer be taken lightly, as this profoundly tragic attack has highlighted again.
Muslims in Canada and across the world are accomplishing excellence in various fields, are building bridges through outreach with other communities, but at the same time facing various types of Islamophobia.
At Muslim Awards of Excellence (MAX) we believe in excellence in the Muslim community in dealing with our neighbours, communities and all Canadians.
We encourage all of you to open your mind and homes to non-Muslims and promote our shared values of 'Peace' and 'Respect'.

In keeping with a standard for excellence and vision to "Elevate the Brand of Muslims", MAX would like to mobilize our community's talents to build bridges to address Islamophobia.
MAX AIC stands for "MAX: Addressing Islamophobia Call".
This will be run as a competition with judging after the deadline of April 21, 2019.
The Top 3 will be offered support and resources from MAX, including access to our network to help implement your ideas to become a reality.
While it's impossible to eliminate all forms of hate, we can definitely channel efforts, shock and sadness about the recent events & strive towards coming up with effective approaches to address Islamophobia, whether it be through:
A widespread "Make a Muslim" friend campaign
Targeted visual campaigns
A music video
Training programs
Talk to Your Neighbour Campaign
Community Muslim nights
The above are only a few suggestions to get the creative juices going.
BE CREATIVE AND THINK OUT OF THE BOX.
MAX wants to hear from you!
Help us all address something that deeply affects our community, Islamophobia.
EVALUATION
Our judges will evaluate submissions and the top Finalists will be asked to present their plans in person.

MAX will then work with the Top 3 Winners to help effectively execute their plans, whether it be through help with:
Volunteers
Introductions
Technology Support
Project Management
Fundraising, If Needed, etc
REQUIREMENTS TO SUBMIT:
3 to 5 page detailed proposal that outlines How To Address Islamophobia:
1) Executive Summary (one to two paragraphs)
2) The Main Individuals on Your Team To Implement This Idea (Describe Their Experiences, Their Role In This Plan, What Motivates Them To Do This In Their Free Time)
3) The Elements of the Plan (Scope, Execution Plan)
4) Timeline (90 day, 6 month, 1 year plan and beyond)
5) Team Structure (Roles and Responsibilities)
6) Resources You Have Versus Resources Needed (plans to acquire)
7) How To Measure Success (key performance metrics)
8) Miscellaneous (important elements not listed above)
9) Appendix – You may add an additional 2 to 4 pages for Appendices
DEADLINE TO SUBMIT:
  Sunday, April 21, 2019
WHERE TO SUBMIT: 
  Email  This email address is being protected from spambots. You need JavaScript enabled to view it.