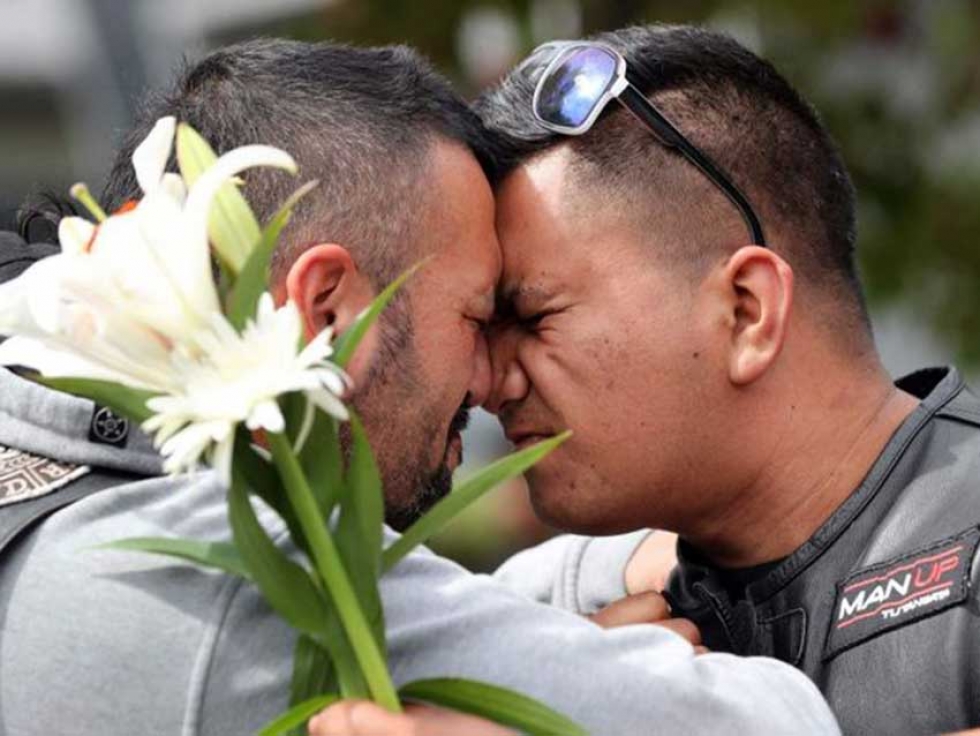 Mourners use the Maori traditional greeting or hongi at Hagley College on Saturday after the mosque attacks in Christchurch, New Zealand.
(Michael Bradley / AFP/Getty Images) from the LA Times
18
March


2019
What Can Muslims Learn From the Expressions of Solidarity from the Maori People After the New Zealand Mosque Terrorist Attack?
Written by Chelby Daigle
As Muslims in Canada watch coverage of the people of New Zealand showing support and solidarity with local Muslim communities after the terrorist attacks against two mosques in New Zealand, they have also been learning more about the Indigenous peoples of New Zealand, the Maori.
Maori traditions such as the hongi, a traditional Maori greeting where two people touch noses and foreheads, to the haka, a combination of song and movement that expresses a range of emotion from anger, sorrow, to love, have been covered by media as everyone from school students mourning their classmates to outlaw biker gangs have used the haka to express their grief.
Arab New Zealander Mariam Arif has been learning the Maori language for the last few years and created a series of videos showing the similarities between concepts from Maori culture and spirituality and Arab Muslim culture and spirituality.
You can watch her being interviewed by Maori language television in the aftermath of the Christchurch attack below. (It may take a few moments for the video to load from YouTube).
Muslim Link interviewed Mariam about her own journey to learn more about Maori culture and what these shows of solidarity from the Maori people can teach us after this tragedy.
Tell us about yourself
Tena Koutou me Assalamu Alaykum (Greetings and Peace be upon you). My name is Mariam Arif, an Arab New Zealander who moved here over 20 years ago. My father is originally from Iraq, and my mother from Syria. We were born in the United Arab Emirates but moved to New Zealand to make it home in 1996. We were schooled here, and I ended up with a Bachelor of Communication, then went on to do further studies like Interpreting, TESOL, and in more recent years, Te Reo Maori (the Maori language). I grew up in Auckland, New Zealand, and am now back in Auckland, however have lived some years in a city called Hamilton, which I absolutely adore.
Why did you decide to start learning about Maori culture and sharing what you learned on YouTube?
It was in Hamilton that I was introduced to the Maori world. What caught my attention was the resemblance between their values and ours. It all comes down to being a collective people, who value the group more than the individual. Whilst Te Reo Maori is one of the official languages in New Zealand, it is still very much marginalised.
Therefore, after discovering this amazing taonga (treasure), I decided to participate in its normalisation in New Zealand society. The dynamics of New Zealand society are changing for the better, with Te Reo Maori now becoming much more accepted and loved. I am honoured to be part of that journey.
On a personal level, my videos on YouTube are my way of building bridges between my people and Maori. I felt it was my calling to be the link between the two beautiful cultures, inviting others to do the same.
In the wake of the terrorist attack on two mosques in New Zealand, people from around the world are seeing the shows of solidarity from the Maori. Why do you feel that Maori communities are coming forward so strongly in the wake of these attacks?
It is not something new that Maori express their compassion in this way. Their aroha (love) and compassion has presented since the nation's colonial days. Further, they can relate to the mamae (pain) that the Muslim community is feeling today, because they too struggle with racism and discrimination. They understand what it is like to constantly need to prove your good-ness, and to constantly fight for your identity.
One of the main forms of solidarity we are seeing are Haka performances. Based on your studies, could you explain what Haka means, and what it means that this is how the Maori are paying their respect to those who have been lost and expressing their support for local Muslim communities?
In the video below students mourn the loss of two of their classmates who were killed in the New Zealand mosque attack (It may take a few moments for the video to load from YouTube.)
A haka is a challenge performed collectively, to either intimidate the opponent, or alternatively, to demonstrate the feeling of unity in a particular event. A haka is used to express emotion in particular contexts; such as weddings, graduations, funerals etc.
As expected, Maori are expressing their respect and support for the tragic events by performing haka. Each haka tells a story, and is chosen to befit the event at hand.
We have also seen the hongi, the traditional Maori way of greeting by connecting foreheads and noses. Could you explain the larger meaning of this form of greeting?
A hongi is a sacred act whereby the two participants exchange the breath of life. Touching foreheads and noses brings you together in a beautiful experience, and it is symbolic of "becoming one". When Maori do this, they are saying "Welcome" and "I am you, and you are me."
Canada is also a former British colony, like New Zealand, and prejudices against Indigenous communities are widespread both within mainstream and Muslim communities, with some Muslims refusing to learn about Indigenous traditions because they consider them shirk (believing in other Gods than Allah). Based on your own research, why do you feel it is important for Muslims in New Zealand and Canada to make more of an effort to understand and connect with Indigenous communities in their region, including developing a better understanding of their languages and spiritual concepts?
Simply put, because our Prophet Peace be Upon Him taught us to. He taught us to travel and meet new people, and to "learn". There is high emphasis in Islam on learning. So much so, that the Prophet said "One who seeks a path in knowledge, will ease their path to Heaven."
The feeling some people have about shirk or what not, stems from ignorance. It is this very ignorance that has resulted in Friday's attack. People are too afraid to learn about others. This fear of the unknown then leads to acts of racism, discrimination and in this extreme case, terrorism.
"Kia Kaha" is a Maori expression that we are seeing many use in response to the Christchurch terrorist attack. Could you explain what this means in this context?
Whether they know Te Reo Maori or not, all New Zealanders know what this phrase means. Kia in Te Reo Maori means "To be". Kaha means "Strong". So Kia Kaha means, Be strong.
It is often used among New Zealanders for encouragement purposes.
As you yourself move forward as a Muslim in New Zealand, what concepts from both Islamic and Maori traditions will you be calling on to heal and build unity?
As a Muslim, what drives us forward is patience and tawakkol (relying on the Almighty). We are all in this together, and we all need to be patient about the trials and tribulations we are faced with in this temporary world. We also find strength in our unity, not only with our fellow Muslims but the wider New Zealand community. This aligns with the concept of Kotahitanga (unity) in Maoritanga (Maori Culture). Together, we will heal. Together, we can move forward to a better tomorrow.
You can also watch another interview with Mariam Arif on Maori language media below. (It may take a few moments for the video to load from YouTube).
You can view Mariam's series of YouTube videos about the similarities between Maori and Arab Muslim cultures online here. We have posted her first video below (It may take a few moments for the video to load from YouTube).
You can also watch Mariam's reflection on the Christchurch attack below. (It may take a few moments for the video to load from YouTube).
This article was produced exclusively for Muslim Link and should not be copied without prior permission from the site. For permission, please write to info@muslimlink.ca.