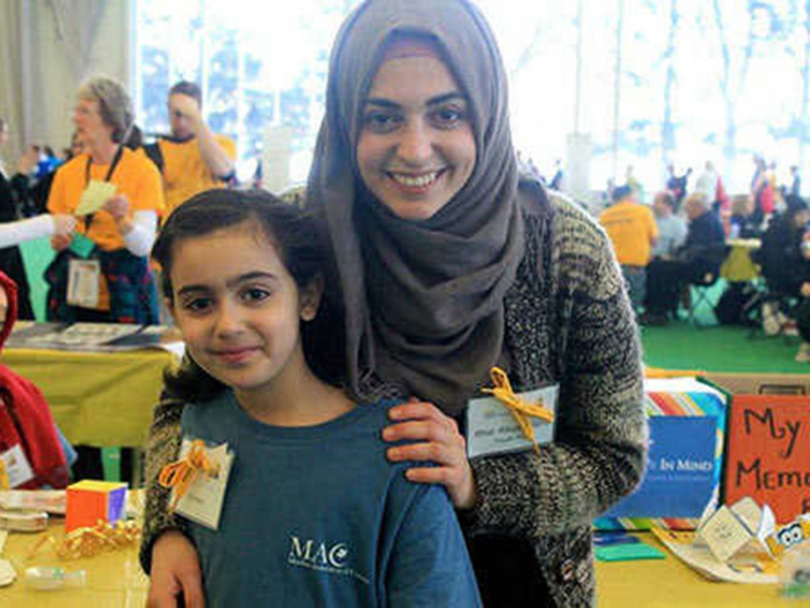 Ithar Abusheikha and a young volunteer
15
Feb


2014
MAC Give and the Alzheimer's Society's Walk for Memories
Written by Miriam Katawazi
For the fifth year in a row, the Muslim Association of Canada (MAC) Give lent a helping hand to the Alzheimer Society's Walk for Memories.
The Alzheimer Society Walk for Memories is an annual walk that raises awareness and funds for Alzheimer's "care and support" A national non-profit organization, The Alzheimer Society
Ithar Abusheikha, a youth volunteer with the Alzheimer Society of Ottawa, was first introduced to the society through MAC Give.
"I think the ideology of MAC Give is to expose young Muslims to non-profit organizations," she shared. Using volunteers from the Muslim community, MAC Give provides support to philanthropic activities in Canada.
On Jan 26. Over 550 walkers participated at the walk at Carleton University and raised $241, 474. Abusheikha is glad that MAC Give supports this walk, since Alzheimer's affects elders and it's the responsibility of the community to support and care for them.
"To have a successful society we need to care for the elders and have mercy on the young ones. The Prophet, peaceand blessings be upon him, said "˜the best of you are the ones that serve others'"
Abusheikha said there is so much people could learn from their elders, "Our youth are overwhelmed with knowledge and information but they lack wisdom. They don't think twice and they lack patience and empathy. But these are things we can learn through our elders."
She says people owe it to their communities to volunteer. "It's great seeing volunteers with their MAC Give T-shirts and their Hijabs showing they care and they're involved."
Abusheikha also helped to coordinate the first ever Youth Hub information booth at the walk. For Susan Paul, Marketing Director at the Alzheimer's society, Youth Hub is a change from the typical information booth. Youth Hub encourages people to learn more about Alzheimer through interactive activities.  "There are brains you can touch and learn about. It's quite a big activity and it's been terrific."
Paul says she loves the positive spirit that walkers, volunteers and organizers bring to the event. "MAC give and their volunteer's come out every year which we really appreciate," she added.
To learn more, visit:
http://www.macnet.ca/English/Pages/MACGive.aspx
This article was produced exclusively for Muslim Link and should not be copied without prior permission from the site. For permission, please write to info@muslimlink.ca.