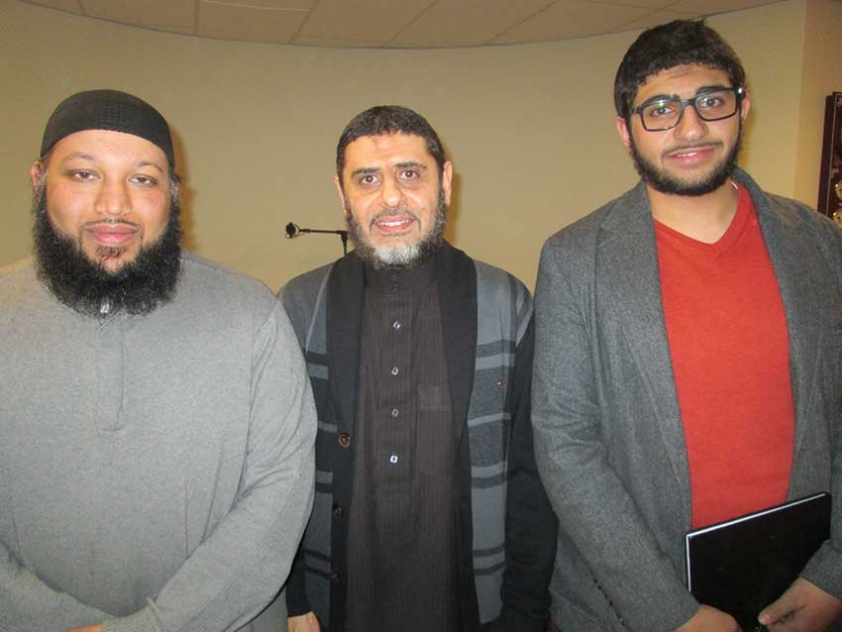 Imam Sikander Hashmi, Imam Ismail Albatnuni, and Qussai Abu-Naqoos spoke on the subject of Jihad and Extremism on February 6th at Masjid Assunnah.
Chelby Daigle
09
February


2015
Local Imams Take On the Subject of Jihad and Extremism
Written by Chelby Daigle

This topic has rocked Ottawa's Muslim community in recent months, with the shooting of Cpl. Nathan Cirillo in October, the ISIS recruitment video by former Ottawa resident John Maguire calling on Canadian Muslims to rise up in jihad in December, and particularly in the wake of the recent arrests of several young men, including, Awso Peshdary, on allegations of recruiting local youth to join ISIS.
The lead up to the event was covered by CBC but then all mainstream media were asked to leave. Sh. Albatnuni explained that this was in order to ensure that people felt safe to have a "heart to heart" on the topic. He also felt it was important that people felt he and other speakers were talking frankly and sincerely, and not just to please an outside audience. "I want people to know this comes from my heart, it is not for the cameras," he told Muslim Link. Sh. Albatnuni spoke firmly during the event about the need to stand up against those who are recruiting people to violent activities in order to protect vulnerable youth and preserve the safety of the whole community.
Qussai Abu-Naqoos, 23, who also spoke on the panel and has experience as a youth worker in the community, expressed concern that more outreach needed to be done to engage vulnerable Muslim youth. "I think it is a good step that we had this event in the masjid, but the real question is, have we attracted people who need to be attracted?" he asked, "Have we attracted those young people on the street who are thinking of these thoughts because they want a solution in life? Are they here? Or are we attracting people who usually are coming to the masjid? What are we doing for the people outside?"
In order to engage with these young people, he feels it is important for imams to be free to educate people about what Islamic tradition has to say on the subject of jihad without fear of being accused of radicalizing people. "If they can't find the answer from an imam, youth will just go to the internet," he stated. As it has become clear that a lot of radicalization to violence is in connection to online materials, Abu-Naqoos feels strongly that the local community needs to offer a viable alternative.
Muslim Link interviewed Imam Sikander Hashmi at length to get his thoughts on the discussion that arose from issues raised at the event.
Why did you feel it was important to organize this event?
We are at the forefront of the struggle against violent radicalization and extremism. There are a number of factors that may be contributing to these phenomena, such as foreign policy and a lack of engagement in the community. Another important factor is a lack of understanding, or misunderstanding, of Islamic teachings. Up until now, there has been a reluctance to tackle difficult topics related to jihad. Jihad clearly exists in Islamic teachings in different forms, including the personal struggles between right and wrong experienced by individuals, struggling for the truth and speaking up against tyrants. There is an aspect of jihad that includes physical battle. This aspect has been ignored by leaders often due to the fear of being misunderstood and misrepresented. Since many Muslims know that this form of jihad exists, they end up looking for answers online, where they can easily fall victim to rhetoric from groups that misrepresent jihad to suit their own agenda, such as ISIS. This event was organized to start conversations in our community on the issue of jihad.
What was your take on the feedback about some youth perceiving local imams as being "weak" and too afraid of public opinion to frankly answer their questions about jihad?
I think it confirmed my suspicion that our silence on this issue, as imams, has been counterproductive. Imams don't need to appear strong but what this indicates is that there is an erosion, or perhaps even a complete lack of trust, by some youth with respect to imams in the community. This is very concerning because this means that the imams are not serving the needs of the community properly and secondly, that such youth will turn elsewhere for guidance. More often than not, they turn to the internet where they can easily fall prey to rhetoric from groups such as ISIS. Imams need to start addressing issues that are concern[ing] to youth.
What was your take on the feedback around paid informants versus reporting a potential crime when it comes to addressing violent radicalization in the community?
This is a clearly a very sensitive topic and as with anything, I think we need to be balanced and fair in our approach. We have a responsibility to uphold justice and safety for all. This means that we should try our best not to implicate innocent people for things they haven't done and at the same time, we should report anything suspicious that may lead to harm towards individuals or society. Looking at how information from informants has been misused in some cases in the past and the lack of control over how information will be used in the future, I do not recommend becoming a paid informant.
That being said, if we learn that someone was a paid informant, I believe we should give them the benefit of the doubt and think the best of them, as we've been taught to do so with other Muslims in Islamic teachings. What I should have also highlighted, and will do so in the future Insha'Allah (God willing), is that there may be informants trying to provoke naive yet innocent people and set them up as part of sting operations and our community needs to be mindful of this. While this practice is wrong, the best solution is to not get involved in any questionable activities and steer clear and report anyone trying to provoke an illegal activity.
Do you think it was important for you and Sheikh Ismail Albatnuni to work together on this topic as although you do work together on the Ottawa-Gatineau Council of Imams, you come from different religious orientations within Islam? In the wake of recent events, certain Muslim religious orientations have been named as the source of the problem of radicalization, what is your opinion on this?
It's not helpful when people outside the Muslim community blame the entire community as a whole for acts of violence perpetrated by some Muslims. In the same way, it is unfair for members of the Muslim community to turn around and do the same with a segment of the community. We need to be clear what we're against. We're not against diversity of views or freedom of belief. We're against any illegal activity that harms others, or any approach that leads to such activity. Therefore, we need to engage with all segments of the community and ensure that we're all on the same page when it comes to respect for Canadian laws and a clear message against violent radicalization. Otherwise, this lack of respect for diversity - regardless of which segment of the community it comes from - will continue to hurt us all and act as an obstacle to tackling the problem.
Where do you think this discussion needs to go next? Should there be more forums explaining Jihad and Extremism from an Islamic Perspective? Should there be more forums for frank discussion on how Muslims should react to foreign policy or proposed legislation which they feel it targets them?
I think the discussion needs to continue. There were some aspects, such as the reality of jihad, which unfortunately weren't covered due to lack of time. While this was a great start, there is much more that needs to be discussed. I'm glad that this first step has been taken and now it'll hopefully be easier to have these difficult conversations. Foreign policy and proposed legislation need to be discussed and there needs to be greater leadership by mainstream Muslim organizations when it comes to such important issues.
This article was produced exclusively for Muslim Link and should not be copied without prior permission from the site. For permission, please write to info@muslimlink.ca.