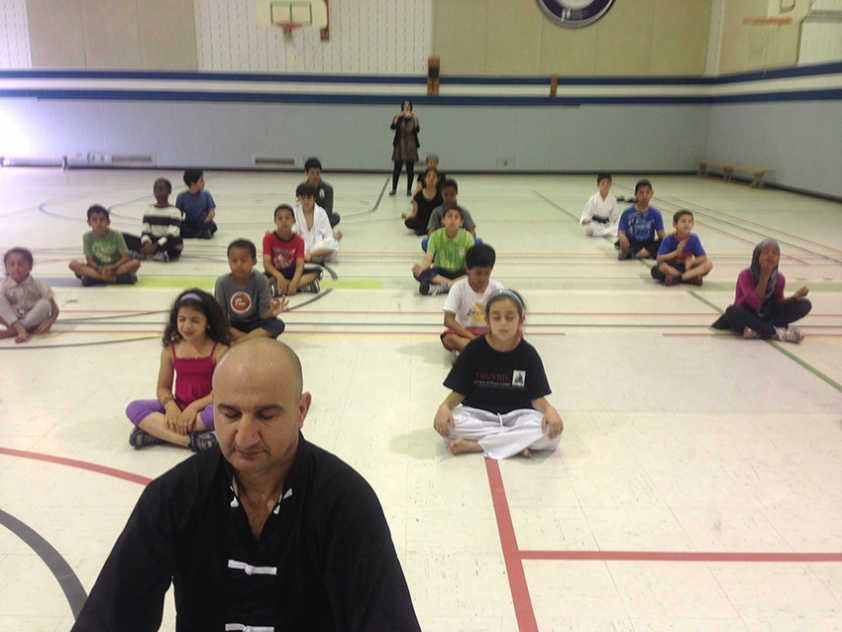 Martial Arts instructor Mohammed Al Nuiaimi leads students in quiet meditation.
Courtesy of Om Al Qura School
19
June


2014
Martial Arts and Calligraphy at the Om Al-Qura Summer School
Written by Chelby Daigle
This summer, the Om Al-Qura School, located at 35 Melrose Avenue will be offering a special summer program. Beginning on July 2nd for children aged 4 to 14, in addition to studying Arabic through interactive games, Quran memorization, and study of the Names of Allah (swt), students will have the opportunity to learn karate and Arabic Calligraphy.
For karate instructor Mohammad Al Nuiaimi, the study of karate and calligraphy are excellent ways to develop important life skills among students. "When you take control of your body, then you can take control of your mind," Al Nuiaimi explained, "and both karate and calligraphy require a lot of control." However, Al Nuiaimi doesn't expect the children he works with to come in to class with a high level of self-discipline, "Children each learn differently so you need to teach them at the right level for them."
Al Nuiaimi has been teaching karate and yoga to children of all ages for over twenty years and has been leading the personal development program at Om Al-Qura School for the last few years. He sees self-discipline as an important life skill for personal development that both karate and calligraphy can bring into the life of young students.
"When I teach karate I also teach three important personal development skills," he stated, "I teach them how to focus. I teach them how to relax. I also teach them how to communicate. Then we build on these skills to develop balance, strength, and speed. These skills help the students learn to have more control over their body and their mind."
Parents may wonder why it is important for their child to learn these skills, but Al Nuiaimi feels that it is important in helping children mature. "Children and even some adults often just react to things because they do not know how to calm down, to be at peace in their mind. This can lead to making bad decisions. Even children can learn how to calm themselves down and gain a certain degree of self-control so that they are not always just reacting to what is happening around them," he explained.
Om Al-Qura's summer school also offers classes in Arabic calligraphy which Al Nuiaimi also sees as having the ability to teach children important life skills. When Al Nuiaimi studied martial arts in China, it was a requirement for him to also study the art of Chinese calligraphy. This is because it is believed that the level of focus, patience, and precision required to be a successful calligrapher is also what is needed to be good at martial arts. Al Nuiaimi sees Arabic calligraphy as being able to teach children the same valuable skills necessary not only for karate but also for coping with life's stressors. Students will practise writing Names of Allah with professional teachers using calligraphy techniques to engage them in the Arabic and Islamic heritage.
The Om Al-Qura summer school runs from July 2nd to August 1st, Monday to Friday from 1:00 pm to 4:30pm. The fall program runs on Saturdays from 1:00 pm - 5:00 pm starting mid-September.
To register for Om Al-Qura's Summer School email to This email address is being protected from spambots. You need JavaScript enabled to view it. or visit www.omalquraschool.ca
Om Al-Qura School operates under the Ottawa Muslim Association and runs the Arabic class under the Conseil des ecoles catholiques.
This article was produced exclusively for Muslim Link and should not be copied without prior permission from the site. For permission, please write to info@muslimlink.ca.