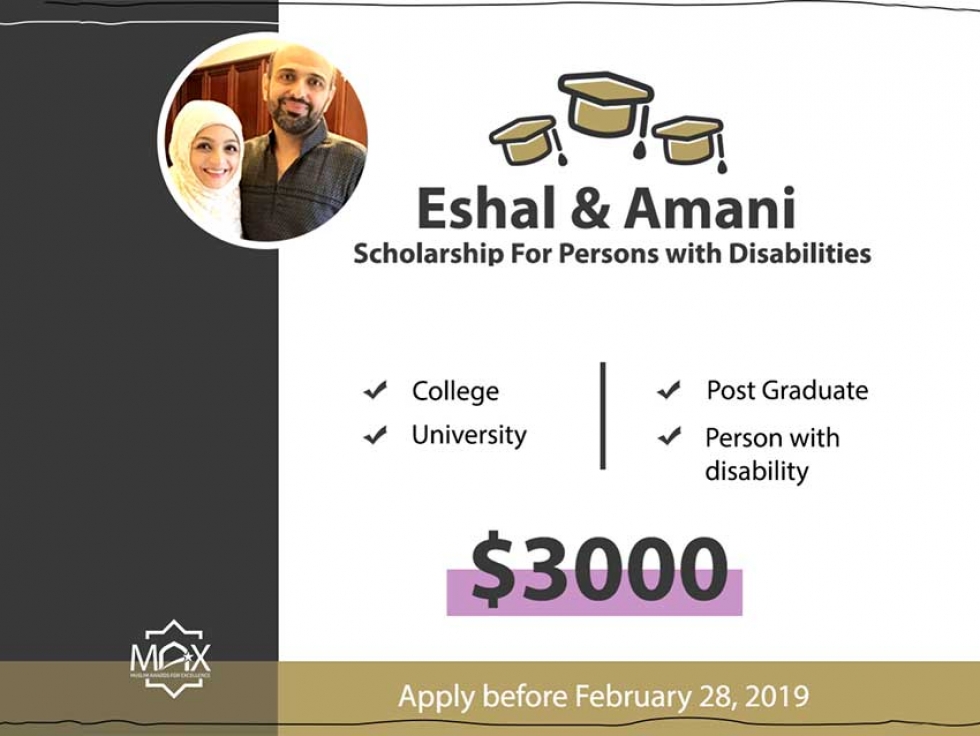 Farid Ahmed and Aisha Siddiqui have established the Eshal and Amani Scholarship For Persons with Disabilities.
22
February


2019
Learn More about the Eshal and Amani Scholarship for Muslim Canadian Students with Disabilities
Written by Chelby Daigle
They believe that continuing education and spreading of useful knowledge is a sign of a strong community.
They hope that this scholarship will assist the recipient to continue to seek knowledge; and encourage fellow Muslims to also invest in youth with disabilities for a better and inclusive community in the future insha Allah.
Muslim Link interviewed Aisha Siddiqui to learn more about why the couple established this scholarship.
Tell us about yourself.
We are originally from Pakistan and currently reside in the Greater Toronto Area with our family.
My husband Farid is an IT professional with almost 20 years of experience while I am an Applied Behavior Analysis (ABA) therapist, who works for children with Autism Spectrum Disorder by providing direct therapy.
We both support the community in different ways and advocate for families and children with different disabilities.
Why are you offering this scholarship?
Muslims Awards for Excellence (MAX) has provided us with an opportunity to continue to support the community in the form of a scholarship.
MAX is a not-for-profit organization with a mission to Recognize, Reward, Celebrate, and Motivate high achievement, positive and productive contributions to society by Muslims in Canada.
We are offering this scholarship in hopes to assist the recipient to continue to seek higher education, despite the challenges they face due to their disability.
We want to encourage these students to strive for more in life because they are equally capable, if not more, than the general population.
We hope that through this scholarship we will bring awareness and encourage the society to invest in youth with disabilities for a better and an inclusive community in the future.
Why have you named the scholarship after your daughters?
We have named this scholarship after our daughters because we want to raise them with values that will assist them to understand that one should embrace the different abilities and allow for inclusion, always!
What challenges do you see Muslim students with disabilities facing as they try to pursue higher education?
Students with disabilities face multiple forms of discrimination, which usually leads to their exclusion from school and society as a whole.
The overall attitudes, from the society, toward persons with disabilities and the lack of resources to accommodate such students, contributes to the challenges they face in pursuing and/or accessing higher education.
These students may face challenges such as transportation and accessibility to and within the school, not having access to learning materials in a format that supports their individual needs, and having a non-inclusive class environment or an instructor who is not trained to address inclusion.
Muslim students with disabilities, in particular, face additional challenges because of both societal norms, as well as cultural practices. In case of any learning disabilities, some parents and/or caregivers ignore the early signs or remain in denial about their child's diagnosis. This costs the child from accessing early intervention and the supports they need, which in the long run would affect the child's higher education.
These students also experience a unique challenge because of how they live in a variety of different circumstances. They may be living in predominantly Muslim countries on low or average incomes, or as minority citizens, immigrants, or refugees in other countries, such as Canada.
All in all there are several challenges that Muslim students with disabilities face as they try to pursue higher education and unfortunately, the current psycho-social strategies have been ineffective in addressing these challenges.
Why is it important for Muslims to invest in and celebrate the success of Muslim students with disabilities?
As mentioned earlier about the lack of support, we are failing as a community to raise confident Muslims with disabilities which in turn causes challenges for these students to pursue higher education and/or become contributing community members.
Hence it is crucial that we invest and celebrate the success of Muslim students with disabilities to raise them as confident and independent adults.
The Muslim community needs to provide accommodations in their schools, mosques, community events etc. Our community will only become stronger if different abilities and talents are celebrated in an inclusive environment.
Is there anything else you would like to add?
The deadline for the scholarship application is February 28th.
Please help us spread the word, so we can support and make a difference in the recipient's life.
To learn more about how to apply for the Eshal and Amani Scholarship For Persons with Disabilities, click here.
This article was produced exclusively for Muslim Link and should not be copied without prior permission from the site. For permission, please write to info@muslimlink.ca.