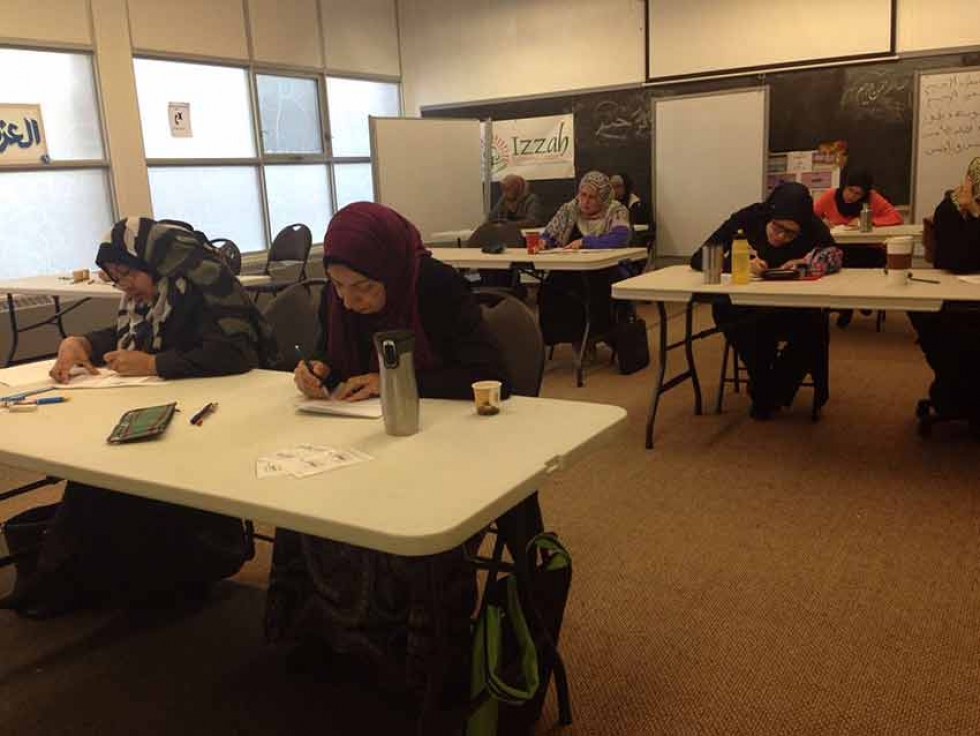 Students of Izzah Learning Center taking a test.
Izzah Learning Center
06
June


2019
Izzah Learning Center for Women and Children Fundraising to Secure New Home
Written by Chelby Daigle
Back in 2013, Muslim Link interviewed the founders of Izzah Learning Center for Women and Children in Ottawa. What was unique about the vision for the centre was that on top of providing education to children in reading Quran, it also provided a space for adult women to learn how to read and recite Quran or improve their knowledge to the point of becoming educators, making it an excellent space for adult women, particularly reverts to Islam, to further their Islamic education.
Unfortunately, Izzah is now losing its long-time home as their landlord is now leasing the entire building they have been renting rooms in to a new tenant.
Izzah Learning Center is now fundraising in order to be able to secure new home, sign a long-term lease, renovate the new location so it can accommodate classes, hiring full-time staff, create a scholarship fund for students in financial needs, and provide child care services so more mothers can have the opportunity to study Quran in a formalised class setting.
Muslim Link interviewed Izzah Learning Center's co-founder Fatima Abdi and Board Member Aisha Pitre about the progress the centre has made since its founding in 2013 and what support they need from the community so they can find a new home and make the centre's work more sustainable.

How has Izzah grown since being founding back in 2013?

Fatima Abdi: Alhamdulillah, we are still doing what we started to do since 2013, the goals are the same but now we are able to accommodate more students as more teachers have joined Izzah.
It puts a smile on my face to read Muslim Link's article from 2013 as I see our dream is becoming a reality, may Allah (swt) increase His blessings on us and everyone serving His deen and accept all of our efforts.
We are now registered as a non-profit organization, have an elected board of directors made up of Muslim women, three of whom are reverts to Islam. We have been blessed to work with 13-15 teachers over the years compared to just two in the beginning, and have educated over 200 students who have stayed with us to complete various levels of studying Quran.
Over the years, we have also organized many workshops, outreach events with university/college students, and partnered on many events with Masjid Ar-Rahmah, may Allah (swt) reward them for their ongoing support.
We have also regularly organized special trips to waterparks that accommodate women who veil; these have been extremely popular.

Why do you feel it is so important for adult women in particular to have the option of studying Islam in formalized classes versus the often rather ad hoc forms of education offered to us through halaqas and lectures?

Fatima Abdi: We have found that formalized classes bring out a higher level of discipline from both teacher and student and foster more commitment, consistency, and productivity.
We have students who started in Nooraniyah stage (learning how to read and recite the Quran in Arabic), then moved to Talqeen stage (analyzing rules in addition to teacher demonstrating how to read/recite verses), and in Hifth/memorization stage, and most completed half of the Quran if not more in less than three years.

The simple curriculum, clear structure, and assessment process makes courses easier for students to learn and teachers to teach. The formal evaluations and reports, I believe, create a serious learning environment.
Also, it is often easier for new students to join a formalized class and feel welcome and on the same page as their fellow students.
Halaqas and lectures are important to motivate us, but formal classes sustain us for the long term.

How do you feel your center has particularly benefited revert Muslim women?

Aisha Pitre: Before stumbling onto the Izzah Learning Center in an online search for local Quran classes, my Quranic studies were really all over the place and inconsistent. I started learning the Arabic letters weekly at a local sisters' home, then learned some Arabic at Algonquin College. I took some online courses through several different providers and also took some courses through some of the local mosques. Still, after all that effort and over approximately 10 years, I could not pick up the mushaf (A copy of the Quran written in Arabic) and confidently read one verse in Arabic clearly.
That all changed when I started as a student at Izzah Learning Center, taking a night course only once a week. Izzah uses the Nooraniyah book to teach Quranic reading. It has 17 lessons and they teach it to beginners over 1 year (2 semesters). I really like this book as it goes over almost all the rules used when reciting the Quran. This book is used internationally and in non-Arabic speaking countries as well because of its comprehensive and simplified lessons. The Quran is like an onion, the more layers you peel, the more you discover so I proceeded to take this course three more times. Each time I took it, I became more and more confident in my reading. I am grateful to Izzah for providing this chance for me to learn and improve at a much faster and more consistent pace than before.

Over the past several years I have had three different teachers at Izzah and honestly I sincerely hold all three of them dear to my heart. All of my teachers had a commendable amount of patience and genuinely represented to me the guidance the Quran teaches us of kindness and mercy, and even had a sense of humour. Because of my experience with so many different teachers, I really appreciate the organized, consistent, experienced and qualified lessons I received from the teachers at Izzah.
Why has it been important that Izzah established a training program to develop more proficient and skilled female Quran teachers?

Fatima Abdi: It is a sad reality that many assume anyone and everyone can teach the recitation of Quran, or even Islam in general. We expect other teachers to be qualified, trained, and professional in the area they teach, yet when it comes to Quran, we are willing to learn from just anyone that can read/speak Arabic. It is important to raise the standards for Islamic learning and teaching, and in particular for sisters, there is a shortage in proficient female reciters in our city who can also teach in English. This is why Izzah led the way in introducing the Quran Teacher training program, since there is a great need and demand for more skilled female teachers.

Also, reciting Quran is a close personal journey, and many sisters feel uncomfortable to recite to a male teacher. We find many programs offer classes for young sisters up to age 12 or 13, after which a sister's Qur'aan journey is suddenly cut short after 3rd Juzu' of Quran. There is great potential in young sisters who spend their leisure time learning the Quran, especially with female role models who are highly qualified and disciplined.
Alhamdulillhah, Izzah Center is blessed with two teachers who earned an Ijazah (certification to teach) with Sanad/chain of recitation leading to Rasoolullah (saw). This is truly a blessing for our community in general, and our sisters in particular. We ask Allah (swt) to help us fulfill this responsibility and carry this amanah/trust with sincerity, patience, and steadfastness.

What is the current crisis facing Izzah Learning Center?

Izzah Learning Center has been searching for a new space since receiving notice of non-renewal of lease in December 2018. Although Izzah has been an excellent tenant, the school has been rented out by the owner to a third party. All spaces we found thus far require extensive renovations to turn into classrooms, demand long term leases, or are very expensive. We are currently negotiating a space that is very promising and this is why we need the community's support, as our summer session is scheduled to start on July 2nd and we need to prepare for it.

Could you explain where the funds you are raising will go?
Secure Lease: Due to high market rent (average rent $6000/month) and longer term leases (3 to 5 years), the funds will provide us with the financial security to sign a long-term lease. This security will helps us to be able to focus on developing new programs, increase classes offered, improve our programs and services for many more years to come Inshaa' Allah.
Renovations/Fitting Expenses: Many of the commercial spaces we found so far require fitting/renovations in order to hold classes, part of the funds will be used to help cover these costs
Committed Staff: Part of the funds will help us hire a full-time administrator and two full-time teachers. Our center runs every day and it has become a necessity to have an individual to take on administrative tasks. Training and retaining proficient reciters who are also committed and professional teachers is a major challenge, and as the demand for Izzah classes & programs increases, the need for long term teachers is necessary in order to minimize disruptions to student learning/development when a part-time teacher is no longer able to continue. We will also be able to accommodate more students.
Provide Scholarships: There are times when a student takes one of our classes, however, but is unable to continue due to financial reasons. Having a scholarship fund would help these students continue their Quran lessons, without placing financial hardships on the center.
Babysitting Services: Many stay-at-home mothers would love to commit to learning the Quran with a high level of discipline and dedication in order to truly grow in their skills and knowledge but they do not have this opportunity because of a lack of child care.. Providing babysitting for students while they take our classes would enable more mothers with children to join classes and connect with the Quran.
To support Izzah Learning Center's fundraising campaign, click here.
This article was produced exclusively for Muslim Link and should not be copied without prior permission from the site. For permission, please write to info@muslimlink.ca.