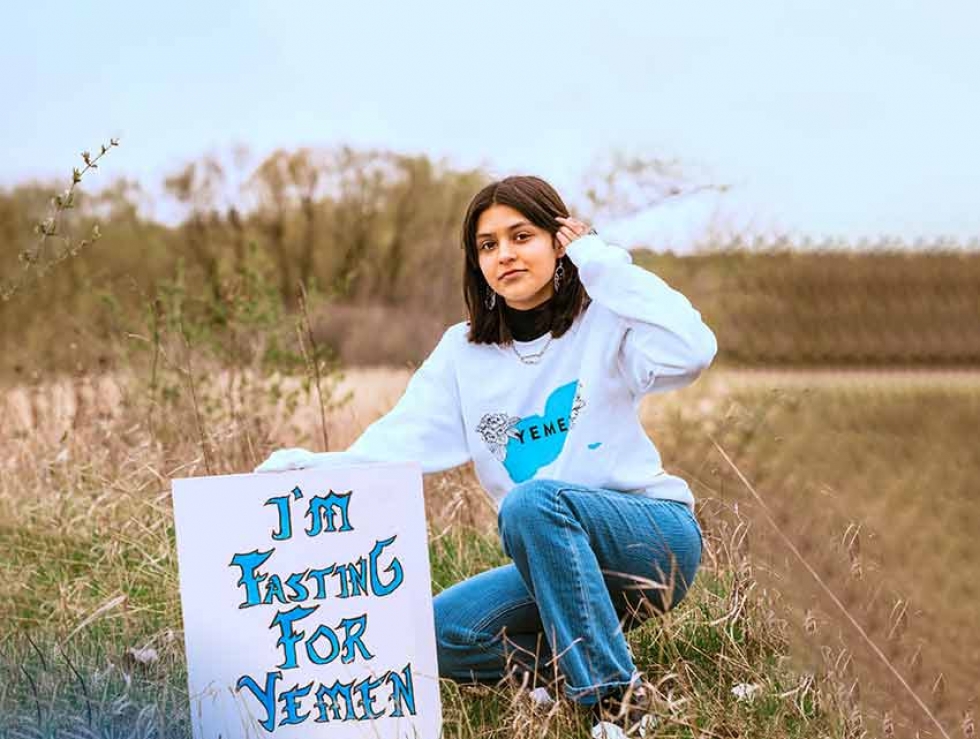 Kehara is a 14-year old student who is taking part in Islamic Relief Canada's #KidsFightFamine challenge to help raise money for the people of Yemen. Just 10 days into her campaign, Kehara has already raised $2,340 toward her goal of $2,000 for the month of Ramadan!
Islamic Relief Canada
03
May


2021
Islamic Relief Canada: Giving Zakat with Both Local and Global Impact This Ramadan
Written by Chelby Daigle
Like many Canadian charities, Islamic Relief Canada has had to innovate its fundraising efforts as in person fundraisers have been impacted by the pandemic. However, the need for charitable giving has only increased due to the economic and health impacts of COVID 19 both locally and globally.
Muslim Link interviewed the Islamic Relief Canada team about how the charity has been adapting to the current situation and opportunities to support their work this Ramadan.
Tell us how Islamic Relief Canada has risen to the challenge 
Like other charities, we have had to adapt to the restrictions placed upon us by the pandemic. Our team has come up with a number of creative and innovative ways to engage the Muslim community in order to raise funds. 
As you can imagine, many of our fundraising events have gone virtual. We've organized online paint nights, spicy noodle-eating competitions, a kids' fasting challenge, a live cooking show, an International Women's Day high tea event and virtual iftars with well-known sheikhs such as Omar Suleiman. In these types of virtual events, donors buy tickets, receive a box with the relevant items (for example, a painting kit or an iftar meal), and the proceeds go toward a specific cause. Causes include everything from food packs for Yemen to hygiene kits for local women's shelters. 
We have also started offering more ways to give gifts to loved ones during this difficult time while also raising funds for important causes. For example, during Ramadan, donors had the option to buy a Ramadan Ready Box (including food, decor and spiritual items) that Islamic Relief volunteers contactlessly delivered to people's doorsteps. Proceeds went toward countries most in need. 
One other way we have tackled the challenge of fundraising during a pandemic is through drive-through and drive-in events. Throughout Canada, our teams are bringing warm iftar meals to guests in their cars and encouraging them to make contactless donations to a variety of Islamic Relief programs such as orphan sponsorship and food baskets. 
We also engaged children across the country with the opportunity to learn the important values of Ramadan through the #KidsFightFamine campaign.
Islamic Relief Canada has been partnering with Canadian academics to support research on various issues, most recently IRC worked with York University researchers to explore the specific challenges facing marginalized communities during the pandemic. Why is Islamic Relief Canada taking on this type of work?
Policy and research work is actually a key part of our mandate at Islamic Relief. We believe it can play an important role in helping us lift communities out of poverty, empower them and influence change.
At a global level, we have commissioned numerous research reports on topics such as gender-based violence and human trafficking in Canada.
Recently, Reyhana Patel, head of communications and government relations at Islamic Relief Canada, was acknowledged by Apolitical, a highly respected online government platform, as one of the 100 Most Influential People in Gender Policy for 2021. She joins people like Jacinda Ardern, Prime Minister of New Zealand and Dr. Fatima Denton, Director of the United Nations University (UNU) Institute for Natural Resources in Africa.
Reyhana is a former BBC News journalist and lifelong advocate and champion for change in civil society and minority communities on issues around gender-based violence, racism, and women's rights. She leads the gender-based violence portfolio at Islamic Relief, where she specializes in developing policy, research and advocacy campaigns on tackling religious and cultural norms that are used to carry out acts of gender-based violence. 
In the last few years, our Canadian team has been working on producing more research reports focused on issues in Canada, such as the most recent one, One Year Later: Unmasking COVID-19. It found that Black, Indigenous, and People of Colour (BIPOC) communities were among the most severely affected by the pandemic from an economic and health perspective. 
Our goal is to continue shedding light on issues affecting vulnerable or racialized communities in Canada. We can then use our findings in our advocacy work at the community and government level.  
How has Islamic Relief Canada partnered with local communities to support specific initiatives in their homelands? Why are such partnerships particularly effective for ensuring that charity is distributed to those most in need?
Islamic Relief regularly partners with local communities for such initiatives. Some examples include partnering with the Canadian Somali diaspora to support COVID-19 efforts in Somalia by providing oxygen to local hospitals; working with the Canadian Sudanese diaspora to support flood relief efforts in Sudan; and collaborating with the Canadian Lebanese diaspora to support relief efforts in the aftermath of the Beirut explosion. 
These partnerships are particularly effective because there is a deep connection to the homeland and an eagerness to mobilize support. It is particularly important when the conflict or disaster doesn't make it to mainstream media. Usually this makes it harder for us to respond, but when our intervention is supported by local communities it helps us raise awareness and maximize fundraising and the impact on the ground. 
Islamic Relief Canada is part of the Humanitarian Coalition, how did the partnership come about and what are some examples of how being part of this commission has enhanced IRC's work?
When we learned about the Humanitarian Coalition (HC), we wanted to be a part of it so that we could make an even bigger impact with our humanitarian work. We applied and officially joined the HC — which is made up of 11 other leading Canadian NGOs — in 2017. 
When we work together with other charities on emergency appeals, we can save more lives. Because the HC is widely recognized by Canadians, we can more effectively connect with the public about humanitarian causes in order to raise funds. We can also reduce administrative costs and increase the impact of Canadian humanitarian responses on the ground with more resources available to us. 

One recent example of our work with the HC was during the Beirut port blast. Our Lebanon team assessed the emergency needs of people on the ground and then helped to provide them with the support of the HC. They delivered food, water, shelter, hygiene supplies (including PPE) and medical care for thousands of people who were affected.
We also receive the HC's support through a fund allocated to small and medium-scale projects around the world, such as our Pakistan earthquake response and Bangladesh flood response in 2019. 
What are some efforts that our readers can consider supporting this Ramadan?
This Ramadan, your donations to our Yemen appeal will be matched up to $1.5 million by a private donor, to reach twice the families and people in need. Your support this Ramadan will reach them through immediate food supplies, clean water, hygiene kits and medical supplies, as well as focusing on recovery through sustainable agriculture and dignified income opportunities.
To learn more about our Yemen Appeal, click here.
Other appeals that currently need support are: 
Also, if you are looking for ideas for gift-giving this Eid, check out Relief Collective, our online shop where we bring you products, ranging from food and treats, skin care, and apparel, from partnerships with projects around the world that help communities create focused, sustainable trades and local economies that lift them out of poverty.  To visit our shop, click here
This article was produced exclusively for Muslim Link and should not be copied without prior permission from the site. For permission, please write to info@muslimlink.ca.
This article was produced exclusively for Muslim Link as part of a paid advertising package. For more information on how to advertise through Muslim Link and support the running of Canada's Online Hub go here.