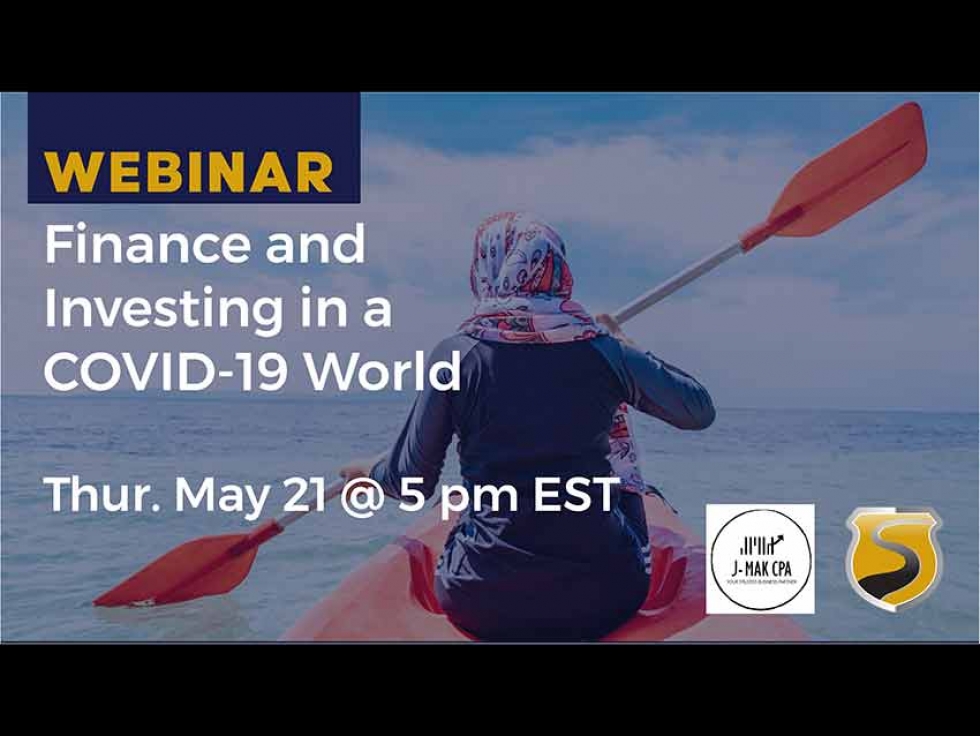 14
May


2020
Webinar: Watch Finance and Investing Opportunities in a COVID-19 World by ShariaPortfolio Canada
Written by ShariaPortfolio Canada
The COVID-19 pandemic has presented much challenges as well as opportunities for businesses and professionals.
Join Nadeem Mian, Portfolio Manager with ShariaPorfolio Canada and Jaweria Haisum, CPA for an in depth discussion on the current economic environment.
Watch the Webinar online on Facebook below (It may take a few moments for the video to load from Facebook)
Topics to be covered:
Relief and incentives for businesses
Tax implications
The investing climate, where are the opportunities?
Investment and your financial preparedness
Your questions and answers
Moderator: Nadeem Mian, Portfolio Manager at ShariaPorfolio Canada
Guest Speaker: Jaweria Haisum is the Managing Director of J-MAK CPA and works extensively with businesses and not-for-profit organizations on tax, accounting, and governance issues. A CPA by profession, she has 19 years of experience over her career with PwC, financial sector regulators and in public practice. Jaweria uses her expertise in Canadian GAAP and IFRS, tax and corporate governance to guide her clients in financial reporting, tax planning, and internal control design and implementation.
Besides running her CPA firm in downtown Toronto, Jaweria actively volunteers for community projects. She is on the board of directors of Muslim Neighbour Nexus, a Mississauga-based charity, and serves as its Treasurer. Through J-MAK CPA, Jaweria is involved in the Accounting for Bravery program of CPA Ontario for healthcare workers at the forefront of COVID-19.
About ShariaPorfolio Canada
The first and only licensed Canadian wealth and portfolio management firm focused exclusively on Sharia compliant investing. The Company offers asset management, financial planning, consulting, fiduciary oversight, and management services. ShariaPortfolio serves its clients in the United States, Canada and globally. With over 18 years of Sharia focused Portfolio Management, ShariaPorfolio Canada has one main goal: to provide Canadian Muslim families with the products and services to achieve their financial goals in line with their values.
Visit www.ShariaPorfolio.ca
Disclaimer: ShariaPortfolio Canada Inc. makes no representations or warranties about the accuracy or suitability of any information in the webinar and related materials (such as handouts, presentation documents and recordings); all such content is provided to webinar registrants on an "as is" basis. The information in the webinar is commentary only (i.e. our general thoughts). It is not intended to be, nor should it be construed as, investment advice. Before making any investment decision you need to consider (with your financial adviser) your particular investment needs, objectives and circumstances.