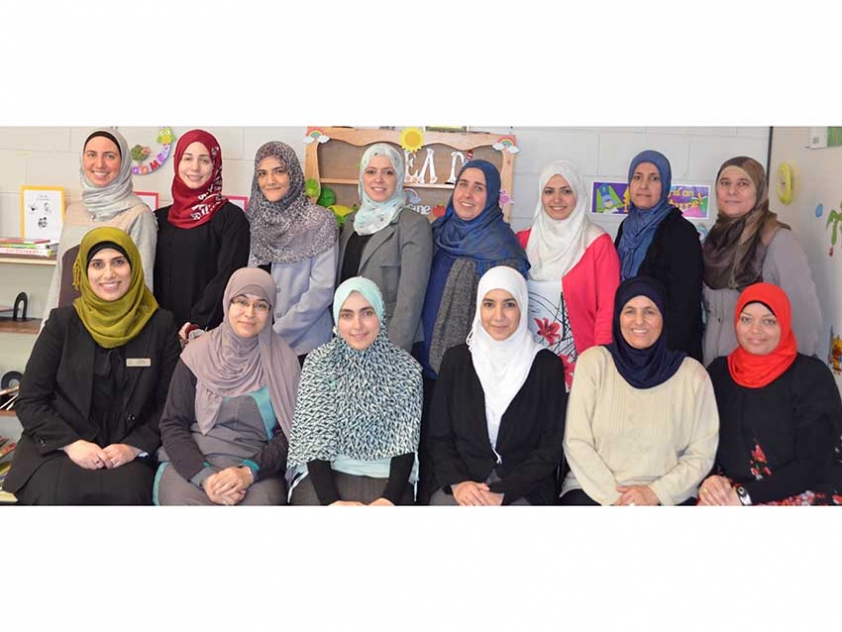 Dina Shalabi with Abraar School Arabic teachers and conference organizers.
Courtesy of Abraar School
07
February


2016
Enhancing Arabic Language Learning: Abraar's Arabic Teachers' Conference
Written by Muslim Link
Abraar School is organizing a conference on February 13 for teachers of Arabic as a second language in Ottawa. Muslim Link interviewed Dina Shalabi, the Islamic Studies Coordinator for Abraar School and chair of the conference, about why local Arabic teachers should take advantage of this professional development opportunity.
How did the idea for this conference come about?
The idea of the first Arabic Language Conference came about as we were organizing one of our periodic professional development days at Abraar School. It was evident that there is currently a need for a professional development opportunity that serves Arabic teachers and offers them a quality exposure to the evolving theoretical frameworks and practices of teaching Arabic as a second language. We also recognized this need in the various Arabic weekend schools where teachers are offered limited professional development per year.
As we firmly believe that learning Arabic enhances the understanding of [the] Qur'an in its original language, we strive to safeguard this language by continuously improving the way it is taught and communicated to learners.
The idea was to invite one speaker to offer a workshop on the latest developments in teaching Arabic as a second language [which] grew to inviting 6 scholars, practitioners, and experts in the field to share best practices in a conference style event. [It} is offered not only to Abraar staff, but to all Arabic teachers and educators in full-time and part-time schools in Ottawa, Montreal, and Toronto.
The conference will offer main sessions as well as parallel sessions on specialized topics where attendees choose the session of their preference. We even have some educators coming from Edmonton to attend this conference, which really speaks to the great need in this area [of second language Arabic learning].
What challenges facing teachers of Arabic in Ottawa do you think this conference will address?
One of the challenges that most schools face while teaching a second language in general, and Arabic in specific, is motivating students such as by creating engaging learning opportunities that speak to students' realities and experiences in a student-centered environment. Arabic is often taught in a manner that lacks both connection with students' daily lives and integration with other subject matters.
Our speakers will explore various ways of engaging students in learning Arabic in a more interactive and lively mechanism while integrating reading, storytelling, and games as methods of enhancing the learning experience.
Another challenge most Islamic full-time or part-time schools face is the lack of connection between Qur'an memorization, which many students are good at, and the learning of the Arabic language. One of the conference's main sessions will be on using Qur'anic text in teaching Arabic. The speakers have authored a book that is currently used in the United States. 
Arabic is the third language spoken in Ottawa, but the reality is that many second generation Arabic speakers do not necessarily know how to read and write the language.
Will the conference explore the particular challenges of teaching the reading and writing of Arabic?
Most Arabic classes include students with multiple reading abilities, depending on their length of language practice, former language education, and home language. However, there is currently no systematic process for assessing student's reading ability based on standards or procedures.
A large focus of the conference will be on reading, where the speakers will address and show examples of assessing students based on a standardized methodology. One of the sessions will be on guided reading and Arabic reading levels. The session will explore the role of the teacher in Arabic guided reading while showcasing a process of assessing reading ability to better equip the student with more effective learning tools that respond to his/her level.
Another session will be on Teaching Proficiency through reading and storytelling (TPRS), which is a methodology used in second language acquisition [that] has proved to be an effective tool to encourage students to become proficient readers while being able to retell stories verbally and in writing.
Will the conference tackle teaching Arabic to children who do know speak Arabic at home?
The main focus of the conference is to unpack theories and explore methods grounded in the field of second language acquisitions.  Presenters will help the audience identify the needs of learners despite their home language through effective assessment techniques and processes.
One of our speakers has a significant experience in teaching second languages (Arabic and French) to students who don't speak these languages at home. She will be addressing the pedagogy (the art/profession of teaching) of learning a second language while discussing aspects of differentiated learning in language classrooms.
We will also have another session run by an Arabic teacher who offers differentiated teaching techniques to [use] with non-Arabic speakers in his class. He will share practical examples of the methodology he uses in one of our parallel sessions. 
Most children in Ottawa learn Arabic at Weekend Schools. Will there be a particular focus on addressing the challenges of teaching the language for so few hours a week?
I currently sit on the Management Board of an Arabic weekend school, and similar to most other language weekend schools, I realize that the most challenging aspect of such weekly programs is to keep students motivated and interested in learning a second language, especially a complex language like Arabic. One of our main sessions will be a panel discussion on student motivation followed by a Q&A on this topic.
Will the conference explore how to find materials to teach Arabic in a Canadian context?
I believe our biggest challenge is not in finding materials and resources for teaching a second language. Instead, what we currently need is a shift in our understanding of teaching a second language to more dynamic and engaging pedagogies where learning opportunities are present in all surroundings and contexts. Nevertheless, one of our speakers is a local author who writes children books and offers workshops to educators. She will be presenting her productions for sale during the conference. 
Who are some of the presenters you have invited and what expertise will they be sharing?
We have two presenters from Canada, and four presenters from the United States. Our speakers have a great mix of significant educational background in the field of second language acquisition along with a credible experience in teaching Arabic in the West.
Dr. Dania Alwattar has a PhD in Education from the University of Alberta and she has an excellent experience in curriculum development. She also offers workshops to teachers and school administrations of full-time and part-time language schools.
Zakia Elhadi has been also in the field of second language acquisition and Arabic language curriculum development for more than 20 years. She has been offering consulting services to various language schools with a focus on content-based and project-based instruction.
Fadi Abugoush is currently an Arabic teacher in Chicago and he has been using an excellent methodology that teaches reading through storytelling. His classes are offered to non-Arabic speakers.
Dr. Ashraf Attia and Rana Fakhr have developed a Qur'an-based curriculum for teaching Arabic. The curriculum has been used for the last 15 years. 
Finally, Nahed Alshawa is a Montreal-based author who has a long record of publishing children stories that are both attractive and engaging, and she also offers workshops to teachers on how to use stories in their lessons.
Full biographies of speakers are posted on our website
Is there anything else you would like to share with our readers?
I would like to thank all our sponsors for making this conference happen. I also would like to applaud the Abraar School administration and the various conference committees for taking on this role of bridging the gap in a much needed educational endeavor in our city. 
This is the first such conference on the Arabic language in Ottawa and we hope to do this every year or every two years so we can continue to develop in this area.
Also, certificates of conference attendance will be awarded at the end of the program.
Conference program, biographies and registration information are available here.
This article was produced exclusively for Muslim Link and should not be copied without prior permission from the site. For permission, please write to info@muslimlink.ca.