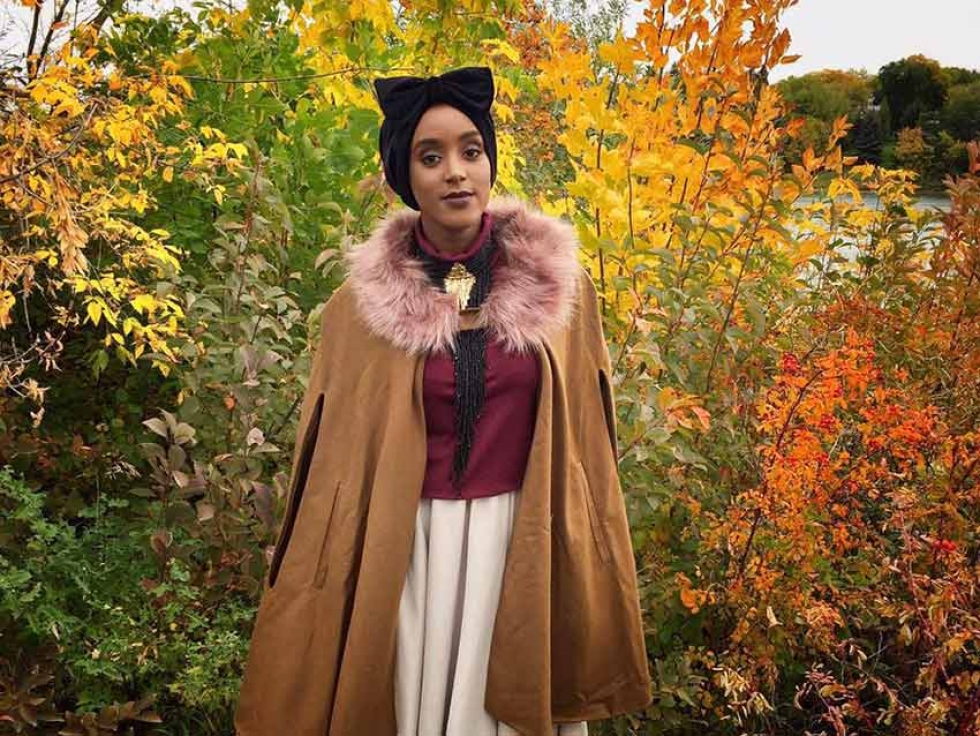 Fashion designer Eman Idil Bare is headed to New York Fashion Week. In this photo, she sports a handmade velvet turban and cape from her own fashion line
12
Aug


2018
Muslim Canadian Designer Headed to New York Fashion Week
Written by Staff Writer
Somali Ethiopian Canadian fashion designer Eman Idil Bare is headed to New York Fashion Week (NYFW).
Eman is best know as an award-winning journalist who has worked for multiple publications from CBC to Teen Vogue.
Now her fashion line 'Eman Idil' will be hitting the cat walk for New York Fashion Week.
Eman Idil is currently crowdfunding to help cover the cost of preparing for this great opportunity. She is also looking for sponsors for her show.
Read what Eman has to say about her journey as a fashion designer and her choice incorporate a committment to ethics and social justice into how she gets her products made.
*********
After two years of designing, I'm so excited to say my brand has been accepted to show at NYFW.
Eman Idil was born out of a vision to make the world a better and more conscious place through everyday purchases.  I believe that we can charge the world by making strategic decisions about who we invest in. As a woman, it's important for me to uplift other women. As a child of immigrants, I know first hand the obstacles my mom and dad over came when they moved to Canada. I watched my parents work day and night to provide for me and my brothers. Often times, they were over qualified for the positions they filled. But they worked those jobs because they needed to. We needed them to. 
I wanted my company to believe in people like my parents. So at 23, my little vision became to life. We started off small - just me, my car and a few seamstresses. We didn't even have an office, and instead I'd load up my car every morning and drop off fabrics and patterns to each woman I worked with. My first team consisted of women who came to Canada as refugees. Those women taught me so much about business, integrity and staying true to my vision. And then we grew. 
I eventually began working with artists overseas. From Morocco, to Somalia,  Bangladesh and Malaysia - the people I worked with all had stories. And I wanted to tell them. There was the woman who left her children behind in Burma, and now worked at a Malaysian factory to support them. The woman in Bangladesh who embroidered my shoes who survived domestic abuse. And the mothers in Morocco who tanned and molded each pair of my shoes. 
I knew I was on to something. I did the unconventional thing, and slowed down. I wanted to create perfect products. There was no point in growing a business if quality wasn't where I needed to be. And so I spent the next year making prototype after prototype and finding people who fit with my brand. 
And then I applied, and was accepted, to show at NYFW. So here we are. Just one month shy of the biggest show of my life. I'm excited and terrified, but ready to share my project with the world. In collaboration with artists across the world, I've created a collection of garments, shoes and handbags that will change how we see fashion. Each piece comes with the story of the man or woman who made the piece, as a way of encouraging global community and getting people to ask "who makes my clothes?"
Supporting my vision means supporting the employment of dozens of men and women around the world, who are all trying to make a difference. Wouldn't it be wonderful if our favorite dress, or pair of shoes also created safe and fair employment for men and women? The truth is, it can. And I'm here to make that happen.

Love, 
Eman 
To support Eman's Kickstarter Campaign, click here
To become a sponsor of her NYFW show, email her here: This email address is being protected from spambots. You need JavaScript enabled to view it.
Follow Eman on Twitter and Instagram
Check out some items from Eman Idil's line that will be showcased on the catwalk at New York Fashion Week