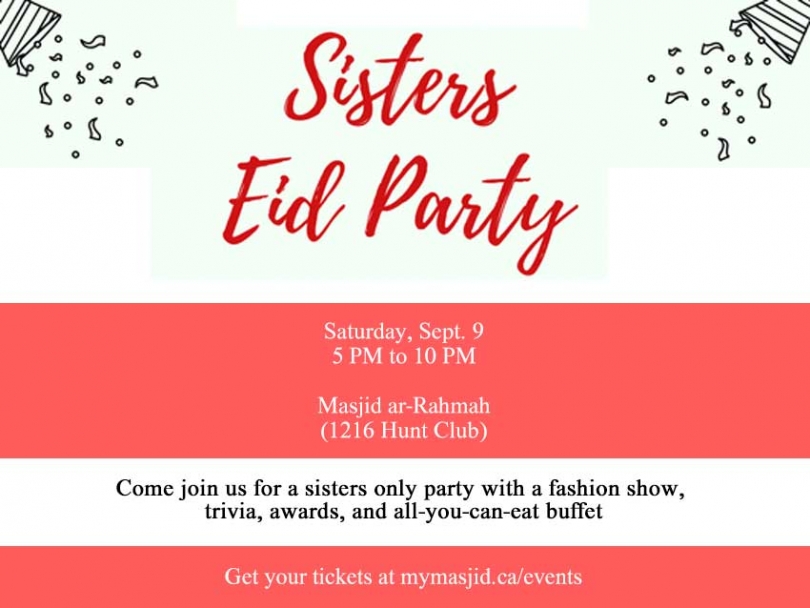 Check Out The Sisters Eid Party at Masjid ar Rahmah in Ottawa This Saturday
29
Aug


2017
Check Out The Sisters Eid Party at Masjid ar Rahmah in Ottawa This Saturday
Written by Chelby Daigle
Assunnah Muslim Association's Masjid ar Rahmah in Ottawa will be hosting a Sisters Eid Party on Saturday, September 9th.
Muslim Link interviewed Assunnah staff and volunteers about what people could look forward to at this events.
What can sisters expect if they attend AMA's Eid Sisters Celebration Saturday September 9th?
The AMA Sisters' Eid Gala is a Night of Fun and Celebration at Masjid ar Rahmah. There will be beautiful décor. It's an exclusive event for sisters only, 12 years old and up.
This function is guaranteed safe for women to remove their head covers.
We hope to see you at a fun packed night that will include many amusing games, over $700 worth of prizes to give away, a fashion show, awards, Islamic trivia, free raffle draws and Henna, as well as an all you can eat buffet of delicious food, dessert, a candy table, and a chocolate fountain.
Cell phones will remain in purses; however, a luxurious Segregated Photo Booth will be enjoyed by all to take memorable pictures in.
Dress code is modest cultural. It is a hijabi friendly party, so come looking your best! Cultural outfits will be awarded. We only offer this Exciting Ladies Night for You and Your Loved ones once a year!
Date: Saturday, September 9th from 5:00 – 10:00 PM
Place: Masjid ar-Rahmah in the AMA Community Hall (1216 Hunt Club Rd, Ottawa)
Theme: Modest Multicultural dress
Cost: Each ticket for this amazing event costs the low price of only $25. However, if you wait too long you'll be paying $30 at the door (only if spaces are still available, so it's best to buy your ticket Today!)
Tickets are for sale online here In sha Allah
This article was produced exclusively for Muslim Link and should not be copied without prior permission from the site. For permission, please write to info@muslimlink.ca.