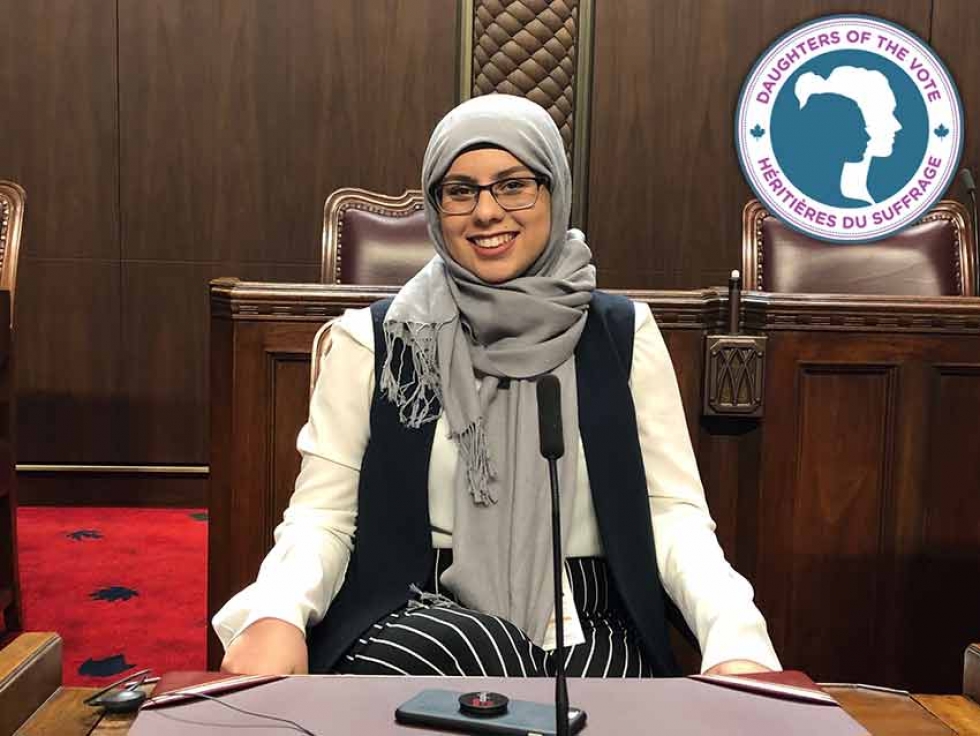 Libyan Canadian Raghed Al-Areibi represented the riding of Chatham-Kent—Leamington, Ontario at Equal Voice's second Daughters of the Vote gathering in early April 2019
Raghed Al-Areibi
12
Apr


2019
Muslimahs on Parliament Hill: Raghed Al-Areibi from Chatham-Kent—Leamington, Ontario
Written by Making Headlines
Libyan Canadian Raghed Al-Areibi represented the riding of Chatham-Kent—Leamington, Ontario at Equal Voice's second Daughters of the Vote gathering in early April 2019, which brought together 338 young women between the ages of 18 and 23, representing each Canadian riding and take their seat in the House of Commons during a historic sitting of the House of Commons. They were addressed by every federal party leader, and engaged with an array of Ministers, critics and advocates.
Daughters of the Vote (DoV) was aimed at encouraging more young women to become involved in Canadian politics, a space where there are still challenges to gender equity.
Muslim Link had the opportunity to interview several of the young Muslim Canadian women who were selected to participate in this historic event, including Raghed.
1. Tell us about yourself
My name is Raghed Al-Areibi, a 20 year old first generation immigrant. I came to Canada at the age of 3 with my family from Libya. My father took a risk by bringing myself, my mother and my 3 siblings at the time to Canada where a future was not guaranteed. After a lot of hard work and dedication, the work paid off and I am proud of my father for coming this far in his work as a medical professional. I grew up in London Ontario and currently go to school at Western University as a candidate for an Honours Specialization in International Relations and currently in my third year.
A lot of the things I learn in university explore internaitonal policies, foreign affairs, relations between different countries and sometimes, domestic policy as well. I never really thought I would ever get invovled in politics and its actually quite a funny story of how I got there. Back when I was in high school, I had an amazing politics teacher who kept telling me I would get invovled with politics and possibly even run for office and every time, I would look at him and say "never in my life will I step in the world of politics, that is not a world for me". It's always interesting to think back to that time because now, half my degree consists of courses and work in politics, I am part of my Member of Parliament's Youth Council, I work around the world of municipal politics, and I try to be politically active in my community. I have come to realize the world politics needs more diversity and voice and it is opposite of what 17 year old me believed; its definitely a world for me.
2. Tell us about the riding your represented in the House of Commons. What challenges socially and economically is the riding facing? Do you feel that many in Canada know about and/or understand these challenges? How do you hope to increase awareness about the challenges your riding faces to broader Canadian society?
I had the pleasure of representing the riding of Chatham-Kent—Leamington about an hour away from my hometown of London. I was able to travel to Chatham-Kent and meet with the Member of Parliament for the riding, Dave Van Kesteren. We sat down and discussed issues the riding is facing, Canadian domestic policy, and even international policy. The area of Leamington is struggling economically due to the closure of the Heinz plant that previously employed many people. Chatham-Kent on the other hand, will be affected socially through the future education cuts that will affect Francophone students. I don't think many people in Canada know about these challenges because of the simple fact that the riding isn't as big or well known as others. There are a lot of other ridings in the area and around Canada that face a lot greater issues, yet it isn't talked about as much as issues hitting bigger areas such as Toronto, Vancouver, Ottawa, and other major cities. I hope to do as much as I can in my political capacity to not only raise awareness about the issues being faced in Chatham-Kent—Leamington, but to also work with social groups, the Member of Parliament, and others to create effective solutions.
3. As young women involved in politics, what challenges, if any, do you face? Do you feel that the presence of more young women is changing politics? If so, how?
I find myself not being taken as seriously as much as men do in the political environment. Additionally, as a young woman, there is a perception that I am still too young to be invovled in politics and that it needs to be left to not only older people, but older males. The glass ceiling exists everywhere and it is extremly present in politics. It's challenging when you have to work ten times harder than another individual just to make a small crack in the ceiling in order to get somewhere. I do think that the presence of more women, especially young women is challenging politics. When women got the right to vote in Ontario in 1917, it changed the game completely because that was the start to abolishing the glass ceiling.
Like the women before us who challenged the status quo, it is important in today's age that more young women including myself do the same and use the inspiration of those women before us to keep pushing forward. I wholeheartedly believe young women are challenging politics because they are bringing new perspectives and ideas to the table. Young women through their work in politics are encouraging other young women to stand up, speak up, and challenge the current political order. I am beyond excited to see more women in the political sector, especially young women who will create a new status quo and push for more gender diversity. As women, we have the responsibility of carrying on the duty, the push, and the drive; the same way the women before us fought for our right to vote, we fight for the women after us.
4. Do you feel that there are also shifts in how young Muslim women are taking up leadership positions within Muslim community organizations in Canada? Do you feel that the presence of young women in these Muslim organizations is changing how these organizations function? If so, how?
I think there are shifts in how young Muslim women are taking up leadership positions in the community. I am not too invovled in the MSA at my university, however, Western MSA elected a female president last year and from what I saw just being on the outside, she did an exceptional job this year. She challenged the status quo and she helped shape the future path for more young Muslim women to take on executive and leadership roles. Observing young Muslim women take on bigger roles, making executive decisions, and standing up for what they believe in makes me very hopeful for the future. The presence of young Muslim women in these roles not only helps shatter the glass ceiling, but it also changes how these organizations inherently function. These young Muslim women are bringing new ideas, new perspectives, and through their leadership roles, showcasing alternatives to how things are currently being done. It's also helping break down the stigma around Muslims from the outside community. Seeing Muslim women, especially young Muslim women take on these leadership roles completely shatters any and all stereotypes non-Muslims have on the ability and the rights of a practicing Muslim women. I think young Muslim women taking on leadership positions is not only important for the Muslim community, but it is important for the non-Muslim community as well. When one young Muslim woman succeeds, we all succeed.
5. By attending DoV you had an opportunity to meet young women from across Canada. Did any of the realities they shared challenge you to unlearn some assumptions about your fellow Canadians or seek out knowledge about issues you had otherwise not known about your fellow Canadians ? Please elaborate.
Attending DoV was not only an honour in itself but an incredible learning opportunity. Meeting 337 other women from all across Canada gave me the chance to learn so many new things about their role in politics, the issues that matter to them, and their future plans to bring their dreams to life. I also had the opportunity to learn more about assumptions that are out there in today's society. The initial thought going into DoV was that this was going to be completely political in nature where policy, the election, and multi-partisan politics was going to be discussed. However, when I heard delegates make their one minute speeches, there were an array of topics that were discussed. From the lack of funding for long term care for the elderly to the effects Canadian policy is having on agriculture really displayed the various issues that aren't talked about as much. Politics today is intergovernmental affairs, education cuts, and healthcare changes.
Now, in no way am I saying that these are not important, however, there has been a discrepancy in the ability to talk about the other issues that are equally as important. We need to be discussing the issue of lack of funding for long-term care, the effects of policy on agriculture, the rise of bullying, Islamophobia, and giving Indigenous people basic human rights and resources on their reserves. DoV helped me realize there needs to be a space for this discussion and how to work towards it. It was an incredible experience to be able to discuss these issues with other young women who devoted their whole life's work to creating awareness and solutions to these issues. The reality of these issues and the importance of them had me challenge what I believed politics to be and pushed me to educate myself further on these issues and support my fellow sisters to speak up. I have learned to listen in order to fully understand, not to reply and that has helped me to not only learn more about these issues but truly understand them in order to work towards solutions and fight for the cause. I think at DoV, we all learned new things, unlearned certain assumptions we had about each other, and created a space where multi-partisan politics finally took a back seat.
6. As was to be expecting with a federal election fast approaching, tensions between political parties were much more apparent during this DoV than back in 2017. One of the greatest challenges of our time is how societies are becoming more and more polarized. Unfortunately partisan politics plays a role in this polarizaiton as parties focus on attacking one another instead of trying to build consensus for the common good. Do you feel that there is a need for a new culture of how politics is done in Canada in order to keep our democracy healthy and focused on the interests of all Canadians?
It is election year and tensions are much more apparent than we've seen before, however, that should not take away from the one thing all Canadians have in common and that is working towards a better, sufficient, and welcoming Canada. Multi-partisan politics has been around for as long we can remember and everyone will have an opinion, that is not something we can change.
What we can change however, is how we address these issues and how we communicate about them. Parties have now defined people and it creates a lot more tension between people when they disclose their political affiliation. One will always believe they are more right than the other and one will always find flaws based on the other's opinions. However, despite being non-partisan myself (meaning I don't affiliate myself with a party), I believe that the person defines the party, the party does not define the person. Whether you are a Liberal, a Conservative, or a New Democrat, I don't want to hear about what the "party" goals are, I want to hear about what your goals and values are as an individual and how as an affiliate to a certain party, you alongside the party are going to work towards those goals. We get too caught up in who is a Conservative and who is a Liberal when we forget we live in the same country and we all have the same goal: for a better, sufficient, and welcome Canada.
We also need to remember that everyone is not only entitled to their opinion, but we need to remove the hatred and work towards creating spaces for open dialogue and respectful conservations. At the end of the day, we all come from the same race; the human race and we need to respect each other as human beings before we can even try to work through the world of multi-partisan politics. The shift does not need to be completely in the system of Canadian politics; the shift needs to be within ourselves, within our communities, within our country. It is nearly impossible to please everybody in the world of politics, so instead of putting our energy into pleasing everybody, we need to put our energy into understanding each other, respecting each other, and allowing spaces for respectful discussion regardless of political affiliation.
7. As it is an election year, what will you be doing to try to get out the vote in your riding?
This will actually be the first year I get to vote in the federal election so it is not only a very special election year for me, but I think it is an exceptionally important election year for everybody to vote in. I will be trying to create a space where we can have political discussions in a respectful and safe environment. My biggest push will be to promote that this election year matters for all Canadians and that their vote will count in how Canada will run for the next four years.
Additionally, I will also try to promote being educated about the parties and their platforms. Despite whatever political affiliation anyone may have, I urge everyone to take the time and look at each party and their platform. What do they want for Canada? How will they work towards make Canada more accessible, secure, and welcoming? What type of policies do they want to implement that matter to you as a person? These are only a couple of questions that people should be asking themselves but the most important thing is to be looking at each and every party and make an informed and educated decision. Look at the leader of the party and the small circle around them because that is who will be running our country. There are so many questions to ask and so much room for dialogue and as a part of encouraging people to vote, I will be encouraging them to ask questions, communicate, and be open to all possibilities.
8. What is the key lesson from your experience at DoV that you will be taking back into your work in your riding?
The key lesson I learned from my time at DoV was that we need to listen more to people in order to understand, not to reply or react. Once we take the time to genuinely listen and understand what people are saying, not only have we just be granted a new perspective into things, but it allows us to think deeper and have better discussions.
Another big takeaway from DoV was obviously the push for more women in politics and to support each other in their goals, ambitions, and dreams. I learned a lot from just observing and listening to people talk about the issues that are dear to their heart and in turn, they got to listen to the issues that matter to me. We all are experts in our own ways and being able to listen to each other and gain a deeper understanding creates more space to work together to come up with solutions.
I will definitely be listening more once I start my work in my riding and understanding what it is people in my riding care about and what I can do to help or come up with effective solutions. Listening goes a long way in the world of politics and my experience at DoV really helped reinforce that. Through my work in my riding, I will be encouraging more people to listen to each other, for young women to speak up, to work together to create effective solutions, and most importantly, to support each other.
Follow Raghed Al-Areibi on LinkedIn here.
This article was produced exclusively for Muslim Link and should not be copied without prior permission from the site. For permission, please write to info@muslimlink.ca.