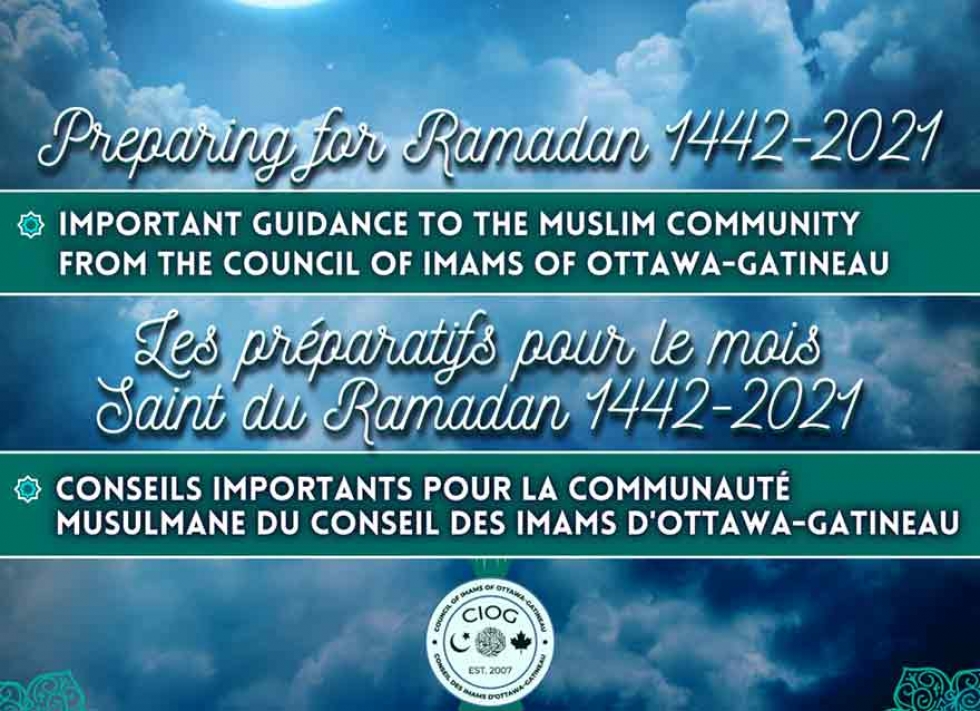 05
Apr


2021
Saturday, Sha'baan 20, 1442
April 3, 2021
In the name of Allah, the Most Beneficent and the Most Merciful
Preparing for Ramadan – Important Guidance to the Muslim Community
All praise belongs to Allah, our Creator Whom alone we worship, and Whose protection only we seek. May the peace and blessings be upon Muhammad, his rightly guided Companions, and all those who follow them until the Final day.
Dear Brothers and Sisters in Islam,
Resumption of Prayers in Masaajid:
By the mercy of Allah, the blessed month of Ramadan is just around the corner. Last year's Ramadan was very different and most of us missed our daily month-long attendance at our local masjid; especially Iftar, Taraweeh, and Qiyaam during the last ten days. Since the infection numbers are continuing to flare-up, we must be vigilant and do our part to meet the public health requirements. Some Masaajid are staggering the attendance while others are spreading the congregation into different quarters and floors. It will be important to minimize spot swapping during the prayers to reduce exposure. Therefore, the Council is asking the community to follow your local masjid's arrangement with full cooperation. Your efforts to minimize potential wider harm will be rewarded by Allah in sha' Allah.
Issue of live streaming and praying in virtual Jama'ah:
Once again, the Council has been receiving numerous requests from within the community members on permission and validity of forming Jama'ah at home and virtually joining the Imam in a Masjid through live streaming of recitation. The Council has had deliberated this issue last year at length and also reviewed the opinions of well-known international scholars on the permissibility of such arrangements. Considering potential long-term implications of any such decision, the Council hereby is re-affirming its guidance to the community that virtual formation of Jama'ah is not valid under any jurisprudence. Consequently, any Salaah offered in a virtual set-up shall be invalid and required to be repeated.
Unified Ramadan time table for the Ottawa/Gatineau region:
With an expression of deep gratitude to Allah, the Council is pleased to inform the community that once again we have a unified timetable formulated for the entire region. All times concerning fasting start/end as well as Isha prayer are synchronized, complying with all schools of jurisprudence. This is a very significant achievement and a huge blessing in the sense that it will eliminate all sorts of doubts in our most important Ibadah. The community is strongly advised to follow this timetable to avoid confusion and unnecessary debates. The next step is to develop a year-round timetable to unify our community.
Vaccination during Fasting:
As the plan for vaccine rollout in the region is firming up, the Council is advising our community that there are no religious implications on taking the vaccine. In fact, we are encouraged to take lead in any action that would allay the risk and enhance the quality of life of the general public. Taking vaccination while in the state of fasting will not cause any harm to your fast. The Council is asking the Muslim community to fully participate in the vaccination program as and when it becomes available to you.
The Community support to local Masaajid:
As a result of a very long pandemic, many community members have been suffering in their unique way. In sha' Allah, the situation will change before long. We must continue to engage with Allah and put trust in Him. We must seek His protection from depression-like feelings and anxiety due to the prevalent uncertainty, loss of lives, and sad news all around us. We must have faith that there will surely be ease after the hardship.
While we are doing all that we can do, to continue the operation of Masaajid and fulfill their financial obligations, the Council is appealing the resourceful community members to support our institutions in this difficult time. As we recognize that our Masaajid have their fixed operating cost that must be covered, it is our responsibility to make sure we take care of it by making generous contributions in the greatly rewarding month of Ramadan. Furthermore, our Masaajid are receiving an increasing number of distress calls from financially stressed families across the region. In order to meet this growing need, the Council is asking everyone to pay Zakah sooner rather than later. Please consult your local imams as to how to correctly calculate your Zakah and fulfill the important obligation.
Sadaqatul Fitr: The community is advised that the Council has decided $10.00 as a minimum amount for your individual Sadaqatul Fitr obligation. You may pay more based on your capacity.
We ask Allah to alleviate this unprecedented suffering from the entire humanity out of His boundless Mercy and Rahmah.
Signed by: (In alphabetical order of the first name)
Imam Ahmed Limame – The Outaouais Islamic Centre
Imam Anver Malam – Jami Omar
Imam Ismail Al-Batnuni – AMA (Masjid Al-Rahmah)
Imam Mohammad Badat – Masjid Bilal
Imam Muhammad Suliman – Ottawa Muslim Association
Imam Owais Tilly – Jami Omar
Imam Rashid Al-Qasmi – Masjid Taqwa
Imam Samy Metwally – Islamic Society of Gloucester
Imam Sikander Hashmi – Kanata Muslim Association
Imam Myloud Tajri – Aylmer Mosque
Imam Zijad Delic – South Nepean Muslim Community (SNMC)