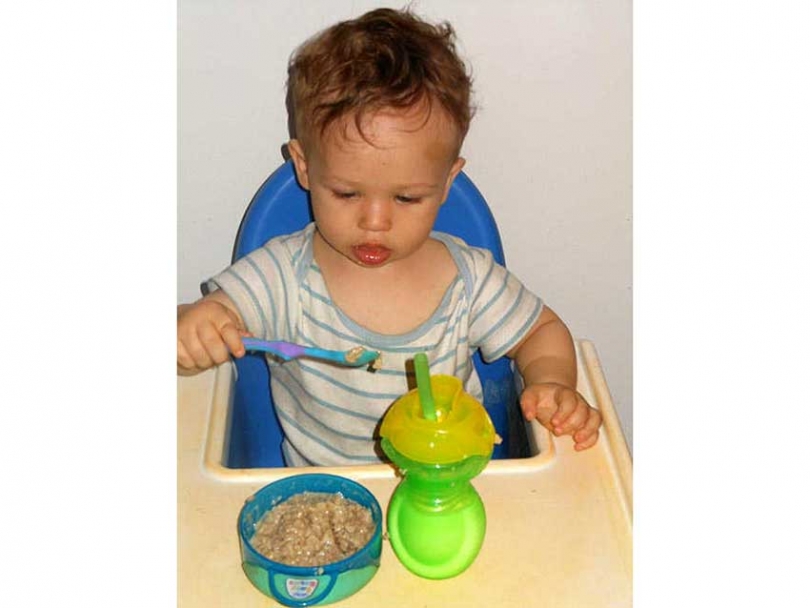 Baby Dean learns high-chair table manners.
19
January


2014
Table Manners: Making the Restaurant a Pleasant Experience
Written by Aicha Lasfar
You're heading to the restaurant with your spouse for a much deserved night out. The kids are in bed and your mind is at ease knowing the babysitter you hired is watching over them. You're both looking forward to enjoying a meal in a calm and relaxing setting, away from the constant nagging of your children. You enter the restaurant, and as the waiter leads you to your table, you experience a sinking feeling of dread when you realize your table is right next to...a family with rowdy children.
Most people go to a restaurant expecting it to be a more or less uneventful place.
That being said, kids are a fact of life. Some people expect parents to never bring their children to restaurants, and that's just not realistic. It's our job as parents to teach our children how to behave, so keeping them locked up at home would never expose them to the outside world and its proper etiquette.
So, here are some tips on how to make a family outing to the restaurant a pleasant learning experience.
1. Start at Home, Set a Good example
Eating together as a family has many benefits, including teaching children table manners. If each family member eats at different times in different corners of the house, it creates an unstable atmosphere which leaves a young child confused. Eating at the table with your children (NOT in front of the TV or computer) ensures that they can bond and learn from you, while you supervise and correct their behavior.  Some basic table manners to teach children are: staying seated while eating, finishing one's plate, not making a mess on purpose, excusing one's self from the table and playing quietly while the rest of the family finishes up.
2. Set expectations
Before even entering the restaurant, have a short talk with your kids telling them what behavior you expect to see from them. Describe the restaurant as a special, fancy place where we have to be on our best behavior. Explain that it's not a place to play, scream, or run around and there will be consequences to disobeying the rules (like no dessert!) Also set expectations for yourself. Do not enter the restaurant with children expecting a relaxing experience. As parents, we work around the clock teaching our children social norms and ensuring they behave appropriately.
3. Be prepared
When going to the restaurant with Dean, we make it our mission to keep Dean calm and quiet by any means necessary. Before heading out, we make sure he is well-rested, that he has a favorite toy as a distraction, and that he has snacks to eat in case he doesn't like the restaurant food. If he gets too rowdy or restless, we take turns eating while the other keeps him happy.
Highchairs can be really helpful and most restaurants and food courts have highchairs available so don't be shy to ask for one. It's also a good idea to purchase a compact, portable highchair and keep it in the car, so there's always one available to you.
4. Be mindful and considerate of other patrons
Put yourself back in the shoes of the couple at the beginning of this article; no one likes to have a quiet evening disturbed by children running wild and unchecked. Few things are as frustrating as seeing children misbehave without their parents stepping in, and running indoors is never considered acceptable. Rowdy behavior can be especially dangerous in a restaurant, since people are going to and from tables with plates and heavy platters. It's our responsibility as parents to keep our children contained at our table so that they do not disturb other customers' dining experience.
As Muslims, we want to always be mindful of our behavior and as Muslim parents, we should be inculcating that mindfulness in our children. The best of da'wah (sharing the message of Islam) is not given through words, but through actions and there is nothing quite as charming as seeing a happy family, calmly enjoying a nice meal together.
This article was produced exclusively for Muslim Link and should not be copied without prior permission from the site. For permission, please write to info@muslimlink.ca.