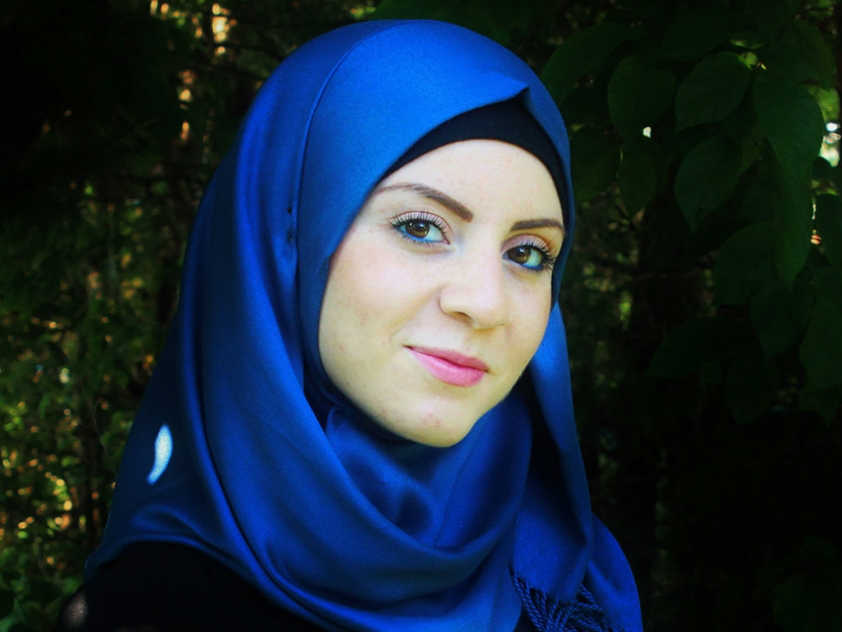 Batoul Hreiche is a student of journalism at Carleton University
18
September


2014
Ready to be Canada's First Hijab-wearing Anchor
Written by Batoul Hreiche
Most girls grew up singing in front of their bathroom mirrors and into their hairbrushes, in hopes of one day becoming famous singers. That childhood routine was somewhat different for me. After I finished brushing and tying my hair, I took up the role of a news anchor – the mirror being the camera. I went over every news event I recalled seeing or hearing about, from the day before, while watching the late-night newscast with my family. I usually included a line similar to this: "And now we have John reporting for us from the scene. John, how are the neighbours reacting?"
asdfasdf
Throughout my primary and elementary schooling, I spent most of my recesses interviewing schoolmates for "my show" or "my news segment." I even had a camera crew! And when I wore the hijab at the age of eight – exactly 13 years ago – I became even more fervent about pursuing my dream. This time however, my image in the mirror no longer presented me with my high-styled ponytails, but rather, with a gracefully pinned hijab.
And now that I'm grown up, my dream is to become Canada's first hijab-wearing anchorwoman.
I do not recall the exact moment in my childhood when I realized I wanted to become an anchorwoman. I've been passionate about the news since I was a very young girl. My school work was mostly geared toward media-related issues, and I was always shocked when my friends were unaware that a natural disaster had killed hundreds or that wars were taking place around the world. Furthermore, I was never one to shy away from a camera. I spent a lot of my time competing in public speaking contests and performing stage acts with Scouts Canada and in school.
There are certain characteristics a person must possess to become an anchor: I've had all of them for a long time. An anchor must be determined, committed and curious about the world around them, faithful in delivering accurate news, and, of course, not camera-shy. My former school teachers saw these qualities in me and repeatedly expressed and wrote in my yearbooks that I will one day be a "promising" and "talented" newspaper or television journalist. 
When people ask what I want to do when I complete my journalism degree, my proud response is always: "I want to be Canada's first hijab-wearing anchorwoman." Most people look surprised, which makes the conversation a little awkward. To ease the tension, I joke: "At least no one will ever know I'm having a bad hair day!" 
I'm grateful to be born and raised in Canada. There's nowhere else I'd rather be. However, it was a struggle growing up in two cultures: Canadian and Arab Muslim, Lebanese more specifically. My religion and cultural background exposed me to both worlds. Therefore, I was one of the very few girls in school that had to justify why I couldn't wear shorts to gym class or why my lunch was occasionally foreign-looking. 
I often wonder about how I should present myself to strangers for the first time. The hijab on my head dictates the assumptions people draw about me before they wonder about the type of person I really am. My personal traits, such as being a "clean freak," an obsessive student or just a tenacious woman, are essential to who I am, but perhaps less visible. 
A few months back, I wrote an article for Muslim Link, an Ottawa-based community newspaper. In the piece, I discuss how my ethno-cultural and religious background affected the way people perceived my success in the field of journalism. Upon graduating from high school, I received discouraging comments for deciding to pursue my education at Carleton University's well-regarded journalism program. I was told that since I'm Arab, Muslim and wear the hijab, my voice wouldn't be heard. I also wrote that journalism was the wisest decision I've ever made.
The response I got from some family and friends is understandable, considering that the diversity of our religious minorities is not readily apparent in Canada's broadcasting industry. That is when I realized, in hindsight, that my imaginary reporter, Caucasian 'John', was not so off-the-mark. 
I do not wish to hold Canada's broadcasting industry responsible for this void. We Canadians flaunt our diversity and our freedom of religion and expression. But, I wonder why there has yet to be a Sikh anchorman wearing a turban, or a Jewish man wearing a yarmulke or even a Muslim woman wearing a headscarf.
The integration of religious minorities is not an easy process. Religious minorities are faced with presumptions that stem primarily from their appearance. They should not view these presumptions as grounds to not assimilate into specific sectors in society. That could be one reason why the media lacks turbans, yarmulkes and hijabs. Perhaps, we should see this reaction as an opportunity to make our struggle that much more endearing. 
My faith and my pluralistic identity oblige me to be representative of all Arabs and Muslims in Canadian society. And through my education at Carleton University's well-regarded journalism program, I recognized that my experiences and stories are a significant factor in how I perceive myself and my future. 
With only a year left before I graduate and enter the world of journalism, my hopes and dreams are only getting loftier. If doors do open up for me and my dream becomes reality, I aspire to become an appropriate image for those who wish to break what the mainstream public is wired to see.
Many women or young girls may dream of accomplishing a similar path, but my distinction is exemplified by a thin layer of fabric wrapped around my head. Every so often, I research whether or not another Muslim Canadian woman has attained this mission already. Thus far, no woman claimed the spot.
I want to be that woman. 
This article was originally written for New Canadian Media.
This article was produced exclusively for Muslim Link and should not be copied without prior permission from the site. For permission, please write to info@muslimlink.ca.