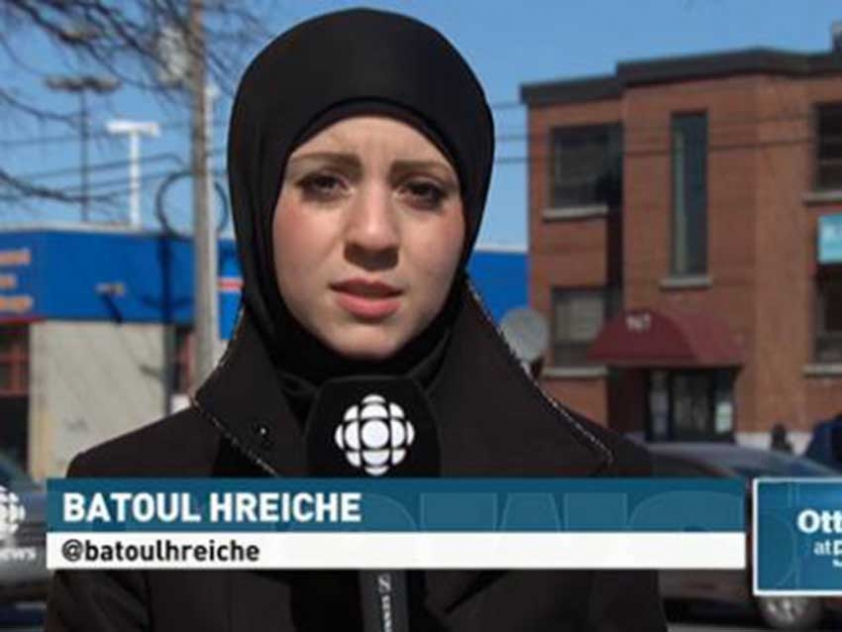 Batoul Hreiche reporting for CBC during her internship.
04
May


2015
Muslim Link has been following Lebanese Canadian Batoul Hreiche's journey as a Carleton University journalism student. That journey is now over and she reflects on her time as a CBC TV intern and her plans for the future.
asdfasdf
Tell us what it feels like to finally be finished your journalism program?
It's a bittersweet feeling – an ending and a beginning.
Four years ago, I entered journalism not knowing what to expect. I didn't know much about radio, television, or newspaper journalism and I did not yet anticipate how far my skills would take me. All I knew was that I wanted to become a journalist and make the world a better place.
However, following four years of training on all platforms of journalism, I can proudly say that this program was the greatest thing that's ever happened to me thus far. Although there were many challenges and difficulties along the way, my journey through journalism school was an incredible one. Today, I find myself equipped with a great deal of knowledge stemming from the many topics I reported on, and the many skills I explored with the help of great professors and fellow classmates. I will always value the relationships our students and professors developed with one another – they became a second family.
But now that it's all over, I feel liberated but confused. One side of me thinks: "Finally, my hard work paid off and I've earned my dream degree," while my other side debates: "There's a lot to be done from here and I have no idea what's awaiting me." I spent the past four years dreaming of writing my final exam, and now that I have, I am more anxious than ever.
My undergrad represents a chapter in my life that I'll never forget. However, it's never easy to close a chapter and open a new one. Although I know what I want to do in my future, there is still the sense of fear from the unknown. 
What were some of the key lessons that came with 4th year?
Throughout my four years of university, I stressed a lot over my grades and pushed myself very hard. On many occasions, the strain I put on myself, both physically and emotionally, were difficult to deal with. I always had a part time job and juggled two degrees at once (journalism and law). I think I speak for most, if not all, journalism graduates when I say that the weight of this program is very strenuous, especially when double-majoring. The mistake I made the first three years of my undergrad was that I did not take everything that came my direction one step at a time. Assignments were usually due at once and I never knew where to begin. I literally drove myself crazy!
Fourth year, however, was exceptionally challenging because it was the culmination of my entire undergrad. So this time, I taught myself a lesson. I was finally better able to manage my time and complete everything step-by-step. I realized that a journalist has to sacrifice a lot, but has to remain sane along the way! 
Tell us about how you got the CBC internship.
I've wanted an internship with the CBC since as long as I can remember. My plan was to apply for an opportunity through Carleton's journalism apprenticeship program in my final year. In fourth year, however, I began a new media job with the government. At the time, the deadline to apply for an internship had passed and I was not able to submit an application on time.
A little while later, a fellow journalist happened to be conversing with a CBC manager in Ottawa and my name somehow popped up in their discussion. She advised the manager that I was interested in an opportunity and it so happened that the manager had read one of my articles that Muslim Link had reprinted. The piece was originally written for New Canadian Media and it was about my dream of becoming Canada's first hijab-wearing anchorwoman. The manager later got in contact with me and I went in for an interview. I was then approved for a two-week internship in March 2015.
Was there any feedback of having a hijabi tv reporter?
In Canada, we only have one hijab-wearing reporter, Ginella Massa. Therefore, when I appeared on-camera three times in a row on CBC Ottawa, people reacted quite fast. The feedback was overwhelming - but in a good way. I received many heartwarming comments from family, friends, professors, previous instructors and even from complete strangers! My parents also received calls from their friends congratulating them on this "important step for the Muslim community."
Although I was not an actual reporter with the CBC, I truly felt like one. Every now and then, I catch myself clicking on my reports, watching them repeatedly and wishing my internship never ended. The whole experience was very rewarding and I feel it added an important dimension to my future journalism career. 
What were some of the stories you covered that were important to you?
The first report I worked on revolved around the Uber controversy in Ottawa. It focused on how the winter period is typically the busiest for taxi drivers. But some say their business this year dropped significantly since Uber operated alongside.
The second piece was about concerns over digital signs that some businesses are using to advertise their products or services even at night, after their shops have closed.
The third and final piece focuses on an unexpected freezing rain storm on the weekend prior to March Break.
I believe all three pieces are equally important. I had a routine when I was younger of breezing past the local sections of the news and diving straight into international news. Today however, I see the news differently. While I do still read the international section, I allocate more attention to the local coverage. In a world where so much is happening, residents must also be aware of the news that affects them directly, in one way or another. It is important to have coverage of local news with proper supporting context so we can better educate ourselves on the issues occurring within the parameters of our city. Today, more than ever, people need their local media to make sense of the good and bad around them. 
What is happening next for you career wise?
I am currently working as a media analyst with the Privy Council Office's Border Implementation Team. My experience thus far has been very worthwhile. I am broadening my skillset by focusing on policy and media, while also keeping in touch with the writing and presentation skills that I acquired through journalism school. I am grateful I got this opportunity because very few students are selected to work in such a prestigious environment.
Nonetheless, I have not forgotten about my dream of becoming Canada's first hijab-wearing anchorwoman. While I know that this dream cannot be achieved overnight, I plan to seize every opportunity that comes my way in order to make myself that much more suitable to claim that seat. I plan on searching for any type of journalism job once my contract with the PCO is over and I am hopeful that with perseverance comes success.
My mom always says: "For every hard-worker, there is a great reward."
I cannot wait to claim my reward.  
This article was produced exclusively for Muslim Link and should not be copied without prior permission from the site. For permission, please write to info@muslimlink.ca.