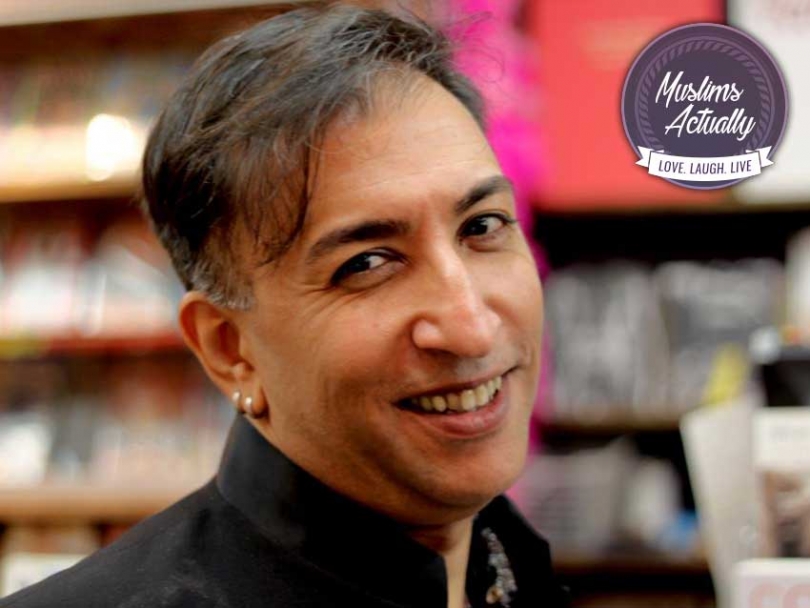 Interview with refugee and immigration lawyer El Farouk Khaki.
01
January


2017
In the wake of the tragic shootings in Orlando, Florida in 2016, Farheen Khan, the originator of Muslims Actually, interviewed El-Farouk Khaki, a refugee and immigration lawyer based in Toronto who identifies as Muslim and is also a member of the LGBTQ community. He was involved in organizing the community iftar (meal to break fast during Ramadan) held in June 2016 in Toronto in the wake of the Orlando Shooting, which brought together members of the LGBTQ community, members of the Muslim community, and people who identify themselves as both Muslim and LGBTQ. This event was covered in The Toronto Star.
El-Farouk Khaki is a refugee and immigration lawyer, public speaker and social commentator. His law practice represents people fleeing persecution based upon sexuality, gender, gender identity, political affiliation, and HIV Status.
A human rights and social justice advocate, his leadership has been recognized by his receiving : 2006 "Excellence in Spirituality" Award – Pride Toronto; 2007 Hero Award, Canadian Bar Association The Sexual Orientation and Gender Identity Conference; 2007 Steinert & Ferreiro Award from the Lesbian & Gay Community Appeal. In 2009 in addition to being the Grand Marshall for the 2009 Toronto Pride Parade, he was also the recipient of the "Can't Stop, Won't Stop", Pride Toronto Theme Award.
In 2008, he ran for Canadian federal parliament in a by-election and a general election for the New Democratic Party of Canada.
Khaki is the founder of Salaam: Queer Muslim Community, an organization originally started in 1991, and a founding member of the Muslim Lawyers' Association. In May 2009 he founded the El-Tawhid Juma Circle with his partner Troy Jackson and dear friend, Dr. Laury Silvers. He is also co-founder of The Canadian Muslim Union and co-founder of the Muslim AIDS Project. El-Farouk has sat on many boards, appeared on TV and radio including programs such as CounterSpin, The Verdict with Paula Todd, The Verdict with Steve Paikin and Studio 4 with Fanny Kiefer.
He is a public speaker on Islam, the Immigration and Refugee system, human rights, racism, politics and HIV/AIDS.
Where were you born and raised?
Born in Tanzania, raised there, and then lived in London, UK & then Vancouver BC before coming to Toronto.
What did you study?
Anthropology, Political Science and Law. I'm currently pursuing a Masters Degree in Pastoral Studies at University of Toronto (U of T).
What do you do for a living?
I'm a Lawyer. I focus on refugee and immigration law and work mostly with refugees.  Mostly on Sexual Orientation and Gender Identity & Gender & HIV based claims.
What community initiatives are you involved with and why?
I have been an activist for many years.  My activism started around racism and Islam.  It subsequently expanded to include gender, Sexual Orientation and Gender Identity and HIV issues.
Why? Because it is a matter of justice.  Without justice, there is no peace.   This is true in the zahir (obvious) sense, but also, arguably, in the batin or spiritual sense/level.
What is the El Tawhid Juma Circle (eTJC) and what lead you to begin this?
The eTJC is a gender equal, LGBTIQ affirming, intraMuslim mosque space that welcomes everyone. We strive to manifest an egalitarian, compassionate centered Islam.
Also, people should be free to explore their spirituality without judgement and without barrier. Sadly that is not the case for many people who have experienced spiritual violence in the mosque.
We started eTJC because we saw injustice in mosques.   If mosques, as houses of God, cannot manifest justice, then where can justice be manifest? In a sense, the discord in God's house is manifested by/in the discord in the world. The injustice manifests as the exclusion of women and therefore a denial of their Divine agency as equal to all.  It manifests in racial and cultural hierarchies and spiritual violence against LGBTIQ people, women and others.
My husband says people should only sit at the back of the bus if they like the view from there.
We sit in a circle, or as it is called in Arabic a 'halaqa' because it more egalitarian and allows for constant movement of the circle.
We wanted a place where people could be authentic and themselves and not face any harm or judgement.  You don't have to hide who or what you are.
After Orlando, what advice would you give anyone looking to build a relationship with the LGBTQ community?
Anyone? or anyone Muslim? I'd say reach out to LGBTIQ Muslims and bring them to the table. Especially after Orlando, there needs to be a public articulation by the Muslim groups – not just polite statements which will not change the world or the homophobia that many folks normally preach. I've suggested an Iftar (Fast breaking dinner) in the Church Wellesley area hosted by Muslims that welcome the LGBT community.
What advice would you give anyone trying to challenge homophobia? What resources could they access?
Tread carefully, build your base and allies/ partners/ support if you don't have already before you try and change the community. Gathered resourced are limited but there are many doing amazing in bringing people together.
Where do you see yourself in 10 years?
Retired in the sun with my husband, mum, cats and kids.
This article was produced exclusively for Muslim Link and should not be copied without prior permission from the site. For permission, please write to info@muslimlink.ca.