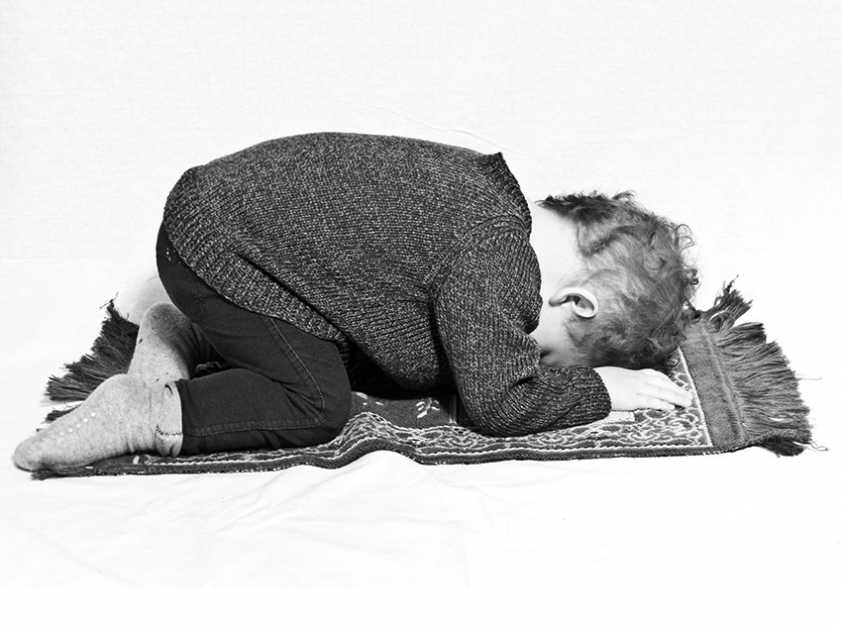 Baby Dean learns to pray
Nour Ahram Photography
08
July


2014
Do's and Don'ts of Bringing your Kids to the Mosque
Written by Aicha Lasfar
Mosques, much like libraries, are considered by many to be quiet and still places of reflection and contemplation, especially during prayer times. When the faithful attend the mosque, it is usually in the hopes of leaving behind the chaotic and noisy world outside in order to connect deeply with the Divine. That is, until an all too familiar sound of running footsteps, gleeful shrieking and the cries of a frustrated infant break the silence… We've all been there; trying to concentrate on the imam's beautiful recitation despite a child singing the Spider-Man theme in the back of the room and unintentionally bringing you back to your favorite 90's cartoon instead of the deep meaning of the Qur'anic verse being presently recited… Here are a few tips for parents like myself who would like to bring their child to the mosque, while conserving the peaceful atmosphere therein.
DON'T bring children who can't sit still: Between the ages of 18 months to 3 years old, it is unrealistic to expect a toddler to understand the concept of sitting quietly.
My husband experimented once by bringing our 2 year old son to the mosque for Maghrib prayer, and quickly decided not to bring him again until he is old enough to understand not to run around and climb on the minbar (He tells me that during the prayer, the older kids were so rowdy that the imam was losing his concentration and kept making mistakes in his recitation! Not cool.)
DON'T bring messy snacks or loud toys: As worshippers, we all have a responsibility to keep the mosque clean. Snacks that have a strong smell, are sticky or make lots of crumbs are not suitable for a place that has so many carpeted surfaces. Beware of noise pollution as well; toys that make music or other sounds are just plain distracting.


DON'T be selfish: Are you bringing your child(ren) to the mosque in an effort to teach them the proper conduct within its walls as a holy, quiet place of reflection? Or are you bringing them because you can't find a babysitter and don't want to miss out on Taraweeh (Ramadan Night Prayers), regardless of the consequences to the khushoo' (concentration) of other worshippers?
DON'T dump your kids on others: Don't assume that the teenage girls chatting away in the corner are there to watch your children. Unless the mosque clearly offers babysitting services, you and you alone are responsible in making sure that other worshiper's khushoo' (concentration) is not broken by your children's behavior. Furthermore, if your child is rowdy and loud, he or she will influence other children. Before you know it, there's an army of children playing tag in the back of the room.
DO make it a learning experience: The mosque is a wonderful place to get your child to learn how to pray and connect with the Divine. When your child is old enough to listen to your basic commands, bring them along with you often as a learning experience to teach them about the mosque as the quiet place of prayer and reflection that it is.
DO come prepared and bring quiet activities: The huge, open carpeted space of the mosque seems like the perfect place to run and tumble around for a small child, but it is not made for that purpose. If you want to attend the Jumu'a but aren't certain that you bored child can stay calm during the duration of the sermon, bring a quiet and simple activity for them to do, like an Islamic coloring book with crayons, their favorite truck, or another noiseless toy.
DO be considerate of your child's schedule: Dragging your kids around when they are due for a nap (or worse, bed time) will only make it a frustrating experience for everyone. Taraweeh is very late this year, and it is tiring for adults, let alone small children. Children at Taraweeh prayer are either crying because they are too tired, or running around and screaming because they are having a rush of energy from being over-tired. If you absolutely must bring your child with you to Taraweeh or any other prayers that coincide with your child's sleep/nap time, consider adjusting their sleep schedule so that they are not tired and cranky.
DO consider staying at home: There is a reason women are not obligated to join the congregation at the mosque the way men are. Women are (generally speaking) the main caregivers of children, and so it is a mercy from God that we are allowed to be flexible and pray in a place that is the most convenient for us and our children. It's not only my fellow worshippers who suffer by having their concentration broken and prayers interrupted; it is also stressful for me to bring my children, as I am more focused on keeping them quiet by my side rather than connecting with my Lord. When praying at home, I can pray peacefully knowing that my children are not disturbing anyone.

Also consider taking turns with your spouse to watch the kids so that both of you have a chance to attend the mosque without the stress and distraction of bringing them along.
In the end, every parent knows their child best and only you can determine when your son or daughter is ready to attend the congregation.
In conclusion, mosques, much like libraries, are meant to be places for quiet reflection and study. Let us all be considerate and keep other worshipers in mind when attending the mosque.
This article was produced exclusively for Muslim Link and should not be copied without prior permission from the site. For permission, please write to info@muslimlink.ca.