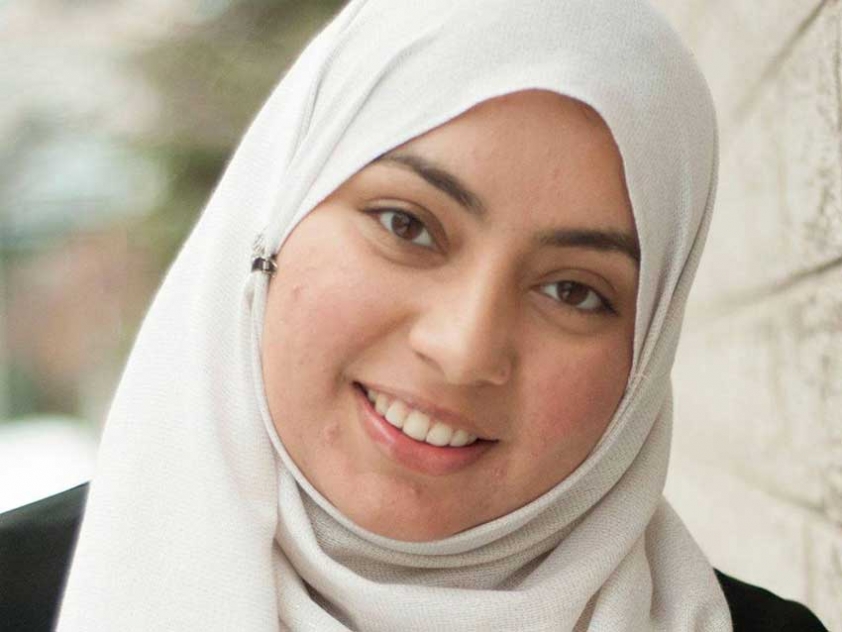 Saba Malik blogs about living with bipolar disorder and challenging the stigma around mental illness in Muslim communities.
Courtesy of Saba Malik
27
January


2016
Being Muslim and Bipolar: Saba Malik Returns to the Blogosphere
Written by Muslim Link
Mental health advocate Saba Malik has returned to blogging on the subject of mental illness and Islam after a significant absence. Muslim Link interviewed Saba about her personal struggle with bipolar disorder and her renewed commitment to creating an online community of support for her fellow Muslims coping with the illness.
Tell us about yourself
I come from a Pakistani background and currently live in Montreal. I earned a Bachelor in Secondary Education at McGill University. I also did a Life Coaching certification with DiscoverU Life. 
How did you realize you were bipolar?
Frankly, I didn't have to do anything to "realize" I was bipolar. I was depressed for months and then I had a severe manic episode. After the hospitalization, doctors told me I had Bipolar disorder (type I).
What has been your experience with the illness?
Being bipolar is definitely hard because I have to follow a healthy routine, take meds every day and see doctors regularly. I also need help with work, raising a family and keeping my stress levels down. Of course, when I get sick there is just a whole new level of difficulty. And many times, I've wished to be bipolar-free but when it comes down to it, I'm very happy in my skin or rather my brain. Having a blog really makes me feel blessed with bipolar because of all the people I can help.
Based on your experience, what are the common myths in Muslim communities about Bipolar Disorder?
The common myth about bipolar is that it is a weakness in faith and character. The person is often blamed when it is actually the illness. No one would call a cancer patient weak but bipolar people are called moody and difficult all the time.
Jinn possession is also confused with mania episodes. A good marker of bipolar is that when ruqaya is performed, the symptoms still persist. Ruqyah involves recitation of Qur'an, remembrance and supplications that are to treat sickness other problems. This process might help someone but in my experience and to my knowledge, it cannot actually treat mental illness.
The last myth or rather misconception is the notion of shame. Many Muslims don't seek help because of what their family and community members might think. I went through this and there was a huge backlash when my disorder became public. I didn't find support so that's when I decided to create support for others Muslims and myself by blogging.
Always get help when you feel you are not well. The biggest myth you can fall into is that you can do it alone. There is much help. You just have to reach out.
Based on your experience, what do mainstream service providers need to do to be more culturally competent when working with Muslims with mental illness?
Before I answer, we need to address how a person understands themself to be "Muslim." This has nothing to do with labelling who is a worthy Muslim or not. Rather, different Muslims use their faith differently. There is one group, the one I cater to, that uses Islam to enhance their treatment. Thus, mainstream service providers need to work with these Muslims and use their faith as a positive force despite what misconceptions they may have. I had a friend whose therapist would tell her how oppressed she was because she wore the hijab. Ma sha Allah (Praise God), my psychotherapist is much more culturally competent. To illustrate, when I am feeling down she asks me, "Saba, have you been praying regularly?" We didn't always have this relationship but over time, she grew to learn about me, not "Islam" or "Muslims" but me. She uses this knowledge to help me manage bipolar better. Thus, mainstream service providers need to help Muslims use their faith to stay away from suicide, substance abuse, among other things. If you want your doctor to integrate Islam into your treatment, then you need to communicate that spirituality is important to you because chances are they just don't know.
Secondly, mainstream services need to be aware of common mental illness myths in the Muslim community so that when their client is misled, they can shed some light. They can go on my blog and read my posts on the myths or to get a quick overview, simply refer to my prior answer in this article. When they need a more comprehensive and evidence-based information, they can check out research papers in the Journal of Muslim Mental Health which is available online.
Lastly, the best thing my psychiatrist did for me was to put me in touch with the bipolar community. When I developed my own Muslim bipolar community through my old blog and now MuslimBipolar.com, I went from hell to heaven. That's an understatement. With all this support, I realized that mental illness can be a gift. That's why I've called my upcoming support guide, "Blessed with Bipolar." In sha Allah(God Willing) it will be released soon.
To conclude, mainstream service providers need to learn how Islam affects and influences the individual Muslims they work with. Secondly, they must know the common myths and help their clients overcome them. And lastly, they need to put them in touch with support groups that can help them.
Based on your experience what do Muslim religious leaders and community members need to do in order to be more supportive of Muslims with mental illness?
Muslim religious leaders need to stop attributing depression with weak faith or bipolar with jinns. Yes, a Muslim can feel sad because of low faith and someone can actually be possessed by a jinn. But clinical depression is a lot more than just feeling sad and being bipolar won't go away if all you do is recite Quran and supplications to rid yourself of the foreign spirit. There is a huge difference between diagnosed medical disorders, everyday woes and worries, and a jinn possession.
You were a public speaker and created the MorningWind blog to raise awareness about mental illness in the Muslim community, but then you stopped doing this for some time. Why have you decided to return to blogging?
I decided to come back because I missed it too much. I had some major issues with the old blog where I came into contact with a stalker. I felt forced to shut down my MorningWind blog and everything related to it. It was a pretty traumatic experience and I didn't know how to handle it at the time so I sort of went into virtual hiding. However, I learned that the reality is this situation can happen to anyone. If I stayed offline, it would be like letting that person win and I don't want to do that.
I still miss the MorningWind logo! I tried to get morningwind.org back but someone else has taken it. And morningwind.com is for sale for 1200$. No thank you. Thus, I started MuslimBipolar.com, which targets bipolar Muslims specifically.
What are you plans for your blog going forward?
My plan is to keep blogging. I am coming out with my ebook, "Blessed with Bipolar: The Muslim's 3-Step Support Guide for Mastering Bipolar." I will also start facilitating support groups again and get back to speaking at events. I also have my second website coming soon on depression so please join my email list on www.muslimbipolar.com to stay in the loop.
This article was produced exclusively for Muslim Link and should not be copied without prior permission from the site. For permission, please write to info@muslimlink.ca.