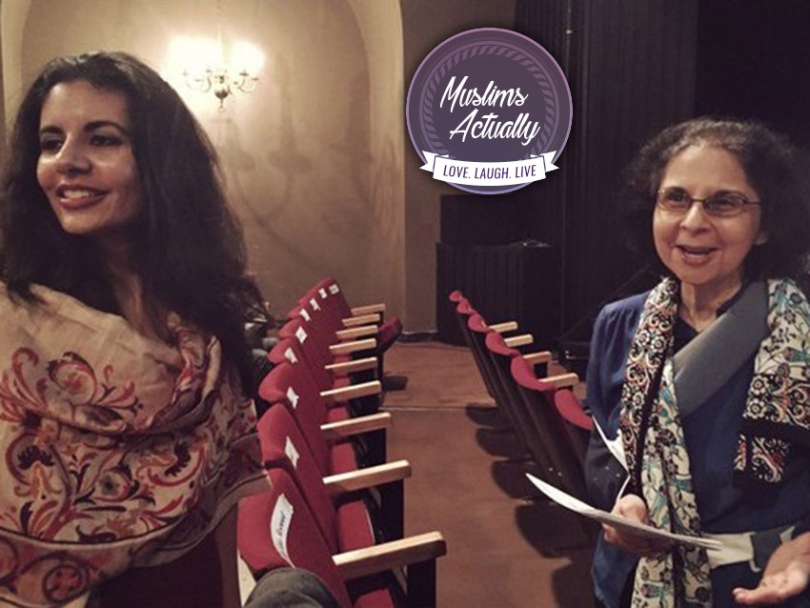 Azeezah Kanji, the director of programming for the Noor Cultural Centre, and her mother Samira Kanji.
02
January


2017
Azeezah Kanji is Director of Programming at Noor Cultural Centre.  She has a Bachelor of Health Sciences from McMaster University, a JD from University of Toronto's Faculty of Law, and an LLM (Master's of Law, Islamic Law specialization) from the School of Oriental and African Studies, University of London.
Where were you born and raised?
I was born in the UK (London), but have lived in Toronto since childhood.
What did you study?
I studied Health Sciences, and then decided to pursue law – so completed a JD at University of Toronto and LLM, specializing in Islamic Law, at the School of Oriental and African Studies, University of London.
What do you do for a living?
I serve as Programming Coordinator at Noor Cultural Centre, a Muslim educational, religious, and cultural institution in Toronto. I also write and speak about issues related to race, law, and national security.
What inspired you to go into Law and Islamic Law?
As Muslims in Canada, I think we often see ourselves through the eyes of others: through the lens of dominant narratives that depict us as a problem community, and our religious tradition as retrograde and in urgent need of reformation. I went to law school to understand and resist the portrayal of Muslims as a security threat in national security law and policy – a portrayal which has facilitated gross abuse and erosion of rights and freedoms, including such basic rights as to be free from torture and secret detention. Cases like those of Maher Arar, Ahmed Elmaati, Abduallah Almalki, Muayyed Nureddin, Omar Khadr, and too many others are what inspired me to go to law school. I also wanted to learn more about the Islamic legal tradition because we live in a context in which stereotypes of "shariah" as backwards and barbaric, violent and draconian, are pervasive. The idea that Muslims have some nefarious agenda to impose "shariah law" is a mainstay in Islamophobic discourse. This narrative not only misrepresents Muslims' motivations, but also misrepresents the Islamic legal tradition as something to be feared and banished. Rebuilding our knowledge of the Islamic legal tradition equips us not only to contest negative representations, but to draw on this tradition to think about what justice means in our world today.
Your write for various papers and appear in media a lot, what is like being a Muslim in this current political climate?
For me, being a Muslim in post-9/11 Canada is intertwined with the pall of suspicion that has been cast on Muslims, which produces a pressure to prove to the rest of the world that we are not dangerous, not "terrorists," not violent misogynists. So much of the knowledge produced about Islam and Muslims in Canada and the US is mired in problematic assumptions and misrepresentations. We are made to feel like we must apologize for the violence of others who call themselves Muslims, even while we witness the military violence of Western liberal democracies rained down in countries like Afghanistan, Pakistan, Iraq, and Somalia. Forging a Muslim identity capable of critiquing both forms of violence – as well as the broader political context within which they occur – is difficult but important.
What role do you feel the Muslim community has when it comes to addressing the misconceptions that exist in society?
Misconceptions about Muslims are certainly rife – popular beliefs that Muslims are responsible for the majority of political violence or violence against women in Canada are debunked by empirical evidence. However, simply correcting these misconceptions with more accurate knowledge doesn't necessarily address the underlying forces that give rise to racism in Canada (including racism against Muslims). "The function, the very serious function of racism is distraction. It keeps you from doing your work," Toni Morrison reminds us. While we're kept busy addressing the multiple misconceptions about us, we might be neglecting the longer-term work of building a society where Muslims and other racialized communities are not forced to constantly respond to such misconceptions in the first place. We cannot forget that we are living on colonized land, in a settler colonial state built on racist foundations. Instead of focusing on improving the position and image of Muslims in the political structure as it is, I think we need to work towards deeper transformation of the structure as a whole, through the interconnected struggles against colonization of Indigenous lands and all forms of racism.
What organizations or initiatives are you involved with and why?
I work for Noor Cultural Centre, which was founded by my grandfather, Hassanali Lakhani, as a space for Muslims and non-Muslims to "come to know one another" (Qur'an 49:13) and ourselves. Through our programming, we bring academic knowledge produced about Islam and Muslims to the community, so that we can better understand Muslim traditions of knowledge, societies, and histories. This is as important for Muslims as it is for non-Muslims. We also draw on Islamic ethical traditions to analyze current justice issues – racial justice, gender justice, economic justice, environmental justice, non-human animal justice – so that Islam is central to all our struggles to build better relationships and a more beautiful world.
We all go through difficult times in life, how have your life experiences brought you down the path you are currently walking?
I've been tremendously privileged to have access to a legal education, and to be in a situation where I can use that education for projects that are important to me. While this is not where I expected to end up (I was originally planning to go into medicine), I do not see this as a difficulty but rather a fortunate turn of events. I think that my path has been shaped less by my own personal travails than by the difficulties of the Muslim community more generally, and the desire to contribute to their alleviation.
What inspires you to do the work that you do?
I've been inspired and humbled by the work and writings of so many activists and thinkers, most of whom have resisted injustice and oppression in situations far more difficult and risky than my own. I'm particularly indebted to work that forces me to confront the limitations of my own knowledge, or the unjust and oppressive facets of my own ways of thinking and being (even though this is often painful in the moment). I'm fortified by the knowledge that history has often vindicated those who adopted positions that were unpopular or marginalized at the time – and hope that I will be able to do that when necessary.
Where do you see yourself in 10 years?
I don't have any concrete idea – and I don't like to form firm ideas about the future since I've found they are inevitably disrupted! But I hope that whatever I'm doing will be part of the continuing struggle to transform society in the direction of justice.
This article was produced exclusively for Muslim Link and should not be copied without prior permission from the site. For permission, please write to info@muslimlink.ca.