​​Surveys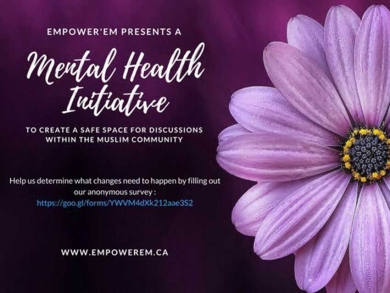 Fill Out Empowerem's Mental Health Survey To Help Create Space To Support Young Muslim Women in Ottawa
Empowerem is a grassroots youth group, which is commited to empowering young Muslim women in Ottawa. As a part of their goal to encourage health and wellness amongst young women, they are launching an initiative to address Mental Health and Illness within the Muslim community.
Mental health is both a significant and dynamic component of a person's everyday live. It has the potential to unleash one's greatest abilities and allows people to live an optimal life. However, when met with poor mental health or the existence of a mental illness, the resulting effects can lead to a diminished quality of life and well-being. Some of the most effectual methods to combat these issues include learning more about the topic, discussing it, and executing safe solutions.
Unfortunately, due to stigma, prejudgments, and other barriers, these practices are often unfeasible. These complications are highly prevalent in the Muslim community and there is an extensive lack of support and resources for these individuals specifically. That is why creating a space where the subject of Mental Health and Illness can be discussed freely, among young Muslim women is important to us.
In order to make sure that the space meets the needs of young Muslm women in Ottawa, Empowerem created an anonymous survey for the public to fill out. They want to know what changes are necessary, what key components need to be addressed, what kind of assistance is required, and in what areas of Ottawa these resources should be placed.
If you could take a few minutes to complete the survey and share it with your peers, it would help immensely to implement programs based on the needs in the community.
Fill out the survey online HERE
If the issues raised above resonate with you, Empowerem strongly encourages you to fill out their Team Application Form. This is an opportunity for you to become directly involved, whether you want a leadership role or would like to offer your time as a volunteer. Let Empowerem know why this initiative is important to you and what you can do to help!