​​Surveys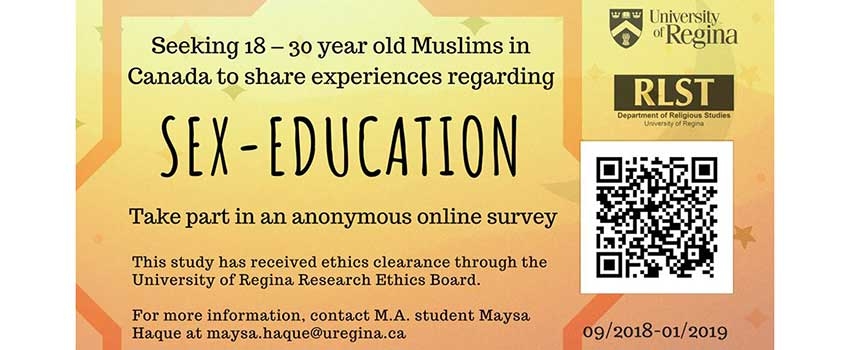 Canadian Muslims and Sexual Health Education Survey
Maysa Haque, M.A. Student at the University of Regina of Dept. of Religious Studies, is conducting research about Canadian Muslims and Sexual Education.
She is looking for Canadian Muslim youth between the ages of 18 to 30 to participate in her online survey.
Research Purpose:
To explore young Canadian Muslims' general knowledge and religious views of sexual health education, or "sex-ed".
To identify the sources of this knowledge and your opinions about it.
To explore how this knowledge has influenced their experiences.
To identify the barriers, if any, of attaining this knowledge.
Potential Benefits:
Your participation will help to fill a knowledge gap regarding sex-education for Canadian Muslims.
Potential Harms, Risks, or Discomforts:
You may feel uncomfortable about sharing.
You may skip uncomfortable questions, and may exit the survey at any time.